Automotive
Published on January 28th, 2022 | by Daniel Sherman Fernandez
0
Mazda BT-50 Is On Waiting List Due To Its Popularity In Malaysia.
Guess You Need To Wait To Own A New Mazda BT-50.
First shown to the Malaysian pickup truck community in early December last year with an estimated price only there were a number of Malaysians who rushed to make a booking for this lifestyle truck before its official launch.
Then before a big launch and sales promotion could be done, it was sold out. Yes, the initial 200 units that arrived in the first shipment was taken up quick and now there is a waiting list as shipments are a little late due to production issues created by the on going Covid-19 pandemic.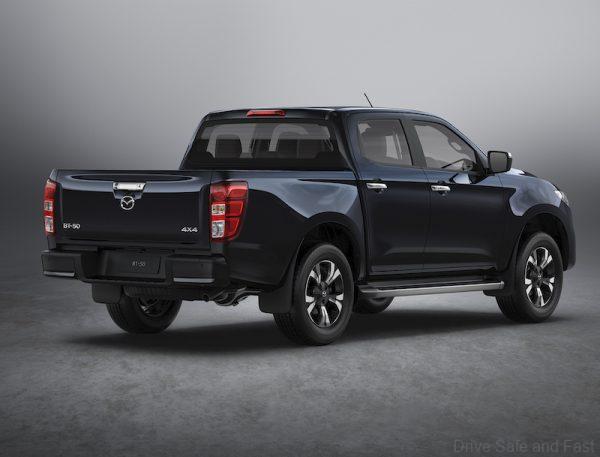 With a selling price that starts from RM124,179.20, this All-New Mazda BT-50 is sold with a 5-Years Manufacturer Warranty according to manufacturer's standards, with a mileage limit of 100,000km, whichever comes first.
Competing directly with another segment newcomer, the Isuzu D-Max, this BT-50 brings to the segment SUV like looks and cabin experience. This alone has been the major driving force to its quick sales take up. Even when you look at all the promotion material coming from the headquarters, it hints to a premium lifestyle truck experience with male models in suits being drivers of this pickup truck.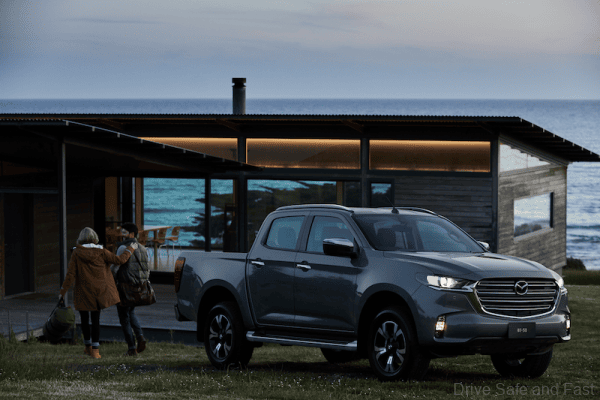 No off-road rugged images or river crossings like what the rivals show in their communication materials. This BT-50 shows a totally different image.
Still, it must be noted that Mazda did not develop the drivetrain for the latest BT-50. This truck gets its off-road engineering and diesel engines from Isuzu Motors. Yes, this BT-50 is a close sibling to the latest award winning Isuzu D-Max and Mazda's input was in its exterior design and cabin features.
The Isuzu D-Max is priced in Malaysia from RM88,599.20 for the base single cab manual gearbox diesel version right up to RM141,938.40 for the 3.0L double cab automatic gearbox X-Terrain diesel model.
The exterior design of the All-New Mazda BT-50 is the true expression of Mazda's Kodo design language, evident right from the front of the vehicle with the prominent front grille, and the 3-dimensional signature wing which establishes a commanding front view and dominating road presence, accentuated by sweeping crease lines running from the grille out towards the wing mirrors, paired with an unbroken centre line that flows from front to rear.
The design blends toughness and beauty, as a result, the All-New Mazda BT-50 shines equally in every setting, from formal to rough off-road.
From the first glance, the All-New BT-50 expresses unique power, toughness, and utilitarian functionality, ready for adventure and built for working purposes, while appealing to lifestyle customers with its unique design. The design of the headlights is distinct and sharp, taking in cues from Mazda's SUV range, achieving a deep gaze characteristic of Mazda.
The load-bay has ample room and can handle payloads well under one ton. At the back, the tailgate is the key design point, shaped to flow towards the Mazda badge to create a continuity of movement from front to rear.
Step inside the comfortable, spacious, and durable cabin and you'll find yourself immersed in quality Mazda design. The All-New Mazda BT-50 interior cabin space has been carefully crafted to express Mazda's commitment to human-centric design and to reflect on the tough and powerful built of a pick-up truck.
Everything from the dashboard, steering wheel, seats, and center console has been redesigned to ensure that drivers feel connected to their vehicle and as comfortable as they can be. The horizontal layout of the instrument panel extends out to the door trim on each side, creating a comfortable and spacious cabin.
The front console adapts kneepads, and Mazda's human-centric design is clearly visible in the layout of the cabin. Fine stitching is applied to the dashboard, instrument panel hood, and kneepads, adding an extra touch of quality to the interior.
The All-New BT-50 has door moldings that wrap around the dash area in line with Mazda's Kodo design philosophy. An expansive and stylish center console is further evidence of the exceptional quality and premium materials.
Rear passengers are taken care of too, with a USB charging port, rear air ducts and grip assist handles making the All-New BT-50 the complete package. Supportive seats wrap around the body to ensure comfort across any terrain, while a telescopic steering column makes light work of finding the perfect driving position. A large touchscreen infotainment system offers comprehensive functionality, including Apple CarPlay® & Android Auto™ Function.
This MAZDA BT-50 is currently fully imported from Thailand where it is built for the region. The colour line-up includes Rock Grey Mica, Gunblue Mica, Ice White, Red Volcano Mica and True Black Mica; making a total of 5 colours available.