Automotive
Published on January 28th, 2022 | by Subhash Nair
0
Volkswagen Zwickau Plant Is Now Completely Focused On Electric Vehicle Production
As Volkswagen drives hard towards a more electrified lineup, their Zwickau manufacturing site has been transformed to a dedicated EV production facility.
The Volkswagen Zwickau plant in Saxony has been transformed to be a dedicated electric vehicle manufacturing facility for the Group love the last 26 months. Over 1.2 billion euros have been spent converting the factory from a producer of traditional ICE vehicles to a digital, flexible and highly-effiicient showcase factory for EV manufacturing. Depending on the semiconductor situation, Volkswagen Group intends to hit the Zwickau plant's maximum capacity in 2022 and produce more than 180,000 electric vehicles.
The Zwickau plant has been a key production facility for the Volkswagen Group for many years and over 6 million Volkswagen vehicles have been produced there. The plant was also responsible for the production of Volkswagen Group's most luxurious vehicles, such as the Volkswagen Phaeton and the Bentley Continental GT. The plant also produces bodies for the Bentley Bentayga and Lamborghini Urus.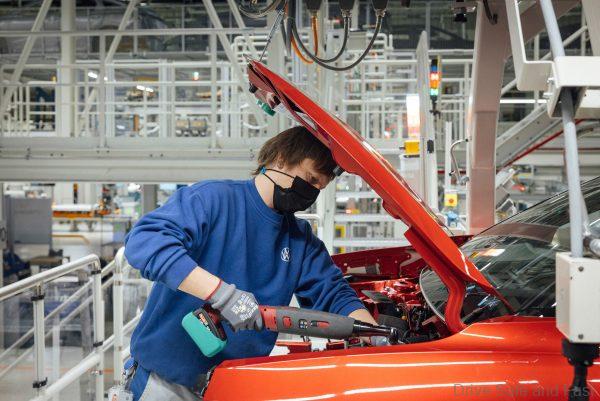 The latest vehicles to be produced there are the Volkswagen ID.5 and ID.5 GTX. These two model variants join the Volkswagen ID.3 and ID.4, the Audi Q4 e-tron, Q4 Sportback e-tron and CUPRA Born. These are all built on the Volkswagen Group Modular Electric-Drive Toolkit, more commonly known as the Volkswagen MEB platform.
Beyond merely producing electric vehicles, the Zwickau plant is focused on green production. Since 2017, the plant's external power supply has been 100% green electricity. Since November 2019, any remaining emissions from the site and the entire upstream chain have been offset for all models through certified climate projects in accordance with officially recognised standards. In the manufacturing process itself, carbon generation is avoided and reduced as far as possible.
The press shop allows for all shell body parts of electric vehicles to be made on-site, saving over 9,000 truck trips per year. The plant itself if very advanced with smart industry 4.0 robots and driverless transportation systems to move components around autonomously, 1,625 state-of-the-art robots, 28% assembly line automation, improved production ergonomics. Over 9,000 permanent staff were retrained to build electric vehicles to future-proof their jobs.
Volkswagen has ambitions to build 1.2 million all-electric vehicles across the globe. More sites at Emden, Hanover, Chattanooga are being converted to make electric vehicles as we speak.