Cars
Published on February 7th, 2022 | by Subhash Nair
0
2021 Toyota Fortuner 2.8L VRZ Review
The Toyota Fortuner 2.8 VRZ Facelift finally has the looks and presence to cement its position as king.
The Toyota Fortuner has long dominated the market, filling the void left by the 70-Series Land Cruiser and 90-Series Prado while taking refinement, tech, and luxury aspects up a notch over those early off-roaders. That being said, the Fortuner has always been plagued by a lack of pedigree – there's no disguising the fact that this is a passenger pick-up vehicle (PPV) built on the same platform as the Hilux. Toyota isn't unaware of this, and they've spent loads to uplift the Fotuner. Either through R&D spending with their now-defunct Australian Toyota Technical Centre or by filling it to the brim with equipment. The result is that the Fortuner has become the number 1 PPV in many markets. Even in Malaysia, the Fortuner today goes completely uncontested, with former rivals (Mitsubishi Pajero Sport, Isuzu MU-X, Ford Everest) all effectively out of the game.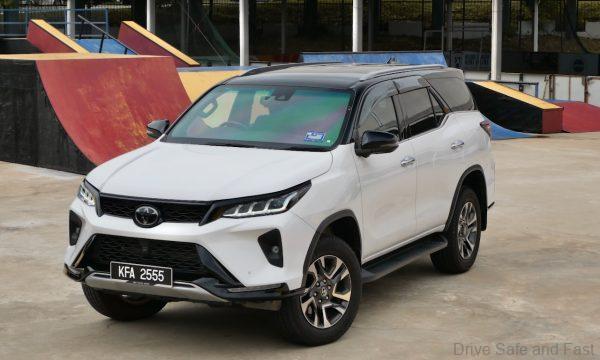 Yet UMW Toyota Motor hasn't been resting on their laurels. The Fortuner has been actively updated since the 2nd generation model debuted and the latest facelift model came in early 2021 with a minor update making its way to showrooms later in the year.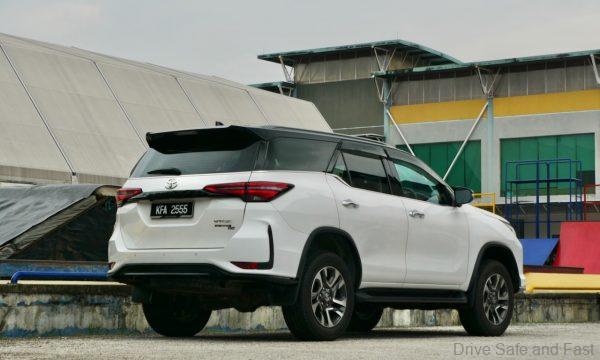 Editors note
Our test unit was the early-2021 model and it should be noted that there are some features that are now present/standard on newer models, such as:
Wireless phone charging
USB-C ports for rear passengers
Dual-Zone Climate Control for front passengers
Besides those changes, our test unit is identical to the new version.
Performance Of The Fortuner
The Fortuner has the presence and commanding view of you'd expect from a body-on-frame SUV of this size. It's a large vehicle and it feels its size behind the wheel, even with a panoramic view monitor system installed. I see this 'big feel' as a good thing. This is literally the most expensive CKD vehicle offered by UMW Toyota Motor and it's good that you're getting as much steel as you're paying for.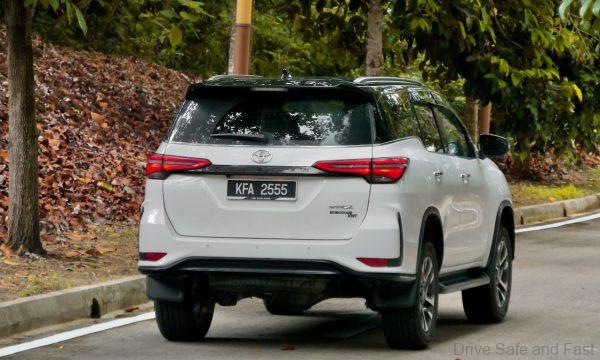 It also handles itself really well at highway speeds. While it's not as wide or as road hogging as a Land Cruiser, you can feel those genes are present in the Fortuner. It feels great on the open road and there's real off-road capability built into very nature. It's the sort of vehicle that projects an aura of proficiency and authority – very boss-like, but not the kind of boss that's out of touch with the realities of life in South East Asia. That's ultimately the difference between the Fortuner and Land Cruiser.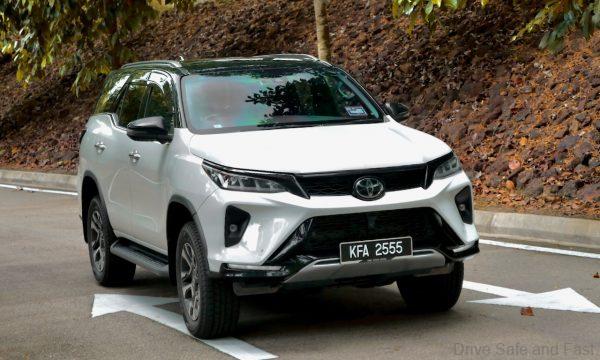 On to more objectively describable characteristics, the Fortuner with this range-topping 2.8L four cylinder turbo diesel is actually quite spectacular. It gets great mileage, it's more than capable of moving the vehicle fully-loaded at comfortable speeds or through rough terrain. It's also well insulated from the cabin – not well enough that you never hear it, but certainly well enough that you don't feel it at all under normal driving conditions. It must have been an incredible feat of engineering to get this kind of NVH out of a diesel sitting on a ladder frame chassis, so hats off to Toyota's engineers.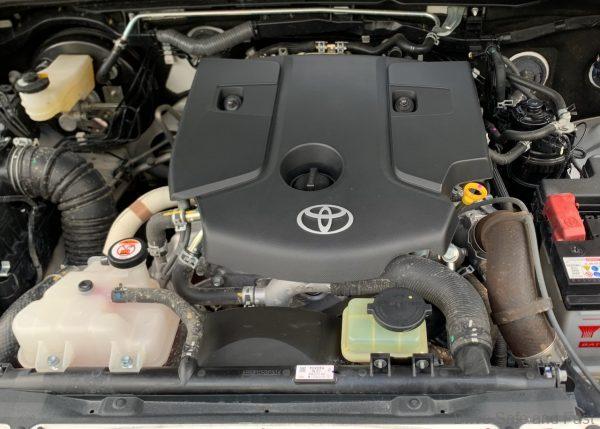 The range topping Toyota Fortuner 2.8L VRZ gets Toyota Safety Sense and there's quite a complete set of Advanced Driver Assistance Systems here. Everything from Lane Departure Alert to Pre Collision Assist is present. There's even Dynamic Radar Cruise Control thanks to the radar sensor, front facing camera and the new Yaw Assist Function that gets the car in line by braking the wheels on one side of the vehicle. It's a little more jarring than automated steering input, but it does work. I only felt comfortable using it when I was the only one in the vehicle. With others present, its motions could be a little harsher than I would subject my occupants to.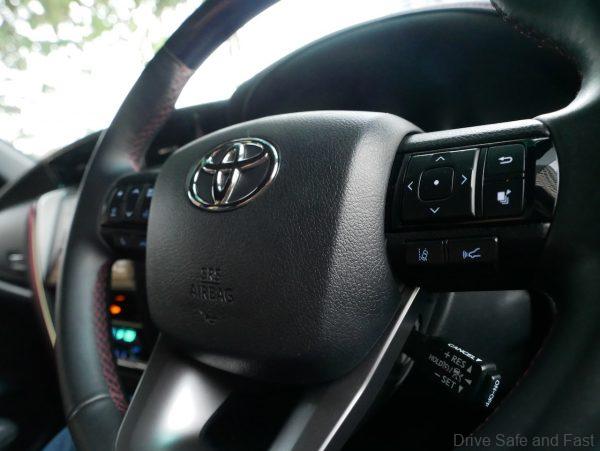 I think that Toyota did an exceptional job in terms of equipment and value for money here. As I mentioned before, this is the most expensive locally-assembled Toyota one can purchase from UMW Toyota. But it also feels completely decked out. Wired Apple Carplay on a decently-sized infotainment screen, Toyota Safety Sense, a second display for rear passenger entertainment, a powered tailgate and the other updates on the latest revision… this is a full-spec car.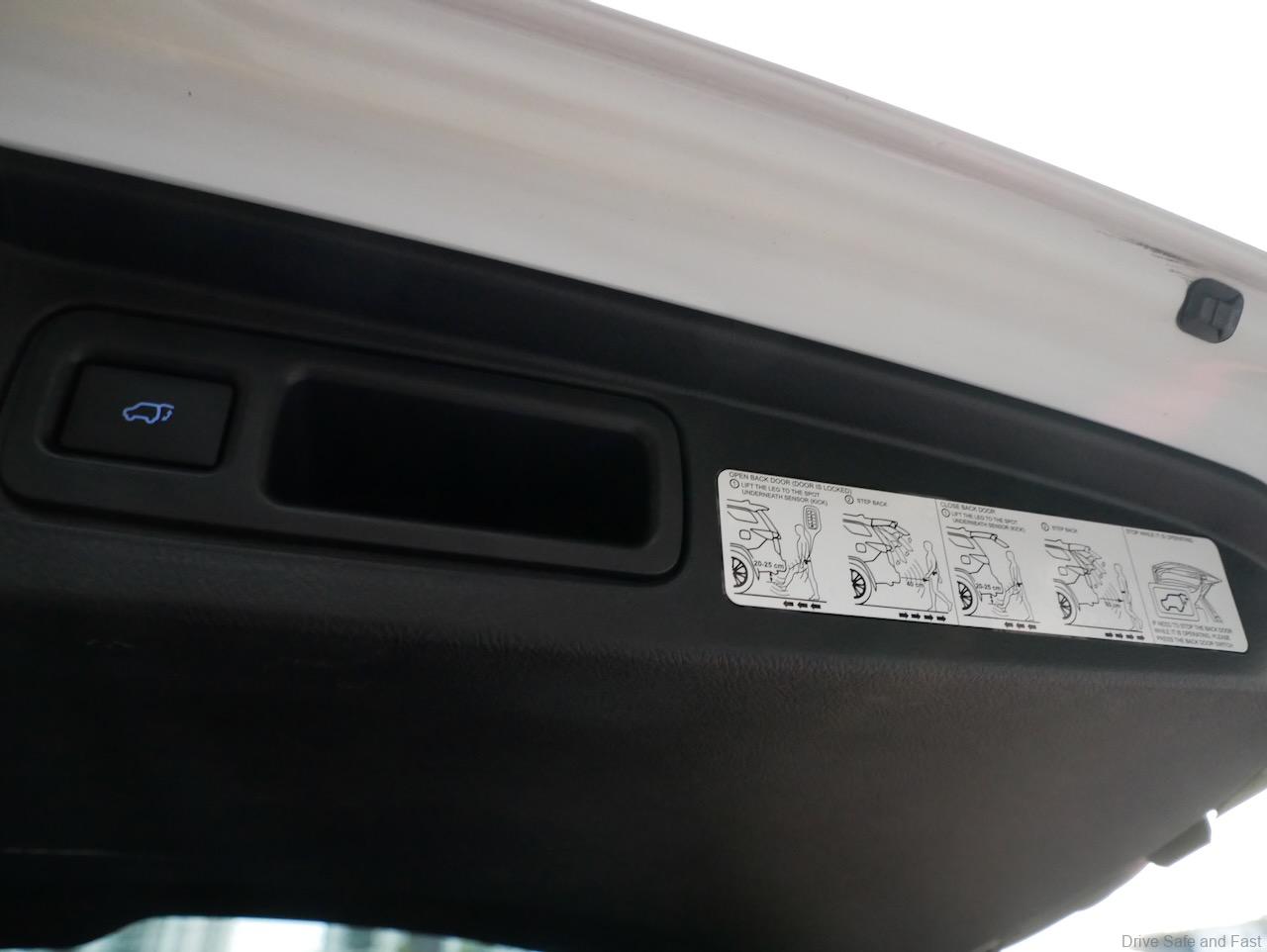 They've also tried their best with perceived value, providing a full-leather interior with contrast red stitching, black headliner, LED interior lighting
Room for Improvement
In terms of performance, I think there are still one or two areas where Toyota could improve on the Fortuner. The first being the hydraulic steering assistance. At low speeds, I feel it's still a tad too heavy to pass off as a non-commercial product. At first I thought perhaps this was a problem that could only be rectified with electric power steering, but then I drove the Nissan Navara Pro-4X, and that thing was a breeze to park one-handed with traditional hydraulic power steering. Clearly there's something that can be done without having to 'reinvent' the wheel.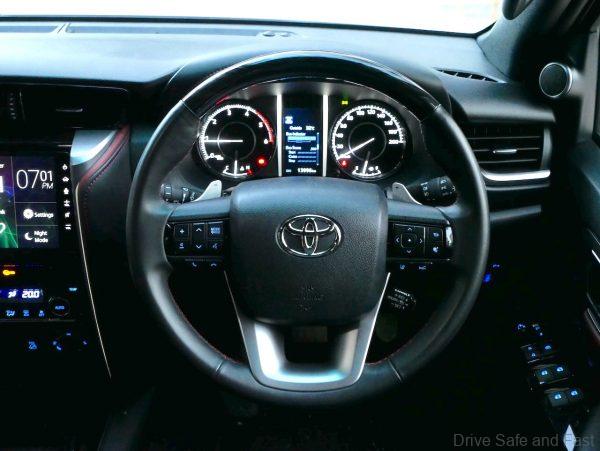 I also think that Toyota could have provided slightly better genuine leather for the seats of the Fortuner. In pick-up trucks, this kind of pleather material is suitable due to its durability, but in a passenger vehicle, it doesn't quite look as inviting. There's also still an abundance of hard plastics that are derived from the Hilux, and again, the same can be said about this material – useful in a commercial vehicle, but unwelcome in this sort of product.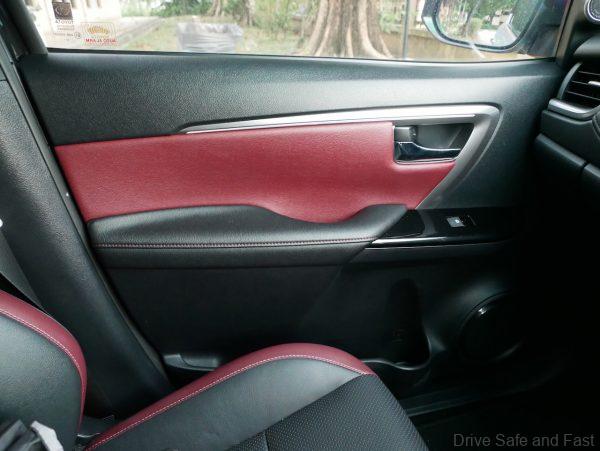 What's more, there are one or two other compromises. The rearmost seats use a simple and archaic mechanism that's completely manual. Even earlier generation Alphards came with basic mechanical assistance in the seat folding mechanism, which indicates a gap between the sophistication of the Fortuner and that of Toyota's other passenger vehicles. While it's not a big deal, it would certainly improve the feel of the Fortuner.
Ingress and egress into the rearmost seats is also a little problematic. They're not large enough to fit adults my size, and that's fine. However, the Fortuner's also got high ground clearance, which means shorter people, children particularly, may find it difficult or intimidating to climb in and out of the vehicle. There's very little to grab onto and not quite enough room to step in and out. I experienced this first hand helping my young cousin out during the heavy rains of December 2021.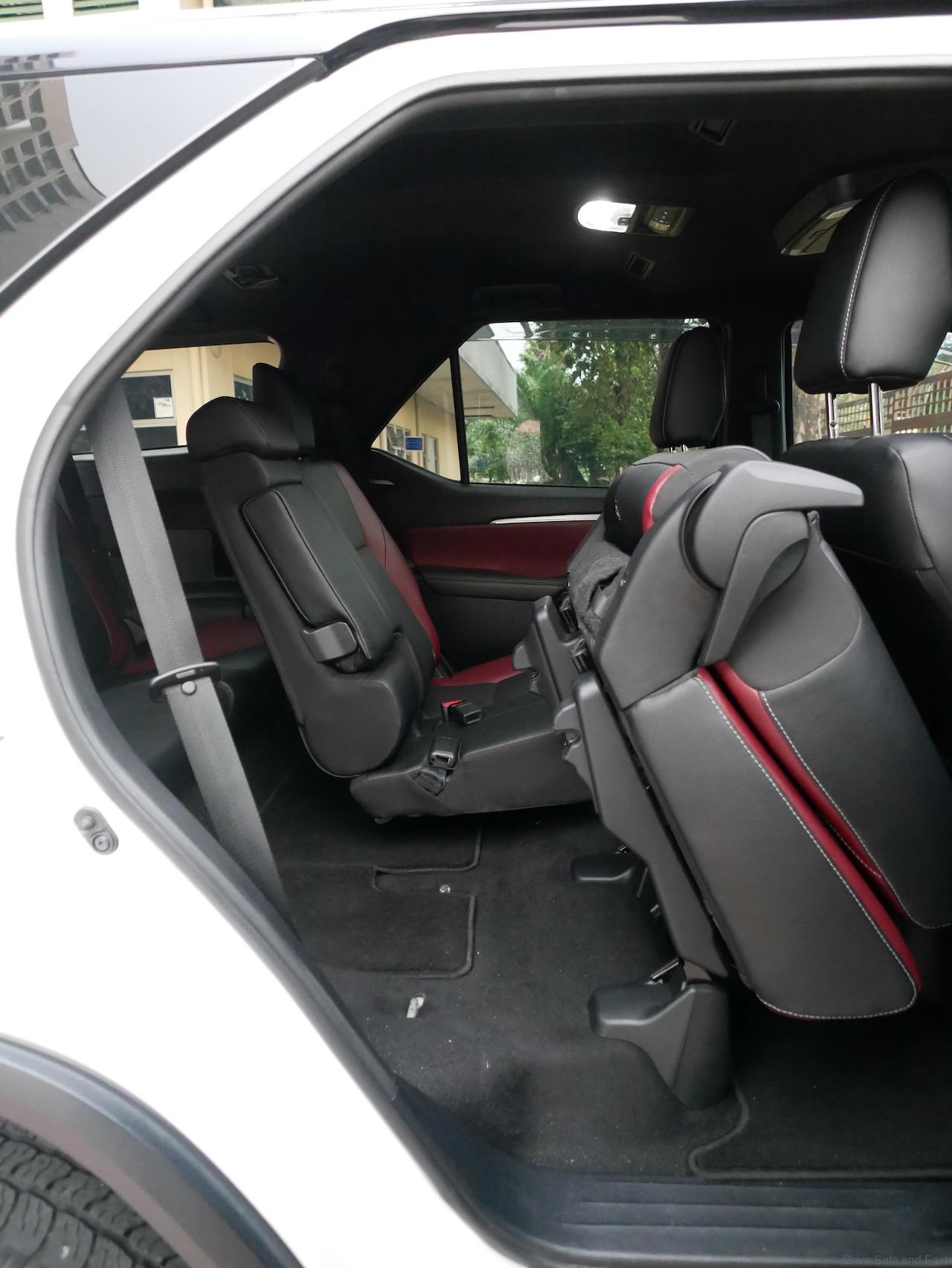 That being said, I still think Toyota met all other expectations for a 7-seater PPV in this segment and there's no questioning their dominance of the market.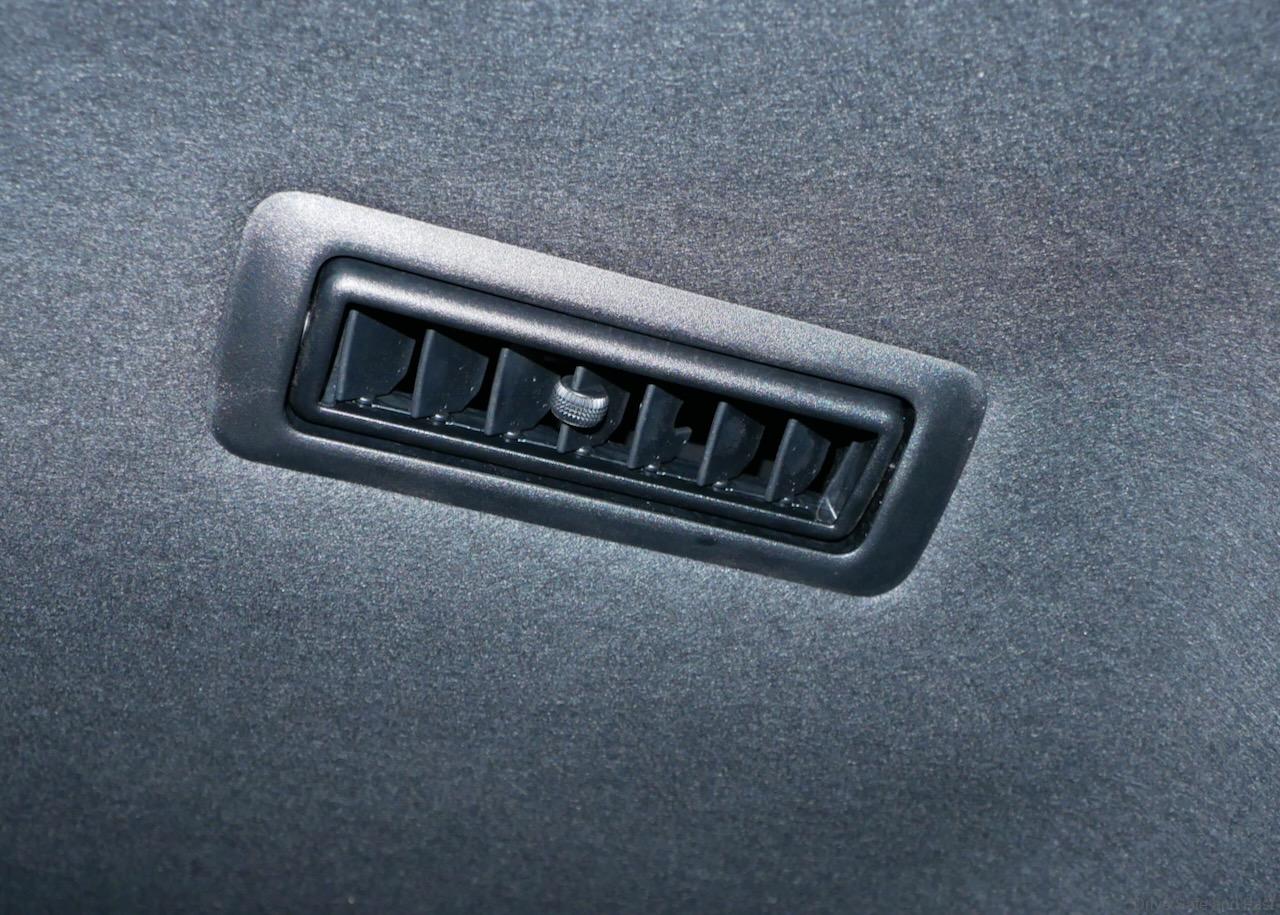 Looks The Part
I think the last thing I want to mention in my review is how the Fortuner looks in 2022. The first generation model was handsome, but a little too plain and definitely too close in proportions to the then Hilux to truly distinguish itself. When this 2nd generation model debuted in 2015, it was given a much more unique look, with a completely different face and many of its own body panels too.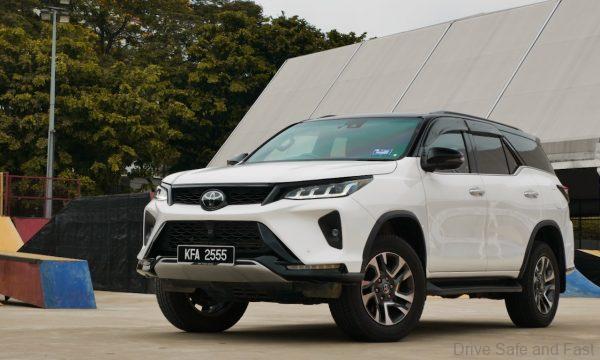 Now, the facelift model has taken things up a notch. It sports the new 'Legender' spec face with more aggressive looks, a segmented DRL design, dual tone rims to go along with the dual tone body paint. Chrome is kept to a minimum (the strip underlining the glasshouse is the most obvious use of chrome here) and black accents pepper the design throughout. Even the rear bumper is slightly different on this 2.8L VRZ model. The decals have also been deleted on this facelift model for a more sophisticated look.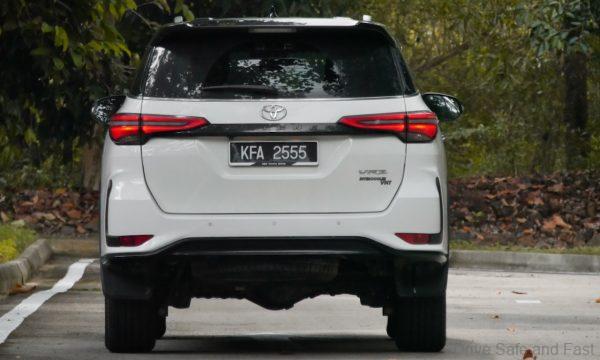 I think Toyota did an exceptional job with designing this top-spec Fortuner. It's a full realisation of this design's potential thanks to the tasteful colour palette and great looking lighting graphics all around.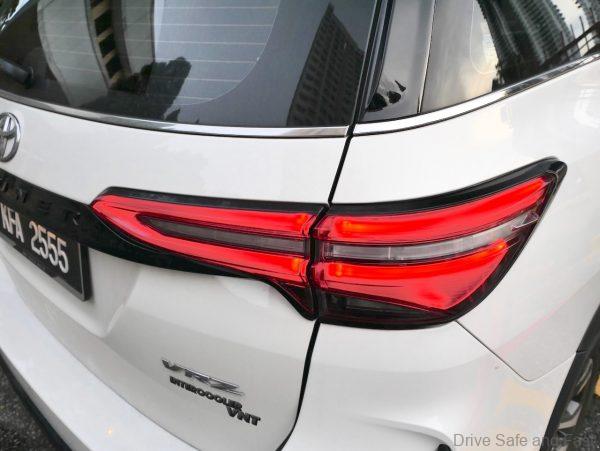 While it's still a couple of rungs below what a Land Cruiser product might offer in terms of design, we feel the Fortuner now has carved its own path in terms of design.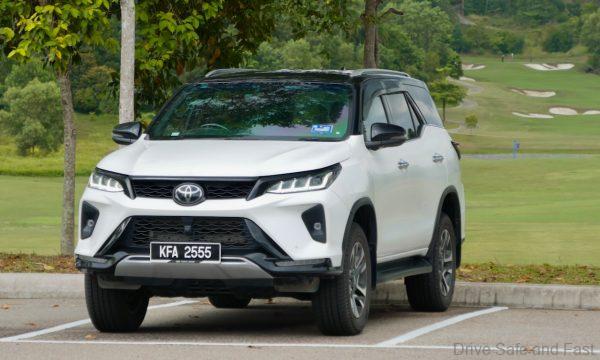 It looks the part whether you're taking it to a golf course or on an off-road adventure.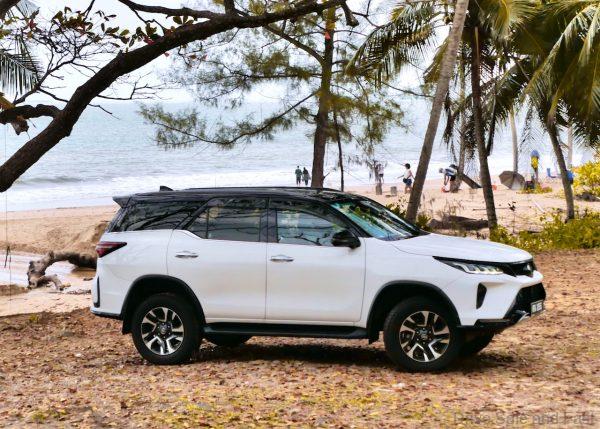 I actually think this factor is what defines the new Fortuner VRZ best. It looks more than just presentable. It looks like it's finally comfortable in its own skin and can shed some of the chrome and stickers that plagued its predecessors.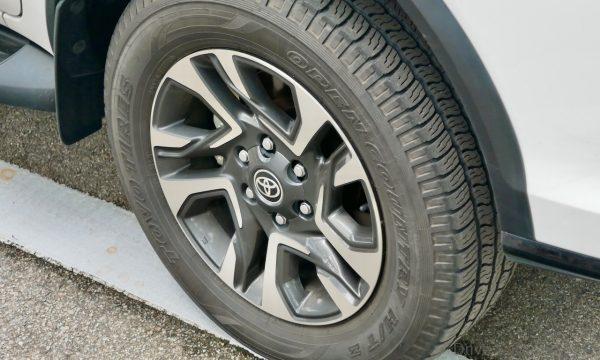 And because its so confident in its design, it kind of steps out of the shadow of the Land Cruiser. The Fortuner is its own thing, built for market realities that exist in this region and it fulfils its niche better than any of its rivals. And with a 5-year/unlimited mileage warranty from Toyota, it's clear that this is a product they've made to stand the test of time.
Toyota Fortuner 2.8 VRZ Specifications
Engine: Inline-4, 16-Valve, DOHC, Variable Geometry Turbo Diesel
Capacity: 2755cc
Gearbox: 6-speed Conventional Automatic With Sequential Shifter
Max power: 202hp @ 6,500rpm
Max torque: 500Nm @ 1,600rpm
Price: RM207,553