Automotive
Published on February 3rd, 2022 | by Daniel Sherman Fernandez
0
Nissan Serena e-Power Electrified Might Arrive In Malaysia This Year
This is the 2020 model Nissan Serena with a drivetrain shared with the Nissan Note e_Power
The mid-sized MPV segment in Malaysia has been rather boring for the past 8 years because there has only been ONE model on sale. The Nissan Serena. Yes, surprised? Well, all the immediate rivals left this segment or never even bothered to venture into this segment because of the rising interest in SUV's and Crossovers in Malaysia and also regionally.
Mazda at one time had the Biante MPV (pictured above) which was fully imported and priced very well. The other segment rivals, Toyota and Honda were not interested to import in their mid-sized MPV's. Honda Japan had the StepWGN (pictured below) and Toyota had the VOXY and Noah people movers which were only imported in 'used' by used car importers.
Because there was no regional local assembly, both Honda and Toyota decided to concentrate instead on the compact MPV/crossover segment which delivered the fast selling Honda BR-V 7 -seater and Toyota Sienta 7-seater. Within a few years of good sales, the Sienta was sold out and not refreshed. Honda marketing launched a face lifted BR-V and it continued to sell well.
But move one level up the ladder and the Serena is all alone and selling very well. The Nissan Serena hybrid MPV arrived when there were no rivals in the Malaysian market. It was both fun, spacious, well priced and comfortable to drive.
Now comes news of the Serena e-Power which has a 100 percent electric motor drive system that treats drivers to powerful acceleration, and the vehicle's e-Power Drive mode adds the convenience of being able to speed up or decelerate by using only the accelerator pedal.
With optimised engine management and noise reduction measures throughout the vehicle body, the Nissan Serena e-Power transcends its class in terms of quietness.
Combined with the model's aerodynamic body, the e-Power system which includes a small petrol powered engine that charges the battery that ensures exceptional fuel economy. The Nissan Serena e-POWER is rated at 26.2 km/L2 (according to Japan's JC08 test).
In September 2019, Nissan in Singapore launched this latest version of the Serena with e-Power. The new 7-seater Nissan Serena e-Power debuted Nissan's first e-Power electrified powertrain in Singapore.
Following the new Nissan LEAF, this was the second electrified vehicle in Nissan's line-up to be launched in Singapore, which will help meet Nissan's commitment to fully electrify its passenger car line-up in Singapore by 2022.
Revolutionary e-POWER technology
e-Power is a Nissan proprietary technology that offers the driving performance and benefits of an EV, yet eliminates the need for plug-in charging. It combines a 100 percent electric motor drive with a petrol engine that charges the battery, giving customers instant, smooth acceleration and greater fuel efficiency.
The e-Power system comprises the battery and the electrified powertrain, which is integrated with a petrol engine, power generator, inverter and motor. This differs from conventional hybrid systems, where the wheels are driven by an electric motor and a petrol engine.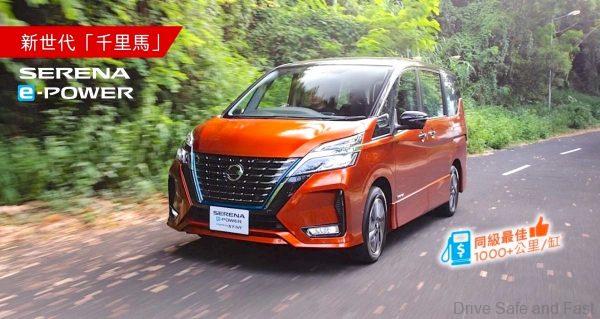 An electric motor and a petrol engine
Nissan Serena e-Power's electric motor delivers 100kW and 320Nm of instantaneous torque. Used solely to charge the battery, the 1.2-litre petrol engine runs at a constant, optimal speed to deliver a great fuel efficiency rating of 17.5km/L.
Nissan's e-POWER electrified powertrain, available in the Nissan Serena e-Power, was named Technology of the Year for 2019 by the Automotive Researchers' and Journalists' Conference of Japan (RJC).
Will this Serene arrive in Malaysia?
Well, it should be launched this year (2022) and even more so with the current Serena MPV already reaching its 8th birthday very soon. There has been no word from Edaran Tan Chong Motor (ETCM), the local brand guardian in Malaysia and with brisk sales of the Navara and Almera giving showrooms much needed foot traffic, ETCM should launch this new fuel saving Serena to keep ahead of the rivals.