Automotive
Published on March 18th, 2022 | by Daniel Sherman Fernandez
0
BMW X1 For 2023 Might Shock You Into Buying It
The BMW X1 will get a major makeover and it will arrive this year.
The current model BMW X1 on sale in Malaysia is the F48 model and with the SST waiver it is price at RM208k making it the most affordable BMW that can be purchased brand new in Malaysia. It is still an infant model in the BMW line-up with its 1.5L Twin Turbo engine as it is still only a second generation model. Yes, the X1 nameplate is not as old as the X3 and X5.
This compact Crossover is now seven years old and we did not realize this until news on this all new 2023 model emerged online. BMW AG has shared with European press that a third-generation X1 will debut this year, in line with the brand's seven-year life cycle for each model.
For the 2023 model BMW designers will deliver a bold, sporty, visually striking all new model with the BMW X1 name plate and this adds another chapter to the Sports Activity Vehicle's ongoing success story.
Since it was first shown in late 2015, the current-generation BMW X1 has shown it has what it takes to be a sales winner in Malaysia despite stiff competition from Mercedes GLA, Volvo XC40 and the Audi Q3.
Globally it has also done very well. In 2018 it was not only the highest-selling BMW X model worldwide, it also led the way in its segment as a whole over the same time period with 286,827 units delivered to customers. Around 40 percent of all BMW X1 cars were sold to owners in Europe, while one in ten left the production line bound for the USA, which duly became its third-largest sales market.
In 2019 this second generation X1 received major restyling from the designers and looked almost like a third generation X1. Now, this new generation will be in line with the rest of the brand's models and, among other things, will have a much larger grille, maintaining the double kidney that identifies the manufacturer.
This current BMW X1 is sized to meet the needs of a singe person or a small family as it is 4.43 meters long, 1.82 meters wide, and 1.61 meters high. Its length is expected to vary little, but it will be somewhat taller and wider. And in reality, this update in its measurements would have focused on making a larger interior. Specially to take advantage of the space in a better way both in the rear seats and in the rear boot capacity.
BMW insiders say that there will be plug-in hybrid version at launch to be sold side by side with an all electric version that will be called 'BMW iX1'.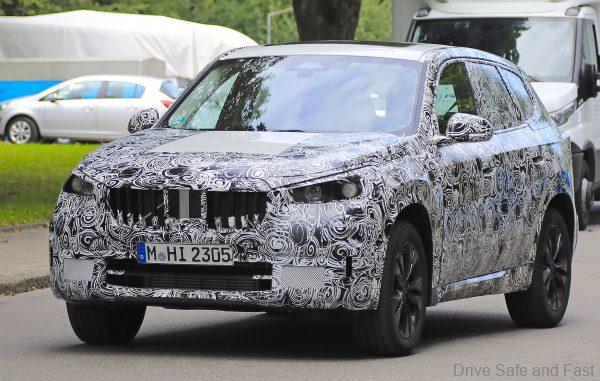 Meanwhile, a high-performance M35i version will continue to be offered as this is also important for buyers in Asia.