Cars
Published on March 25th, 2022 | by Subhash Nair
0
Hyundai Kona Electric e-Plus Test Drive Review
The Hyundai Kona Electric presents a solid case as a second car for the city.
The Hyundai Kona Electric wasn't the first electric car to be sold in Malaysia, but it's certainly the first realistically-packaged Electric car to hit the market. It was introduced not long after the Malaysian government announced its plans to incentivize EV adoption in the country. It was introduced in three variants:
e-Lite (39.2kWh battery,136PS, 305km range, 7.2kW charger) for RM149,888
e-Plus (39.2kWh battery,136PS, 305km range, 11kW charger) for RM169,888
e-Max (64kWh battery, 204PS, 484km range, 11kW charger) for RM199,888
The model we got to test last month was the Kona Electric e-Plus, which builds on the base model, but adds nice-to-haves like a heads-up display, powered front seats (10-way and 8-way for driver and passenger respectively), and a front radar to expand the list of Advanced Driver Assistance Systems available.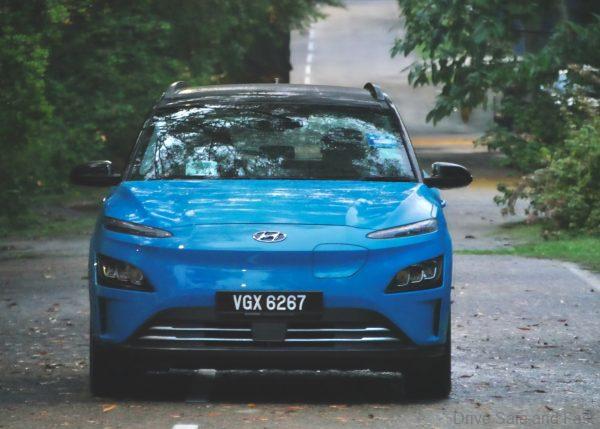 While Hyundai's other electric vehicle, the IONIQ 5, is built a dedicated electric vehicle platform called the e-GMP, the Hyundai Kona Electric is built on the same platform that underpins the Hyundai i30 and Kia Seltos. This means that you'll still miss out on some engineering perks that many other electric vehicles have. Two key missing ingredients here are an evenly distributed underfloor battery pack and axle-mounted motors. Instead, the Kona Electric's underfloor battery pack is a little denser towards the rear of the vehicle. Open the hood and instead an extra bit of storage space, you're greeted with an electric motor that drives the front wheels through a single-speed gearbox.
These are negligible disadvantages to most customers who are new to electric cars but definitely noteworthy for electric vehicle buyers looking for the 'complete' experience. The Kona Electric sends all its power to the front wheels and that means significantly more wear on the front rubbers over time, lots of wheel spin on heavy acceleration. It also means dynamics under heavy acceleration is not fulfilled to its maximum potential. This is not a complaint, performance in the Kona is actually quite brilliant, whether you're driving it like a daily or like a sports hatch. The issue is that there is a little more weight over the rear axle than there should be. The result is that it feels like the front and rear suspension don't negotiate speed bumps and potholes the same way.
On the whole though, the Kona's actually a really pleasant vehicle to drive. You can easily use the paddle shifters to increase or decrease the regenerative braking rate. At max regen, the Kona Electric can effectively be driven in one-pedal mode. This method of engaging and disengaging single pedal driving was more intuitive and faster than it was on the Volvo XC40 or Tesla Model X. Both those vehicles bury the toggle switch away under less intuitive digital interfaces.
The chassis is also very well setup to handle fast-paced driving despite the aforementioned clumsiness. It feels planted, isolated and comfortable to the standard of a premium compact crossover.
In terms of design, we think Hyundai really did a good job here. We're not a fan of split headlights, but the Kona somehow pulls the look off nicely. They've also unified the theme at the rear with split tail lights, so there's a level of purposefulness in the overall exterior design.
Funky colours like Drive in Jeju are carried with confidence on this handsome machine. There are hints of the vehicle's high-tech nature in the wheel design and closed off front grille, but nothing too overtly 'EV' about the overall design – it is after all, the same metalwork that goes into the petrol-powered Konas.
Inside, the design is quite upmarket as well, with a decent amount of soft touch materials spanning the entire cabin. A Wireless Qi Charger, Android Auto and wireless Apple Carplay are here to complete the high-tech experience. Infotainment is great, but the bezels on the display could have been a tad slimmer.
A range counter, battery percentage indicator, regen level indicator and power output meter are all digitally displayed, leaving the speedo as the only traditional instrument element in front of the driver. The Heads-Up Display (HUD) on this mid-spec Kona Electric also elevates the experience somewhat, as do the two-tone pleather seats.
An interesting element in here is the gear selector interface. There are no knobs or levers – just buttons laid out on the centre. Personally, it's not my favourite approach and it may take time to intuitively know which button puts the car into which gear. I mistook 'P' for 'R' the first day I drove the car as the script was obscured under direct sunlight and we can see others making the same mistake even after getting used to the vehicle. It's just not the right way forward for gear selectors in cars.
Inside, it's also worth noting that the rear seats are a tad tight for adults. It's not entirely suitable for larger, growing families. I can see a young couple using the Kona Electric as their secondary city vehicle, but a larger petrol car will be needed for longer trips with more occupants and luggage in tow.
Range anxiety has been a big issue around EV ownership. Having experienced the Kona Electric for 3 days, I have a more realistic view of the problem. I wasn't light on the throttle, and even filmed a review with the car and covered about 150km+ of heavy city driving with the car. By the time I'd started my third day with the car, I still had 50% a battery. I realised by the second day that I range anxiety was not a constant, looming fear. It was more manageable than the fear of an unexpected breakdown – something I still struggle with after years with six different 20+ year old vehicles.
Range anxiety doesn't happen if you plan your week of city-driving out in advance, but what it does do is limit where you can go. This mid-spec model is good for about 300km of travel – and with barely any DC Fast chargers around, it's EXTREMELY risky and a bit inconvenient to do an interstate trip, even with an available AC chargers along the way. You may end up turning up to a carpark with AC chargers only to find all of them occupied. The chargers there might be out of service. Even if everything goes to plan, it only works if you're prepared to occupy your time with some other activity for a few hours while the car charges.
On my second day with the Kona, I went to Bangsar Shopping Centre to witness the launch of the IONIQ 5. I thought I'd get a chance to 'top up' some battery power while in the car park, but every lot was occupied when I got there.
On my final day with the Kona, I attended the GLA launch in KLCC and used the free charging stations within the RM10 premium parking lot. It took 2 hours to get the car charged from 50% to 100% and that return of 150km of range cost me a total of RM27 in parking fees thanks to KLCC's exorbitant parking charges.
I'm used to getting about 450km for RM70 (6km per Ringgit or RM0.15/km) of petrol on my Perodua Alza, so 150km for RM27 (5.5km per Ringgit or RM0.18/km) actually isn't bad, and this was a really quite an expensive way to get recharged. Charging at home is apparently closer to RM30 per full battery charge. If true, that would amount to 10km per Ringgit or RM0.10/km, which is unusually cheap.
At just under RM170K, the Hyundai Kona Electric e-Plus has got perceived quality and equipment levels nailed. It's an ideal 2nd or 3rd car for upper middle class Malaysian families looking to get a foot into the electric vehicle game. It's also perfect for well-to-do parents looking to gift their kid a lifetime of zero emissions driving from the get-go. What a flex that would be for the next generation of rich kids – they can be the first humans with a chance to produce zero local emissions from driving throughout their lifetime.
Hyundai Kona Electric e-PLUS Specifications
Engine: Single Permanent Magnet Synchronous Electric Motor
Battery Capacity: 39.2kWh
Range: 305km (WLTP)
Charge Type: 11kW Type 2 (AC) and 100kW CCS2 (DC)
Min Charge Time: 4.5 hours (AC) and 47 mins (DC)
Transmission: Single Speed Reduction Gear
Max power: 136PS
Max torque: 395Nm
Top Speed: 155km/h
0-100 km/h: 9.9 seconds
Price: RM169,888