Cars
Published on March 21st, 2022 | by Subhash Nair
0
Volvo XC40 Recharge Pure Electric Drive Impressions
We drove the all-electric Volvo XC40 Recharge Pure Electric up Genting Highlands last week.
Last week, Volvo Car Malaysia made a huge number of surprise announcements following the launch of the all-electric Volvo XC40 Recharge Pure Electric. The company said that they would be going hard with electrification in Malaysia and aimed for 75% of their sales to consist of fully-electric cars by 2025.
They also said that they'd be launching a new electric car every year, with a 2nd electric car, the Volvo C40, possibly coming later this year.
We managed to get half a day of driving out of the Volvo XC40 Recharge Pure Electric the day after the Malaysian launch. The drive took us from Subang Jaya to Janda Baik then up Genting Highlands and back to Subang again without stopping to recharge these 100% battery electric vehicles. While that may not sound particularly impressive, you have to also remember that we were also pushing these cars very, very hard and these cars are very, VERY powerful.
The first time I got near the accelerator pedal, I was admit that I was completely unprepared for just how instantaneous the delivery was. There was effectively no gap in time from stepping on the throttle and having the vehicle go faster. I made the mistake of giving it 70% throttle and expecting there to be a slow build up of torque. No. The car lurched forward soundlessly without any hesitation whatsoever.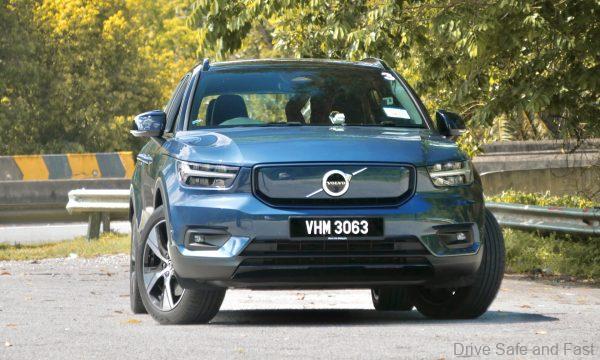 In some ways, this is supercar levels of performance and responsiveness, but in other ways, it really isn't. There are some restraints to what the tyres can do and to preserve these already bespoke rubbers, the XC40 Recharge Pure Electric doesn't take off with much wheel spin.
In most scenarios, the 0-50km/h doesn't quite feel as intense as the acceleration from 50km/h to 150km/h. But make no mistake, if you have not driven a supercar before, this acceleration is probably going to knock your socks off.
660Nm of torque is truly not for the faint of heart. Even the XC40's chassis is barely able to take full advantage of the power the motors put forward. It's best experienced in a straight line.
The other thing to note about the way the XC40 Recharge Pure Electric drives is that it makes full use of one-pedal driving. This is an option you can turn on or off through the 9″ infotainment system. I would recommend leaving it on and getting used to it, as it's a more effective way to regenerate energy and to minimise foot fatigue on long drives.
That being said, there will be a learning curve for just about every driver. The Hyundai Kona Electric and Honda City RS's paddle shifter system for brake regeneration level is an easier system to get in and out of.
A neat addition to the XC40 is Google integration. This is very effective, especially when it comes to Google Maps on screen. The navigation system gives you an estimated battery percentage upon reaching your destination AND an estimated battery percentage upon making the return journey to your current location. Other companies should take note – this is the right way forward for electric vehicle infotainment – just leave it to the tech experts.
There's also a brand new fully-digital instrument cluster that displays all information in a neat way with fluid animations. It's also worth noting that this version of the XC40 has more cameras, radars and ultrasonic sensors than the others.
Besides that, this electric version of the XC40 is pretty much just that – an electric version of the XC40. The gear selector doesn't have a tiptronic function, there aren't paddle shifters, there's no spare tyre (but the split folding boot floor returns), and there's a tyre repair kit under the small, but usable frunk.
The front and rear tyres are of a different size. Oh, and the front grille is closed off for a more futuristic look.
Charging the Volvo XC40 Recharge Pure Electric can be done via an 11kW AC Charger at home or a with a DC Fast Charger (up to 150kW).
If Volvo Cars prices the XC40 Recharge Pure Electric around RM250,000, they've got a sure-fire hit on their hands. If it's below RM300,000, it's still probably one of the fastest and most tech-laden car in its class. We project it'll be somewhere in between, and a little lower than most expectations given the fact that it's locally-assembled.