Automotive
Published on April 21st, 2022 | by Subhash Nair
0
All- New BMW 7 Series And Electric i7 Revealed
The all-new BMW 7 Series and its electric alternative, the BMW i7 has been revealed.
After months of rumours and spy shots, we finally have a new flagship sedan reveal from BMW with the all-new 7 Series. The company simultaneously showed the BMW i7, an all-electric alternative to the traditional ICE powered 7 Series. In contrast, Mercedes-Benz marks a clear distinction between its S-Class and EQS flagship sedans.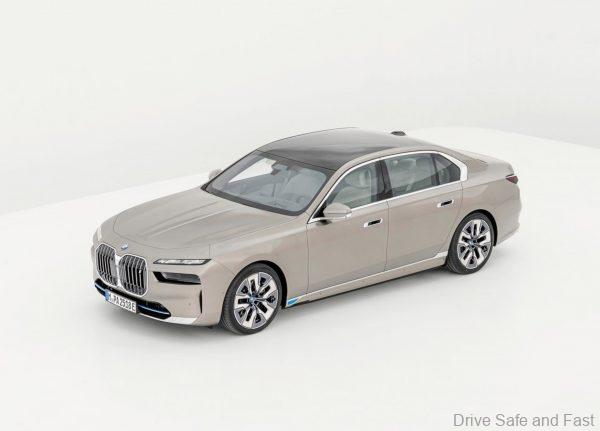 The 7th generation 7 Series and i7 feature essentially the same chassis and design with air suspension with auto self-levelling dampers as standard and available rear-wheel steering. Let's start with the petrol powered 7 Series models that are most likely to make it to Malaysia before the CONFIRMED plug-in hybrid versions are revealed.
These petrol models come with the latest 8-speed automatic from ZF which integrates their 48V mild hybrid system's motor. There will also be a conventional BMW turbodiesel and high-performance powertrains from M coming to this 7 Series soon enough.
BMW 740i
The base petrol model is the 740i, which comes with an upgraded version of the familiar 3.0L inline 6 turbocharged motor. This refreshed B58TU2 now runs on the Miller cycle and features active coils with integrated electronics, a more efficient turbocharging system, new intake ports and combustion chambers as well as electronically-controlled VANOS and 48V mild hybrid technology.
While better emissions and efficiency is touted as a selling point, the 740i is now more powerful than ever with a combined 375 horsepower and nearly 540Nm of torque available at its absolute peak. as such, 0-100km/h is dispatched in just 5 seconds.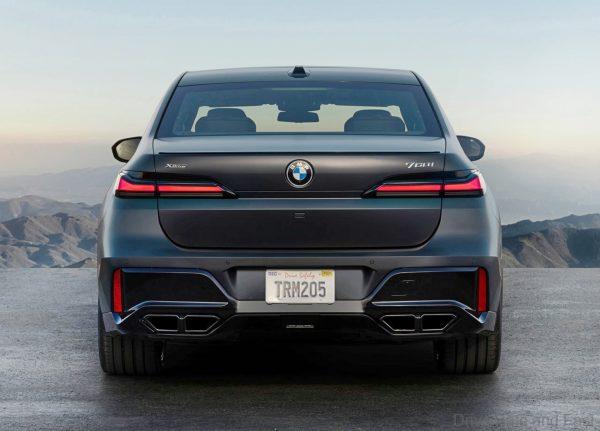 BMW 760i xDrive
For those looking for a larger heart in their 7 Series, there's a 4.4L TwinPower Turbo V8 with all-wheel drive in the 760i xDrive. A reinforced crankshaft drive, a new turbo system with a blow-off valve, new oil pump, oil sump, and 48V system with an electric motor give this engine a maximum output of 536 horsepower and 750Nm of torque. The century sprint is completed in just 4.2 seconds here.
BMW i7 xDrive60
The first ever BMW i7 brings a pure electric drivetrain option to the 7 Series for the first time. There is a motor on each axle (308hp rear, 255hp front) lending the i7 xDrive60 a maximum power output of 536 hp and 744Nm of torque, roughly matching what's available on the V8 model. The i7 xDrive60 isn't quite as quick off the line and it only gets to 100km/h in 4.5 seconds. That being said, it can also return about 483 km of pure electric range on a full charge based on the preliminary testing. This vehicle's top speed is limited to 240km/h.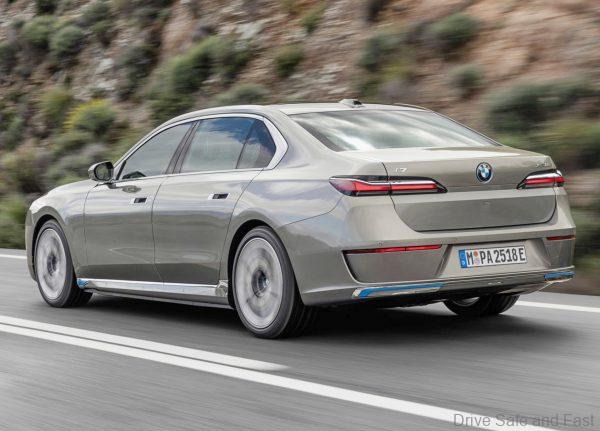 The electric 7 comes with a 101.7kWh floor mounted battery pack and can accept DC Fast Charging speeds of up to 195kW, which translates to about 170km of range added in 10 minutes.
Upcoming M Variants of the 7 Series
BMW are also teasing development of two M variants for PHEV and electric powertrains. They say that their upcoming BMW M760e xDrive will have a total power output of 571hp and 800Nm of torque when it debuts in the first half of 2023.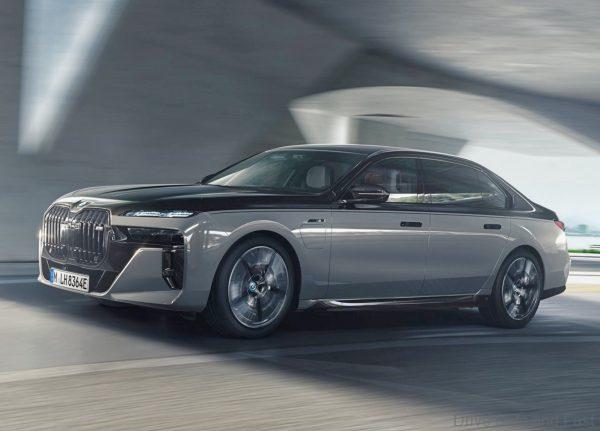 The M division has also been tasked with developing the BMW i7 M70 xDrive, which cranks the power output up to 600hp and 1,000Nm of torque to deliver a theoretical 0-100km/h time below 4 seconds.
Design
The new BMW 7 Series confirms the worst – that the design language debuted on the facelifted X7 isn't just for BMW SAVs, but for all their future top-tier luxury models.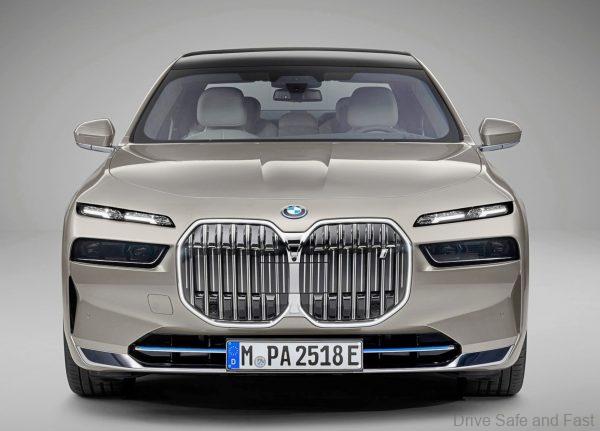 The face of the new 7 features a monolithic look with a LARGE and almost equilateral set of kidney grilles with cheesy illuminated surrounds. It also features split headlight design, with Swarovski crystal (probably optional) daytime running lights placed high up and doubling as turn signals.
The headlights are mounted lower in the bumper and appear darkened when not in use.
Around back, the slim coupé taillight design reserved for BMWs like the 2 Series Gran Coupé and X4 is now… a standard design feature on the sedan. BMW have also moved the license plate mounting position low down to the bumper and not really resolved the tail end with any kind of garnish or trim.
There's just a mild contrast/body-coloured strip and a visible button for the trunk release. Honestly, very amateur looking work for a flagship. Below all that nothingness, the inverted trapezoidal quad exhaust finishers from the BMW XM Concept are seen integrated into the bumper on the ICE-equipped models.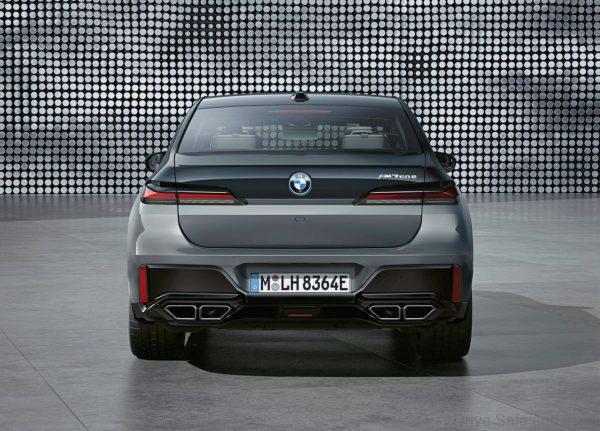 The side profile is the only one that will avoid much criticism. It's quite clearly a large sedan and there's enough work done to melt the 3-box look down into something sleek. There are now flush door handles for the doors, which are now also motorised like they are on Teslas from 7 years ago.
Interior Of The 7 Series
Inside, we actually quite like what BMW has done with the 7th generation 7 Series. BMW has adopted the Mercedes-Benz display setup, combining two curved digital displays that make up the driver's instrument cluster and the infotainment interface.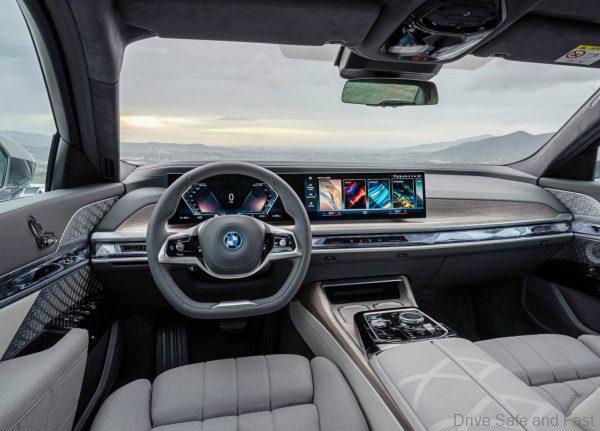 These sport iDrive, BMW Operating System 8 and more. There's an Executive Lounge option for the rear passengers with optimised reclining seats, BMW Individiual Merino leather/cashmere wool trim and more.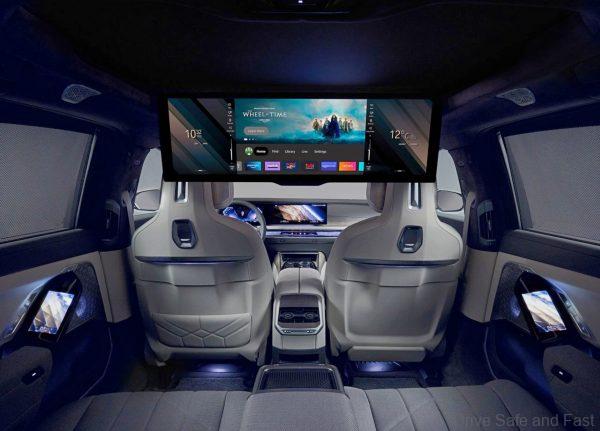 Rear passengers are also treated to an optional BMW Theater Screen that spans 31.3″ across. This is an 8K display with Bowers & Wilkins Diamond Surround Sound with an optional in-seat bass driver, touch screen remotes in the dor panels and a rear shade that closes automatically when the screen is displayed. The Theater Screen is set up with Amazon Fire TV and has 5G connectivity.