Automotive
Published on May 23rd, 2022 | by Amirul Mukminin
0
How To Transfer Vehicle Ownership After Owner Passes Away
Just in case you didn't know
Transferring vehicle ownership after the passing of the owner can be very tedious but in this article, we will help guide you through all the steps necessary to complete the process.
First step: Complete the distribution of inheritance
Any properties, including vehicles, left by a deceased family member will be deemed as inheritance. Therefore, the distribution of the inheritance or estate must be completed first before the transfer of ownership can be done.
You will need the following documents to begin the process:
Death certificate
JPJ K3A form
Identification card (MyKad) or passport of the successor or administrator
Vehicle ownership grant/certificate
Court order
Grant of probate OR letter of administration OR Amanah Raya's letter of endorsement
B5 transfer of ownership inspection report from Puspakom
Second step: Undergo Puspakom Vehicle Inspection
Next, get the vehicle ready for transfer of ownership inspection (also known as the B5 inspection) at Puspakom. You can book an inspection appointment and choose the desired branch and time slot online via the MyPuspakom website or the MyPuspakom app. Don't forget to bring the original vehicle registration card or vehicle ownership certificate, as well as your identification card.
If you appointed a representative to bring in the vehicle for inspection, they are required to hand in a liability release form during the inspection visit.
After the test, a computer-generated vehicle inspection report will be issued. The report is valid for 60 days.
Third step: Get a new vehicle insurance under the name of the new owner
Make sure that you have purchased a new vehicle insurance policy before heading to the JPJ for the transfer of ownership. Notify the insurance agent that the car is in the process of an ownership transfer.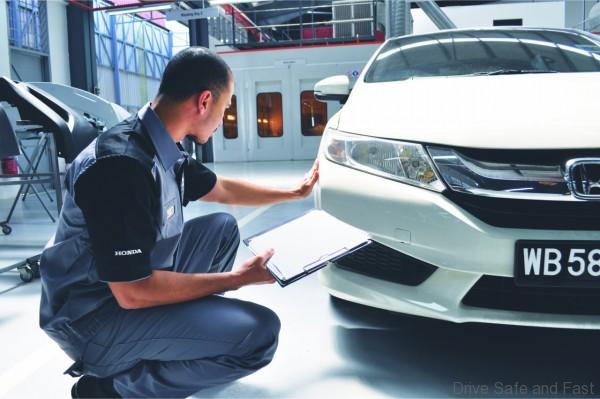 Fourth step: Visit the nearest JPJ branch to transfer ownership
Now it's time to make it official. Prepare and complete the following forms before you visit the nearest JPJ branch;
Two copies of TM3 forms
Two copies of JPJK3A forms
Original grant
Puspakom B5 report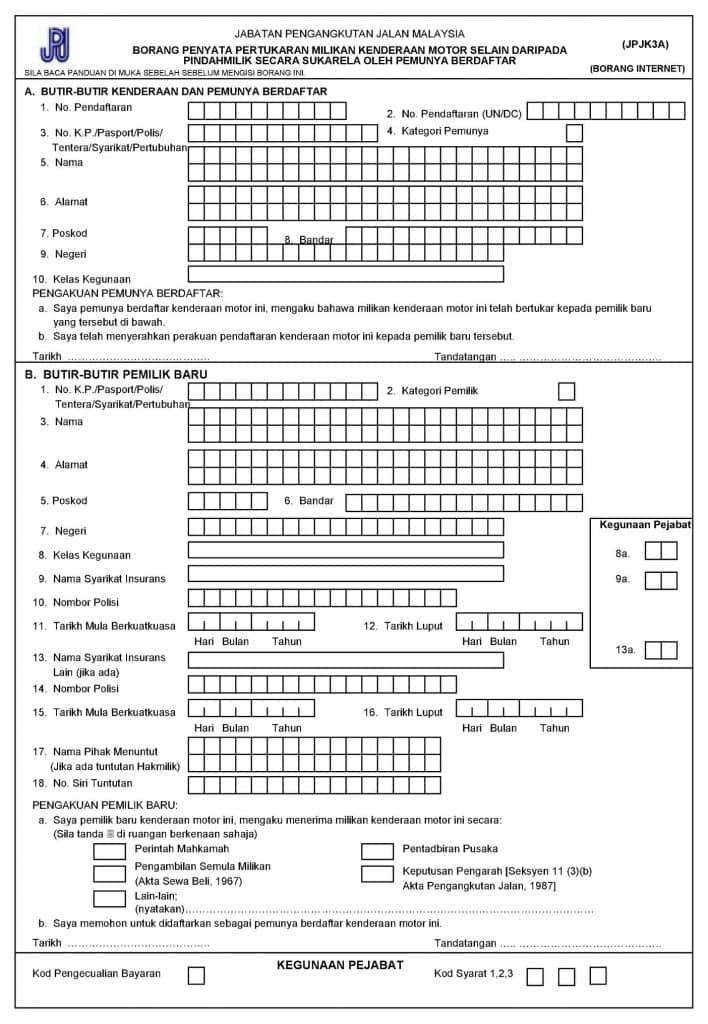 Also, bring along any one of these documents:
Court order
Grant letter of probate
Amanah Raya's letter of endorsement
Letter of administration
Fifth step: Get a new road tax
With the new grant and insurance policy, you can now purchase your road tax over the counter at any JPJ branch offices or online via MyEG.