Automotive
Published on June 6th, 2022 | by Daniel Sherman Fernandez
0
Audi RS5 Sportback With 450 PS And 600Nm Is Not Enough
This is the Audi RS5 Sportback competition plus.
Customers who bought this latest version of the RS5 is not completely happy with the already powerful and enjoyable powerplant from the factory.
With already impressive handling and power delivery that will even have sports electric vehicle drivers trying to keep ahead, this latest RS5 has been given some added 'zest' from the factory.
In the course of some proverbial fine-tuning, Audi Sport GmbH increases the sportiness of the Audi RS4 Avant and Audi RS5. The new competition package is bursting with extras that both sharpen the cars' appearance and make for a more emotional driving experience.
With its coil-over suspension (RS sport suspension pro), the competition plus package boasts a maximum in dynamics and driving fun while not compromising its top suitability for everyday use. Sometimes less is more.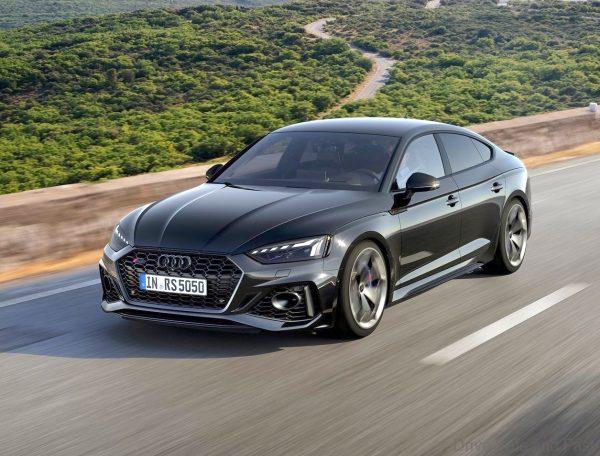 Reduced insulation between the engine compartment and the interior means the RS4 Avant and RS5 will thrill customers with an exciting, next-level sound experience.
The potent biturbo V6 has 450 PS of power and a torque of 600 newton meters from 1,900 to 5,000 rpm.
Despite its focus on increased driving fun, the RS sport suspension pro offers manually adjustable coil-over suspension for an ideal spread between comfort and performance.
Thanks to this, even longer distances can be covered comfortably with all available assistance systems and without any limitations. Customers who choose this coil-over suspension will receive their RS4 Avant or RS5 ex factory with a ride height that is 10 mm lower than standard RS models.
Plus, customers can manually lower the ride height by an additional 10 mm for an overall ride height that is 20 mm lower than the series standard. A higher spring rate, three-way adjustable dampers, and stiffer stabilizers heighten the general driving experience and help shorten lap times.
The upshot: Customers profit from more precise and more agile handling. Both competition packages also feature an increased maximum speed of 290 km/h.
The Audi RS5 Coupé or RS5 Sportback does the sprint in 3.8 seconds, an improvement of 0.1 seconds. For real? Does a 0.1 percent improvement in acceleration really make a difference from behind the wheel? Or is it more just for bragging rights over a glass of chardonnay?
This small power difference and probably a little better on the 'edge' handing with the uprated coil-overs makes very little difference to the drivers when on public roads and maybe a smidgen of difference can be felt when on the open highway.