Cars
Published on June 20th, 2022 | by Subhash Nair
0
Land Rover Defender 110 P400 Review
The 1st Range Rover was a dressed up Defender. This new Defender is a dressed-down Range Rover.
The Land Rover brand is getting a little larger these days with new products and sub-brands popping up. So before we go further, we should first attempt to understand what this all-new Defender is in the context of the Land Rover brand.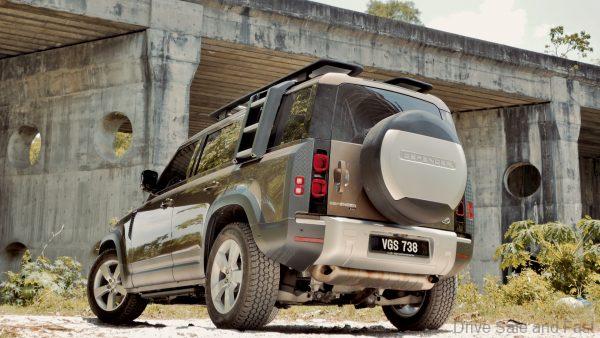 Understanding The New Defender
Product Philosophy
For those unfamiliar with the Land Rover portfolio, here's an article that may help. In essence, Land Rover began life as a company producing a simple, rugged off-roader for military and agricultural use which was later called the Defender. In the late 1960s, the company decided to take the same simple formula of the Defender and add some luxurious appointments to it. Thus the first ever Range Rover was born. The first Range Rover was just as rugged and capable as the Defender, but it was aimed at a more upmarket, suburban consumer – the fox hunter rather than the sheep farmer. It was a Defender that was dressed UP for an occasion. Philosophically, the new Land Rover Defender is the total opposite of the first Range Rover. It takes all the complexity and technological advancements of the latest Range Rover products and dresses it down to look like it's made for a tour of the Serengeti.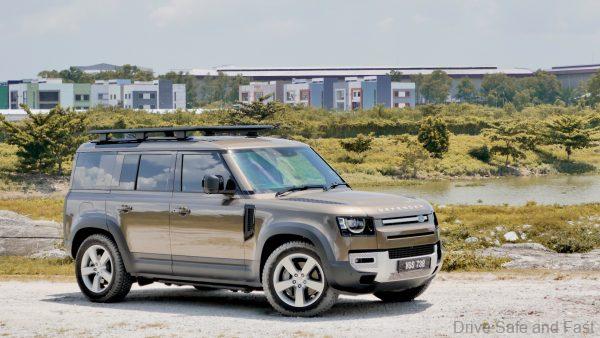 Which Land Rover Sibling Is This?
It's also worth considering where this fits in the sub-brands of Land Rover. You have the Discovery sub-brand, which is aimed at directly competing with premium SUVs from other European marques. And then you have the Range Rover sub-brand, which positions products that are half a rung above their premium SUV rivals. Not quite Bentley Bentayga level, but a taste of that luxury in multiple sizes (Evoque, Velar, Sport and full Range Rover). My take is that the Defender opens up a new sub-brand for Land Rover. It already has 3 bodystyles to choose from (90, 110 and 130) and Land Rover is purportedly looking to expand this new Defender family further. If the Discovery family is a taste of Land Rover and the Range Rover is the luxury arm of the company, think of Defender as the luxury-outdoors-lifestyle product line.
Compared To The Old Defender
The new Defender is also the complete opposite of the simple old Defender it replaces. Yes, it still has some of the spirit, but it has none of the soul. It is still designed to take on the toughest environments, but it's doing that in a completely different way. Purist will whine, but overall this transition is a good thing. The old Defender had its time. It was a formula that was done to death and could no longer meet today's emissions, safety and customer expectations. The Defender had to do the Mini thing and transcend into the realm of the icon. When BMW Group transitioned the Mini brand, it had to extract the driving and character essence of the product. In the context of the Defender, this means all-capable, extra durable, authoritative king of any road. It doesn't need to be dynamic around corners, but it needs to feel like the biggest, baddest thing on whichever road it's on.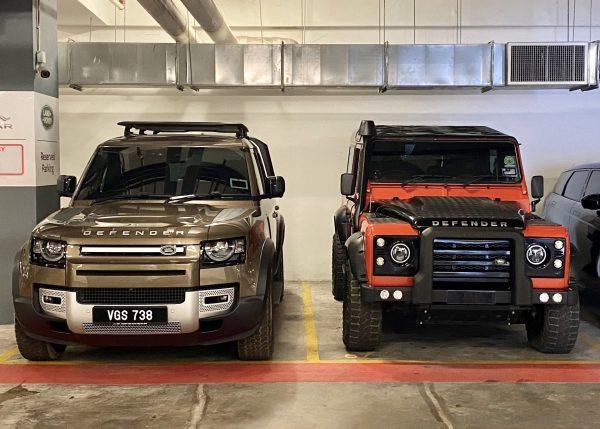 So I don't blame Land Rover for adding complexity and shedding the ladder chassis. As long as the results are right, it doesn't matter how they got there. So… Are the results there?
Actual Land Rover Defender 110 P400 Review
Yes.
They did it.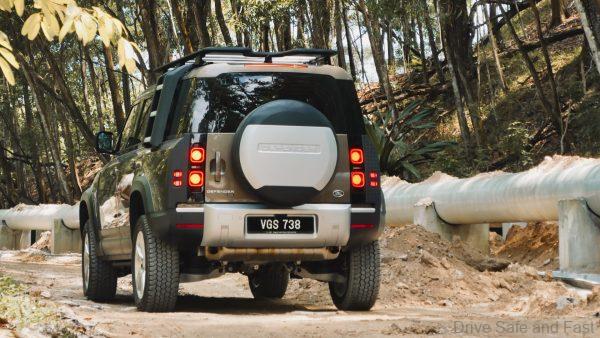 The new Defender feels like an otherworldly experience to drive. It's wider, taller and longer than almost any other passenger vehicle you'll encounter on the road. It has transcended. And it's nothing like the original, but that's a good thing.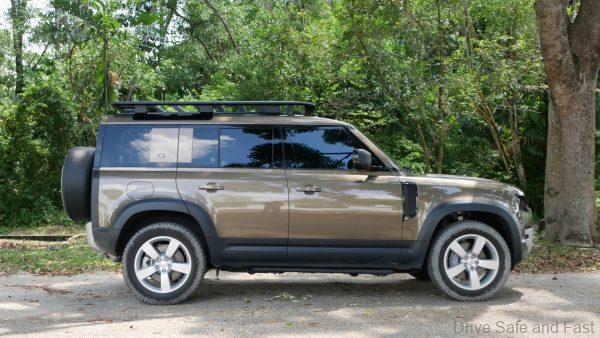 Most people who need a serious off-roader are not going to buy a Land Rover product. I think in 2022, that much is clear. The brand has moved way too far into premium territory for those customers to still be considering these products. So building a rugged, simple Defender would have been an absolute waste of time and money. And it would have been terrible to drive on actual tarmac. Let's not forget that the old Defender wasn't the most comfortable, refined, dynamic thing on the road. Far from it.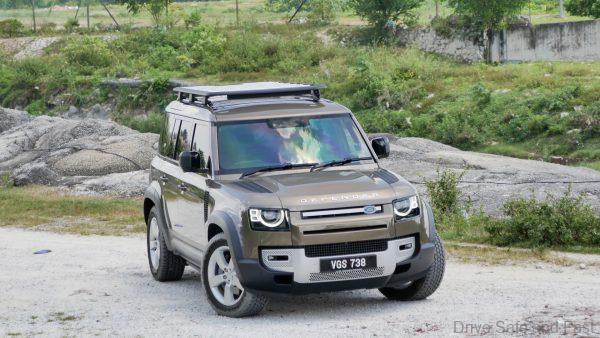 And while the new Defender P400 isn't as dynamic and planted as, say a Mercedes-Benz GLS 450, it manages to behave quite well on the road when driving hard. The adaptive dampers and chassis do a good job of keeping roll to a manageable level and the powertrain delivers enough torque to make its 2 tonne weight seem negligible. You don't need to chart a course like some large cruise ship when you get behind the wheel. In fact, being as big as it is, traffic tends to give way when the Defender arrives.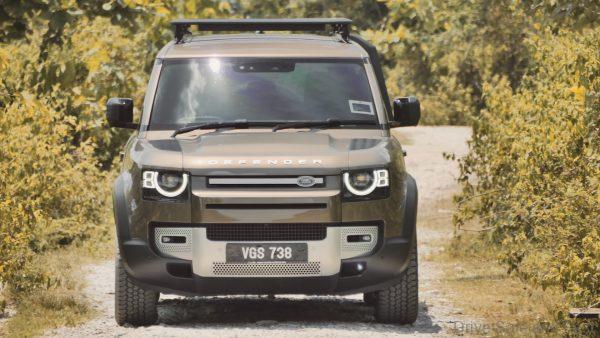 The bottom line is this, the Defender drives more like a road car than the Lexus LX or the Toyota FJ Cruiser, and it still has its off-road capabilities intact. And with 400PS and 550Nm of torque, the thing is fast. It does the century sprint like a sportscar and keeps going to 191km/h even though it really shouldn't. But my only real complaint is that the throttle response could have been a little more predictable when taking off. Even with extremely precise footwork, it's hard to get the Defender to accelerate smoothly from a complete stop.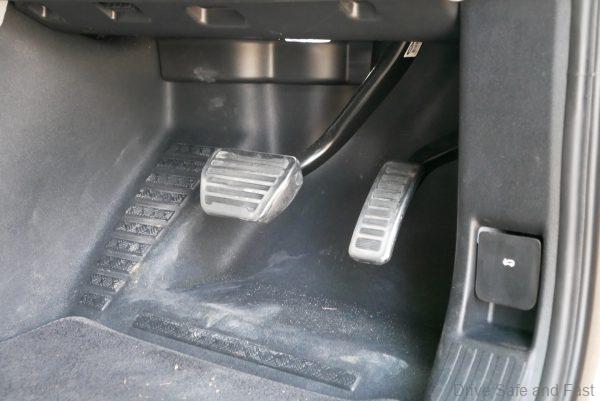 To be honest, no Malaysian reviewer is going to put this nearly million-Ringgit test car through its paces off tarmac. I myself lack the experience to do so. But I did take it a little off-road for some photos and there was never a situation where I felt the Defender was out of its depth. On paper, the Defender looks about ready to obliterate any of its off-road luxury SUV rivals.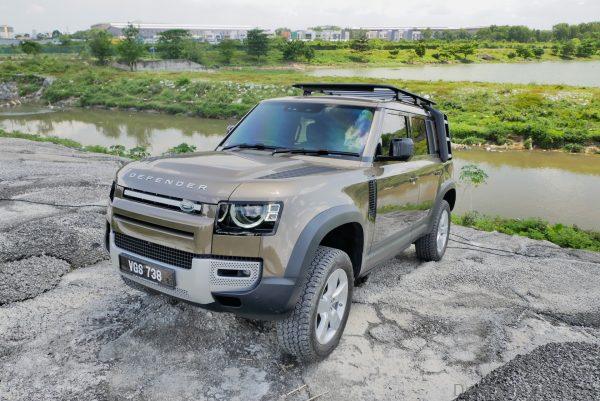 With the air suspension at max height, you have 290mm of ground clearance, an approach angle of 37.5 degrees, a departure angle of 40 degrees, and a maximum wading depth of 900mm. Terrain Response 2 and two automatic-locking differentials ensure that no terrain can best the Defender.
It also has Clear Sight Ground View, which puts a camera under the engine bay for a virtual look at how jagged the rocks are under your wheels.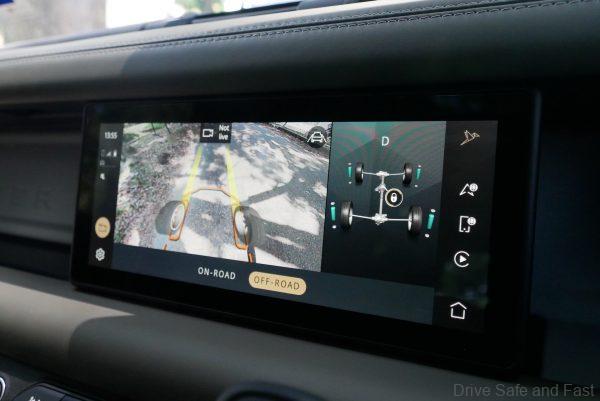 In terms of passenger comfort, there's very little to complain about in this 5-seater variant. The suspension does an amazing job at isolating occupants from poor road surfaces, the seats are wide and well bolstered. Plus, the upholstery in here is great to look at and feel. Rear can be folded flat to expand the boot storage and there are plenty of cupholders and huge cubby holes throughout.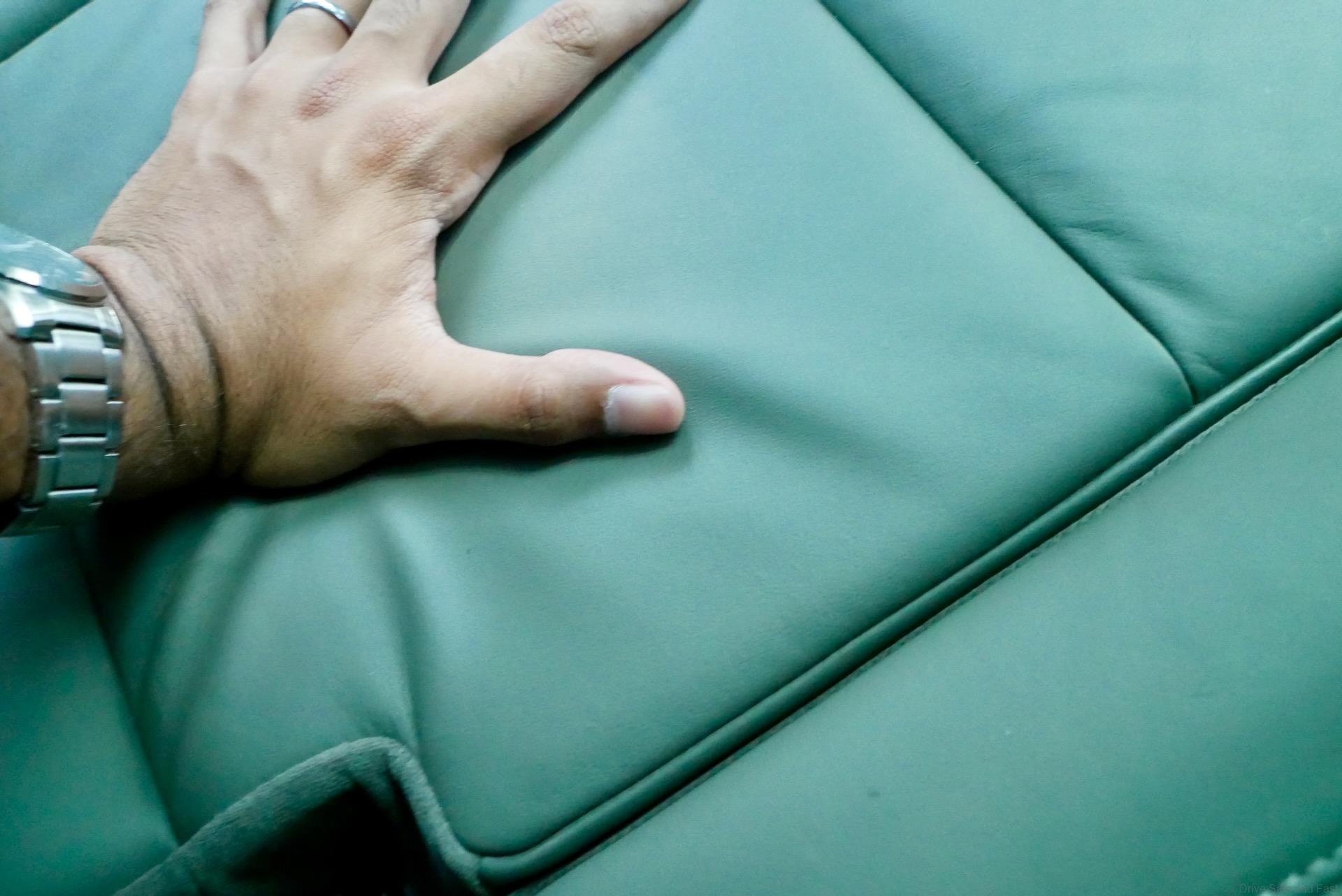 The rest of the cabin utilises similar appointments to the current Range Rover Evoque and Velar. There's the familiar Pivi Pro system, chrome-tipped stalks, and fully-digital display. One 'Discovery' level feature is the climate control/Terrain Response 2 interface, which does not feature a separate colour LCD like in those Range Rover models.
We honestly prefer how these controls look in this rugged vehicle. There are also tonnes of exclusive Defender design appointments to be found. Alpine lights, a body coloured square by the C-pillar,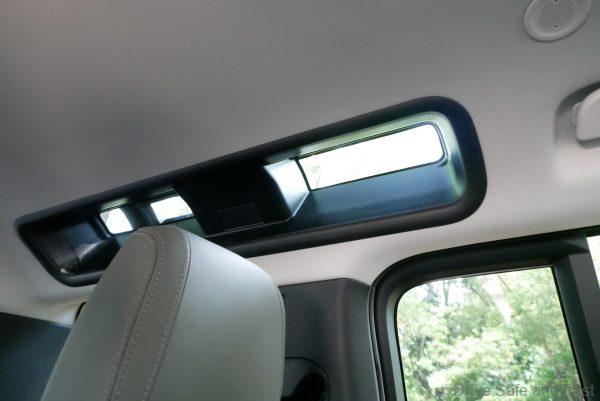 One thing about the Defender's interior that really stood out was the use of PVD-coated metals in parts like the steering wheel and door cards.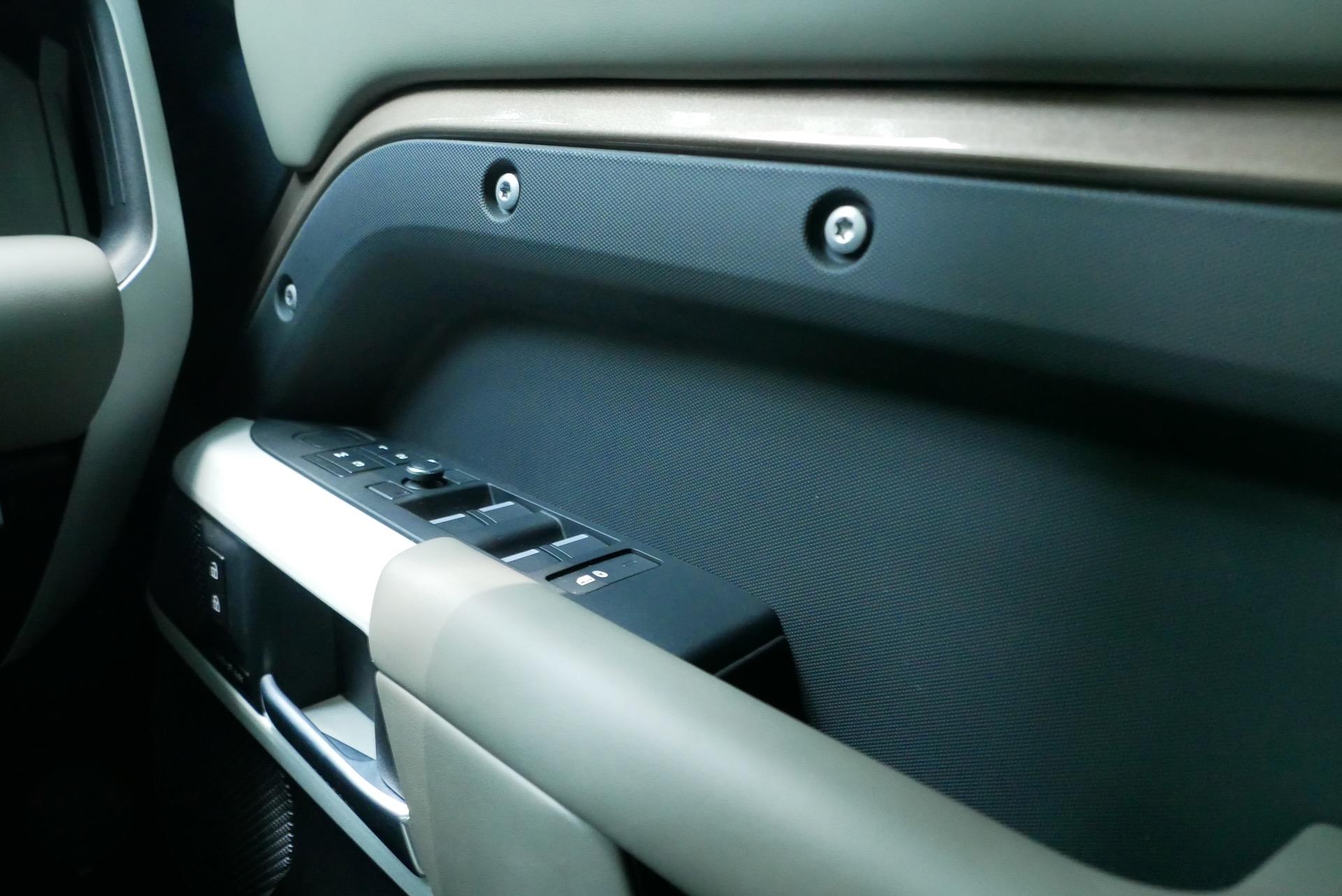 As great as these are, they are contrasted with some hard plastics that are styled to look like panels that would fit in the original Defender. You see these affixed to the door cards with Allan head bolts. At first I thought it was a nice touch, but then I remembered how expensive this car is and how relatively simplistic and inexpensive it is. In the boot, on the wing mirrors, by the taillights and on the hood, we find more plastics that are textured to look like more expensive materials. In this case, the plastic is made to look like indented aluminium.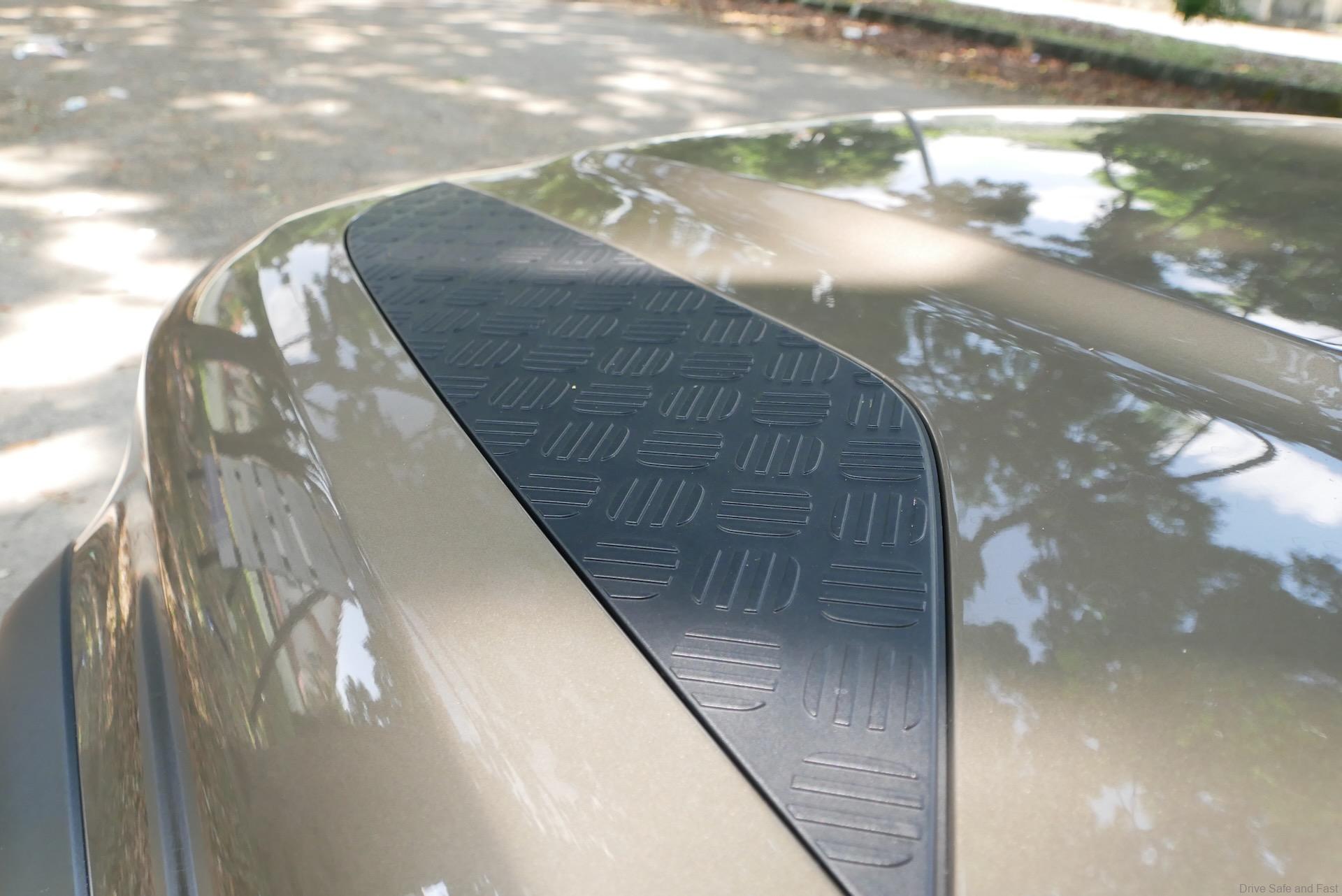 Think about it for a moment: on the original Defender, these embossed metal sheets were present, and they were the real thing. They were applied to the hood as an anti-slip surface for you to climb onto the vehicle to get away from attacking lions or to access cargo on the roof. In the Defender, it's… plastic and looks like a decorative inlay.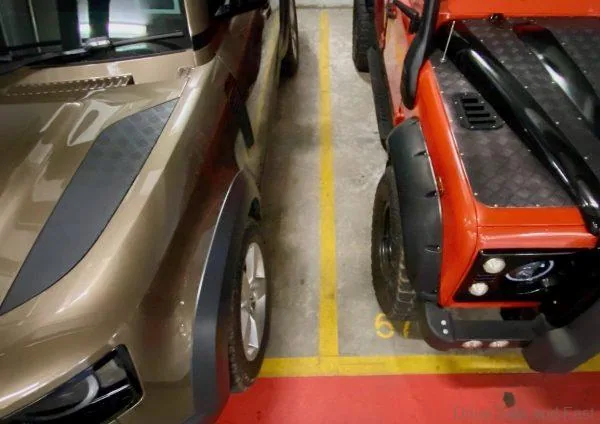 And that element of the Defender essentially boils down what has happened in this generation of the Defender. It's a much more modern vehicle than the car it replaces, but you have to accept that a lot of the 'Defender-ness' is purely decorative. If you can get over that mental hurdle and you can afford one, it's truly one of the coolest things on four wheels out there today.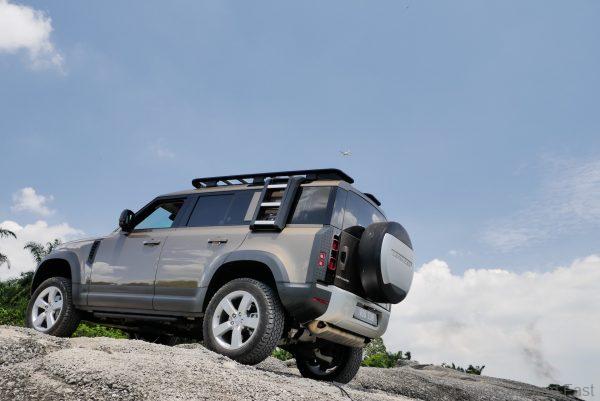 One word of advice if you are buying one: avoid the accessory pack pictured here. The roof-mounted cargo carrier adds to the vehicle's height and makes it nearly impossible to access most mall car parks. We also wouldn't recommend the tray accessory for the rear seats – it's simply too flimsy for practical use.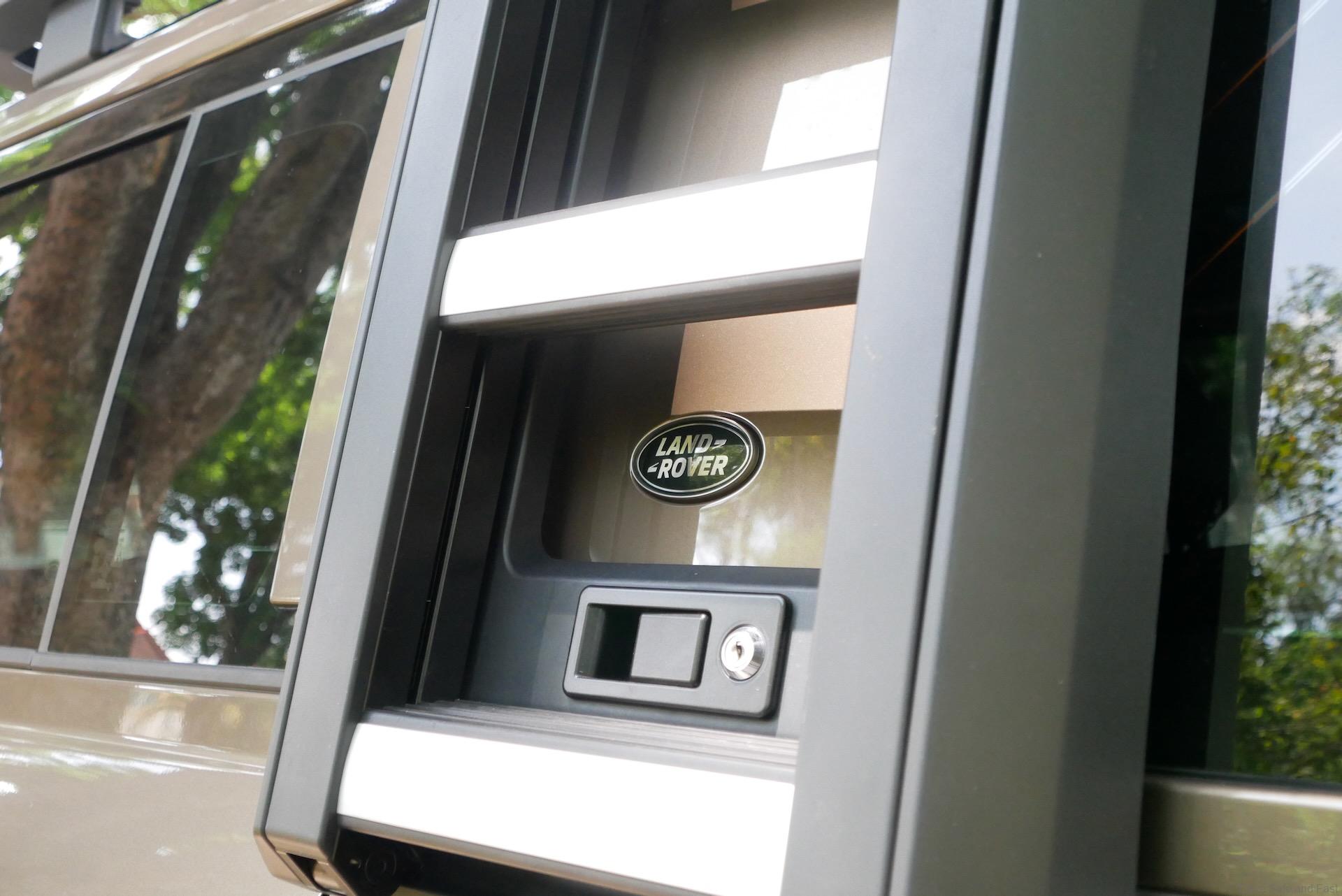 Land Rover Defender P400 Specifications
Engine: Inline-6, 24-Valve, DOHC, Turbocharged, Mild-Hybrid
Capacity: 2997cc
Gearbox: 8-speed Conventional Automatic with 2-speed transfer case
Max power: 400PS
Max torque: 550Nm
Top Speed: 191km/h
0-100 km/h: 6.1 seconds
Price: RM988,800