Automotive
Published on August 15th, 2022 | by Subhash Nair
0
Chery Starts Selling Tiggo 7 Pro And Tiggo 8 Pro In Indonesia
Chery begins its advance on the Indonesian market with two popular Tiggo Pro SUVs
Chinese carmaker Chery has been expanding its reach in South East Asia. Just this week at the Gaikindo Indonesia International Auto Show (GIIAS 2022), Chery started taking orders for the Tiggo 7 Pro and Tiggo 8 Pro SUVs. These two vehicles will be brought into Indonesia soon with a 6-year/150,000km warranty AND a 10-year/1,000,000km engine warranty! Of course, Indonesians customers SHOULD read the fine print of that extremely generous warranty coverage offer.
The Chery Tiggo 7 Pro and Tiggo 8 Pro are two of the largest flagship SUVs on offer from the company. The Tiggo 7 Pro is 4,500mm long with a 2,670mm wheelbase while the Tiggo 8 Pro is 4,722mm long with a 2,710mm wheelbase. Both vehicles are built on the T1X Comfort Chassis but both feature different powertrains and seating configurations. The Tiggo 7 Pro is a 5-seater with a 1.5-litre turbocharged petrol engine (115kw, 230Nm of torque) mated to a CVT with 9 virtual ratios. The Tiggo 8 Pro is a 7-seater with a 1.6-litre turbocharged petrol engine (197PS, 290Nm of torque) mated to a 7-speed dual clutch transmission.
There's no word on pricing, but we do know that Chery are getting serious about the Indonesian market. Back in April, they announced that they would use Indonesia as the ASEAN export hub.
Here's the press release with more information about the two cars that were opened for booking in Indonesia.
PRESS RELEASE
The flagship Tiggo 8 Pro is a seven-seater SUV with premium characteristics. Nowhere is this more evident than in its 'Life in Motion 3.0' design philosophy, which endows the vehicle with an imposing visual signature via its geometric matrix diamond grille and distinctive LED headlamps. The overall result – understated elegance and quiet aggression.
Occupants are treated to Sony surround sound through eight speakers, multi-colour ambient lighting, a panoramic skylight and an inviting two-tone black and brown upholstery. Three screens – a 12.3-inch instrument panel, an eight-inch climate control screen and an infotainment screen – enable control of virtually all vehicle functions while incorporating all-important mobile connectivity.
Adding to the impression of high technology and safety are the 12 Advanced Driver Assistance System (ADAS) functions including Adaptive Cruise Control (ACC), Autonomous Emergency Braking (AEB) and Forward Collision Warning (FCW), plus a 360-degree camera to aid visibility.
Under the bonnet is Chery's third-generation ACTECO series 1.6 TGDI engine, which produces 197 PS and 290 Nm of torque thanks to efficient turbocharging and high thermal efficiency. The engine is connected to a Chery-developed seven-speed dual-clutch transmission that boasts a transmission efficiency of 96%, allowing smooth, effortless and direct power delivery.
The Tiggo 7 Pro is the Tiggo 8 Pro's more compact sibling, targeted at the urban elite. It adopts an edgier interpretation of its larger sibling's geometric matrix diamond grille, flanked by sharp intelligent matrix LED headlamps that highlight form and function in equal measure. Its prominent shoulder line, through-type tail lamps and floating roof effect radiate trendy style.
With respect to technology, the Tiggo 7 Pro has a seven-inch LCD instrument panel, 10.25-inch central control screen and an eight-inch climate control screen, giving users a high-end interactive-touch experience. The 360-degree camera works with the large central control screen to provide a clear, uninterrupted view of the surroundings, making parking easier and boosting safety. Also fitted are an inductive electric tailgate, wireless charging, electronic gearshift and voice command, cementing Chery's commitment to enriching users' lives through advanced technology.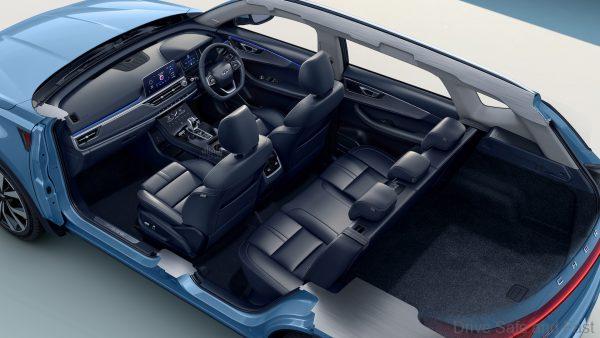 The Tiggo 7 Pro adopts an independent MacPherson strut front and multi-link rear suspension layout, combining driving pleasure and driving comfort. All variants come with leather seats, dual-zone auto air-con, six airbags and Bosch electronic stability, while over 10 ADAS functions are available, including lane keeping, adaptive cruise control and emergency braking.
The Tiggo 8 Pro and Tiggo 7 Pro, as well as the OMODA 5, are among the Chery models planned for launch in Malaysia. Chery is continuing to work closely with local partners towards establishing assembly operations in Malaysia, as well as towards its brand renewal, which will see the development of a new nationwide sales and after-sales network to best serve Malaysians.