TechTalk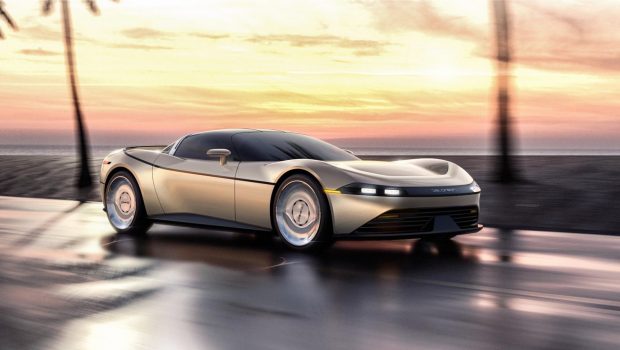 Published on August 4th, 2022 | by Sounder Rajen
0
DeLorean Gives Us A Fictional Timeline With The DeLorean Alpha 2
DeLorean commemorates 40 years of design history by unveiling three new concept models including the DeLorean Alpha 2
DeLorean is an American New Energy Mobility (NEV) automaker whose main focus is constant evolution. While responsible for a particular icon in the "Back to the future" movies, DeLorean is insistent on evolving and improving for tomorrow, and no car embodies this philosophy quite like the newly unveiled DeLorean Alpha 2 concept car.
This depiction of the DeLorean Alpha 2 is described as a "complete departure from the legacy design of the DMC-12."
DeLorean did mention that the DMC-12, "set the stage" for this iconic design and that the DMC-24 represented an evolution in design and color, but the fictional DeLorean Alpha 2 roadster from 1996 offers an unparalleled sneak preview into the future.
Now this rebooted company is going back to their roots to evolve their iconic designs starting with the DeLorean Alpha 2. While the concept DeLorean Alpha 2 launched fictionally in 1996 came with an Internal Combustion Engine (ICE) with an unknown amount of power.
The exterior features a steel composite frame which highlights the American approach to design with a very distinctive sleek silhouette, angular body lines and a low-profile spoiler that signals an emphasis on aerodynamics. This is a well executed design as it is visually an evolution of the original design.
One small thing I would like to note is that the overall shape of this concept DeLorean Alpha 2 does vividly remind me of the C4 generation Chevrolet Corvette. However, the timeline of this concept car was released in 1996 which was right around the time that the C4 Corvette had ended its run.
Perhaps this design was meant to resemble that of the C4 Corvette on purpose then? Well either way, it is a very handsome and strong design at the end of the day so I think if DeLorean did release the Alpha 2 in 1996 like their fictional timeline states, it probably would have sold like hot cakes.
In all honesty, I kind of wish DeLorean did not go bankrupt in 1982 and did release a 1996 version of this DeLorean Alpha 2 concept car back then. Who knows, we may have even had an all-electric next generation DeLorean Alpha 2 sometime now.
However, I am also a firm believer of the saying "everything happens for a reason" and one very important lesson imparted to me when I was just a wee lad is that we may not always be able to see the reason, but we should trust the process.
What do you think about DeLorean's concept cars, especially the DeLorean Alpha 2? I think it looks really good and if DeLorean were to actually make this car and sell it in Malaysia, I might just sell my kidney to buy one.
In case it wasn't obvious, I'm kidding. Please don't sell your kidney for any reason.