Automotive
Published on September 22nd, 2022 | by Daniel Sherman Fernandez
0
Audi RS5 Sportback Lands In Malaysia At RM809k
This Audi RS5 will soon be joined by its other RS siblings.
Yes, the RS range of cars will be slowly arriving in Malaysia as Audi takes the right step forward with having its 'special' RS models in showroom to compete head on with 'special' models from BMW and Mercedes-Benz.
Without local assembly in Malaysia, Audi is having a tough time convincing a lot of premium buyers away from Benz and BMW showrooms.
This is because, both Benz and BMW have a wide range of models being locally assembled and this brings their selling prices lower (local assembly lowers import duties).
Meanwhile, it should be noted that most Mercedes AMG (some AMG vehicles are local assembled) and BMW M vehicles are fully imported and their asking prices in Malaysia are very close to this RM809k Audi RS5 Sportback.
The closets rival to this RS5 Sportback will be the BMW M3 Competition which retails from RM664,800.
Additionally, the nearest rival to this Audi from Mercedes AMG will probably be the AMG GT 4 Door Coupe which was unveiled in 2021.
So let us share with you the performance figures of this new Audi. The power of the Audi RS 5 Sportback is evident under the bonnet with its 2.9-liter V6 TFSI biturbo engine.
Thanks to an output of 331 kW (450 hp) and a torque of 600 Nm, you can accelerate from 0 to 100 km/h in 3.9 seconds.
Thanks to quattro permanent all-wheel drive with sport differential and a brilliant 8-speed tiptronic with optimised shift times the RS5 Sportback, goes and it goes fast. Design your individual driving experience using the Audi drive select driving dynamics system. And experience the RS suspension plus with Dynamic Ride Control (DRC) which keeps your Audi RS 5 Sportback firmly on the road.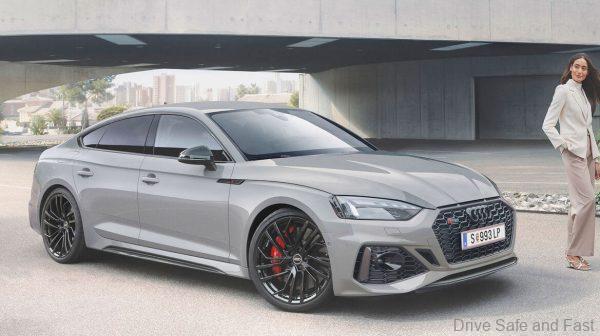 No matter from which perspective, which is the independent sporty character of the Audi RS 5 Sportback impresses at first sight. Its distinctive front view is dominated by the wide and flat Singleframe with a frameless integrated radiator grille and massive air intakes in a new 3D honeycomb look, as well as the front spoiler with quattro logo.
The rear looks sporty and dynamic at the same time. This is ensured, among other things, by the RS-specific diffuser insert above the attached spoiler lip and the oval tailpipes of the RS exhaust system. 20-inch light-alloy wheels emphasises the sporty appearance.