News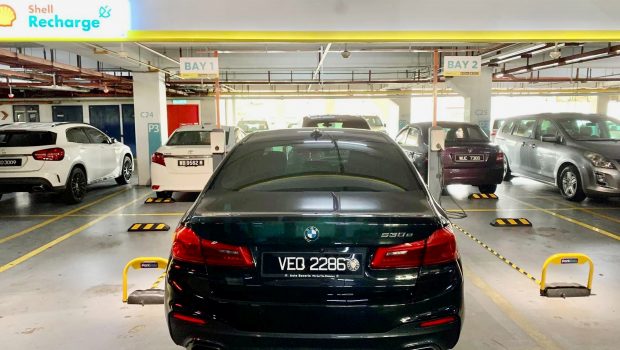 Published on September 1st, 2022 | by Sounder Rajen
0
Customer Loses Paid Booking Because Driver Parks In Between Charging Bays
Looks like some Malaysians still don't know how to park their vehicles correctly
At approximately 12.30pm in Cheras Leisure Mall on Merdeka day, 31 August 2022, while the whole country was beaming with national pride, yet again, another Malaysian decided to "forget" how to properly park their car. In this case, the owner of this BMW 530e PHEV parked in between two EV charging bays. Why?
I will never understand people like this and in the picture, one can clearly see that the car is parked in between charging bays 1 and 2. Normally, this kind of thing wouldn't be so bad but there was already a customer who had booked parking bay 1 and as a result of this lost their charging time slot which they already paid for.
So why did this driver park like this? One can only assume it was because they wanted an easy parking spot in a good space but this is definitely not the way to go about achieving that. There are people who have booked and paid for these charging bays for their EVs so why would anyone do something like this?
Since the driver of this car is an EV owner as well, I'm sure they can understand how frustrating it must be to be in this situation, so why even bother? It's not like there are no other available parking spots at all right? Surely there had to be alternatives to parking in between two charging bays?
It is definitely not wrong to charge your EV but it is most definitely wrong to not book a charge first and park your car so irresponsibly in between two charging bays, particularly when another person has already booked one of these charging bays.
The thing that really makes me angry about this whole thing is that the driver of that car chose to do this on Merdeka day. Should we not all strive to be better on our Independence Day? I personally feel like parking your car between two charging bays is bad enough but on Merdeka day too? That's just sad.
I sincerely hope that the owner of that BMW 530e has been reprimanded and learned their lesson and that the person who rightfully booked the charging bay managed to get their EV charged without suffering any additional costs.