Automotive
Published on October 12th, 2022 | by Subhash Nair
0
BYD Atto 3 Marks Company's SUV Debut In India
The BYD Atto 3 will be the company's first SUV in India.
BYD has been in India since 2007, but their first 15 years were spent focused on the manufacturing and the business-to-business sector, bringing electric vehicle adoption to material handling equipment, public sector transport, and more. In the last couple of years, this has begun to change. In late 2021, BYD introduced the e6, an electric MPV for the Indian passenger car market. Now they're setting their sights on the more mass-appealing SUV market with the launch of the BYD Atto 3 EV.
The BYD Atto 3 measures 4,455mm in length, 1875mm in width, 1,615mm in height and has a wheelbase of 2,720mm. Its boot space is 440L (expandable to 1,340L) and the car weighs 1750kg.
Its electric motor is capable of 150kW (201hp) and 310Nm of torque. 0-100km/h takes just 7.3 seconds, and its driving range is reportedly between 480km and 521km, depending on which protocol is used. The Blade Battery is an internal design by BYD with a lithium iron phosphate chemistry. It has a capacity of 60.5kWh.
The BYD Atto 3 was only just launched in Thailand and may soon come to Malaysia as well. No price was announced for the BYD Atto 3, but a booking price of 50,000 rupees was set.
The company has a target of cornering 40% of India's electric car market by 2030.
Warranty coverage for BYD Atto 3 in India
In India, the Blade battery, motor and motor controller all come with an 8-year warranty. Strangely, the battery's warranty coverage is for 160,000km while the motor and motor controller's coverage lasts only 150,000km.
DC-DC Assembly, High voltage electric control assembly, OBC, and other parts not listed besides wear and tear parts, and charging equipment come with a generous 6-year/150,000km warranty.
All lights, the tyre pressure monitoring module, suspension, ball joints, multimedia system, shock absorbers, dust covers, release bearings, wheel bearings, PM2.5 measuring instrument, AC/DC charging port assembly, and USB charging port connector come with a 3-year/125,000km warranty.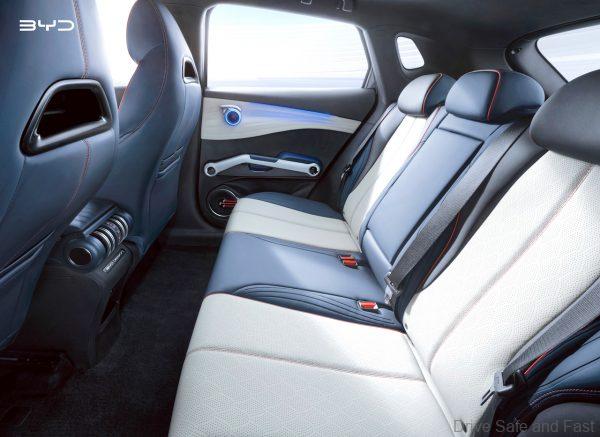 Finally, the 12V auxiliary battery, tyres, bushings and gaskets come with just a 1-year/20,000km warranty.