Automotive
Published on November 27th, 2022 | by Daniel Sherman Fernandez
0
BMW XM Electric Large Luxury SUV Specifications Shared
The BMW XM shares its drive concept of an eight-cylinder combustion engine.
Yes, there has been a lot of negative comments online about its design and there has also been a lot of positive remarks, so it is obvious that BMW will have enough new buyers for this OTT XM like it has had with the also much remarked BMW M4.
This RM1.4million ringgit (estimated) luxury SUV powertrain is supported by an electric motor with the newly developed endurance racing car from BMW M Motorsport.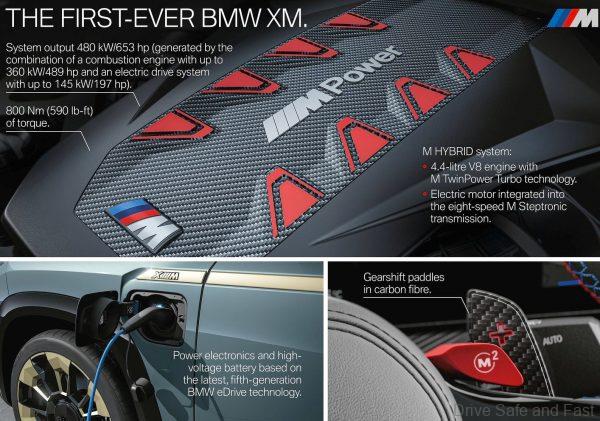 The BMW M Hybrid V8 will go racing in the IMSA WeatherTech SportsCar Championship in North America in 2023 at venues including Daytona. The following season, it will power BMW M Motorsport's return to the FIA World Endurance Championship (WEC) and the 24 Hours of Le Mans.
This all-new BMW XM is fitted with a newly developed plug-in hybrid drivetrain. The M HYBRID system in the BMW XM consists of a new 483-hp V8 engine with M TwinPower Turbo technology and a 194-hp electric motor integrated into the eight-speed M Steptronic transmission.
Power is channeled to the road via the M xDrive all-wheel-drive system. The combination of an electric motor and eight-cylinder engine produces immense, instantaneously available power sustained throughout the rev range.
The M HYBRID system also enables purely electric driving with an anticipated range of 30 miles (estimated range of up to 30 miles according to preliminary BMW AG tests based on the EPA's test procedure standards).
Meanwhile, the electric motor contributes up to 194 horsepower to the maximum system output of 644 horsepower. The maximum system torque produced by the combination of electric motor and combustion engine is 590 lb-ft.
A pre-gearing stage is used to increase the maximum torque produced by the electric motor to 332 lb-ft at the transmission input.
This innovation enables the electric motor integrated into the transmission housing to generate substantial levels of power that could normally only be achieved using a far larger unit. Developed by BMW, the extra gearing stage between the electric motor's rotor and the transmission's input shaft gives a boost to the M HYBRID system's torque delivery.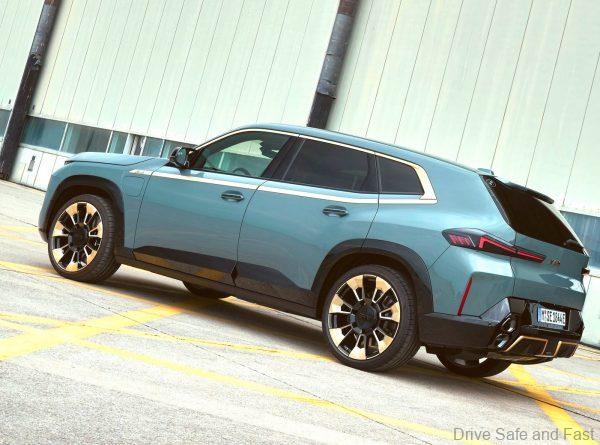 This torque is instantly on tap when pulling away and makes a clear difference both when accelerating off the line and passing at speed on the highway.
Aided by the grip of M xDrive and a sophisticated launch control system, the BMW XM accelerates from 0 to 60 mph in just 4.1 seconds. Top speed is electronically limited to 155 mph, or 168 mph if the optional M Driver's Package is specified. The top speed in pure electric mode is 87 mph.