Automotive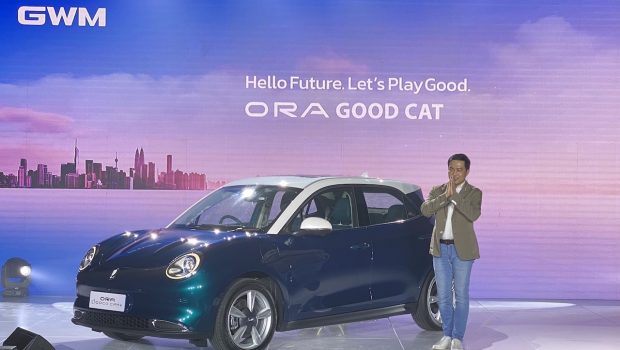 Published on November 28th, 2022 | by Subhash Nair
0
Great Wall Motor Has Big Plans For Malaysia
Great Wall Motors announces their long-term strategy for Malaysia at the Ora Good Cat launch.
Great Wall Motors (GWM) today launched their first all-electric vehicle in Malaysia – the Ora Good Cat. After months of teasing, the huge Chinese automotive conglomerate launched their first product in the country directly. GWM brands include Haval, Tank, Ora, Wey and GWM Pickup. Previously, Haval products were sold through local representative Go Auto.
With the launch of the Ora Good Cat in Malaysia, GWM starts a new journey in the country. The Good Cat was introduced in Thailand and has garnered over 5,000 users within a year. Prior to the Good Cat's Malaysian launch, over 100 units had been booked even before the price had been announced.
Future Great Wall Motor's Plans For Malaysia
Before launching the Ora Good Cat today, GWM ASEAN Region President Elliot Zhang Jiamin mentioned the company's plans for Malaysia. In the next 3 years, GWM Malaysia aims to introduce 9 vehicles across its many brands to the country. What's more, GWM also aims to begin local assembly as early as 2023. According to Mr Zhang, their CKD operations here will generate over 2,000 jobs in the nation.
GWM has plans to launch 15 'unified multi-form stores' in Malaysia which will cover 70% of the country's capital cities and where 90% of their expected car buying demographic resides. The first 5 authorised dealer partnerships will be finalised in December 2022.
GWM will also collaborate with a local charging partner to improve the nation's charging infrastructure. This partnership will include the complimentary portable and home chargers that come with the Ora Good Cat. It will also be expanded to include partner store chargers, destination charging stations and more.
About Elliot Zhang Jiamin, President of GWM ASEAN Region
Elliot Zhang Jiamin is the President of Great Wall Motor ASEAN Region. Based in China, Zhang oversees and manages GWM's key operations, and drives business expansion across all production, sales and marketing in Malaysia, Thailand, and upcoming ASEAN markets.
With decades of experience in the automotive industry, Zhang has spent a lot of time focusing on developing several key areas such as automotive R&D, manufacturing, supply chain, and sales and marketing. Among his earlier achievements, Zhang led GWM to a 7.85% year-over-year sales growth, which secured the brand's top ranking in China's domestic and export sales for 23 years in a row. His next mission is to ensure that GWM becomes the region's leading automotive manufacturer.