Automotive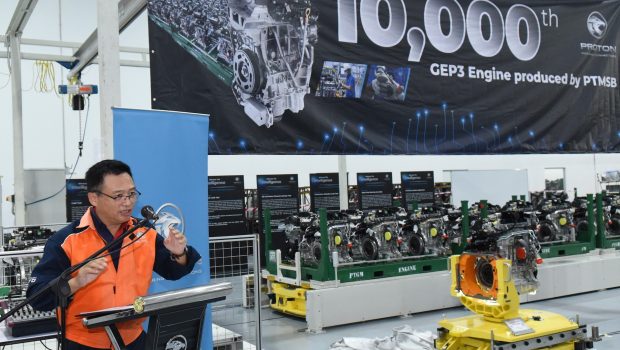 Published on December 6th, 2022 | by Subhash Nair
0
Proton Celebrates Its 10,000th 1.5 TGDI Engine, Has Sold 126K Cars So Far This Year
Over 10,000 units of the 1.5 TGDI engine has been made by Proton in Tanjung Malim.
Proton has successfully made 10,000 units of the 1.5-litre TGDI engine that powers the X50 Flagship and most of the newer X70 variants. This advanced 3-cylinder petrol motor features direct injection and turbocharging. It was designed by Geely and Volvo Cars and meets the strictest emissions requirements.
Back in April 2022, Proton began to produce these motors at its new Tanjung Malim engine assembly line. 7 months after production began, the company achieved the 10,000 unit milestone. The company aims to assemble 60,000 engines next year. Given they made 10,000 units in just about half a year, this could mean Proton moving 3 times the number of cars equipped with this engine next year.
There are many ways this could happen. Perhaps they'll remove the non TGDI engine options from the X50 lineup. Perhaps they'll remove the 1.8L TGDI option from the X70 lineup. Our guess is that they'll also introduce the X90 with this engine and perhaps even introduce a fourth Geely-derived model to our market with this engine. Would they put in the money to adapting the 1.5L TGDI engine for the Saga, Iriz and Persona? A little doubtful unless they down-tune the engine or create GTI variants. Even then, they may not get a healthy return on investment.
What's clear is that Proton's sales trajectory is on the way up. This year so far, they've already sold 126,682 vehicles and are on the way to having their best year since 2013.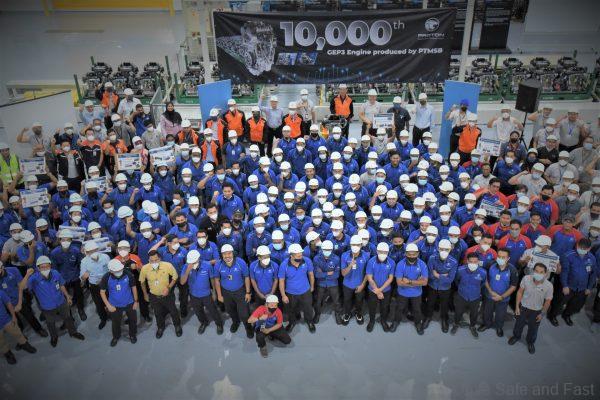 Here's the press release with more information.
PRESS RELEASE
National automotive brand PROTON recently celebrated the production of the 10,000th 1.5 TGDI engine produced at its new Tanjung Malim engine assembly line on 1 December. The milestone was achieved just seven months after the first unit rolled off the line in April this year. At the same time, thanks to delivering 11,316 units in November, PROTON has also achieved its best sales volume since 2014.
With 126,682 units thus far, the company is on-track to have its best sales year since 2013.
New assembly line targets 60,000 engines in 2023
The 10,000th 1.5 TGDI engine produced by PROTON is part of the company's commitment to invest RM1.8 billion to upgrade its facilities in Tanjung Malim and the culmination of a journey that began in 2019 that was taken under challenging conditions. Having made the decision to build the new assembly line in Tanjung Malim, construction and the delivery of parts was delayed by the onset of the Covid-19 pandemic. Nevertheless, a decision was made to move forwards while the country underwent a movement control order. The operational expansion plan is in line with the first strategic thrust of the DRB-HICOM Automotive High Technology Valley (AHTV) programme that aims to maximise manufacturing activities in the region.
This was made possible by a team of PROTON engineers who stationed themselves at Tanjung Malim to begin assembly work. Working together via virtual meeting software with teams from equipment suppliers and Geely in China, they painstakingly unboxed the components, mapped out the production line and began initial assembly works.
Five models exceed 2021 volume as YTD sales grow 10.4% over whole of 2021
For the month of November, PROTON achieved 11,316 units as the company grappled with temporary supply issues that led to a month-on-month decrease of 13.1% compared to October 2022. Nevertheless, with year-todate (YTD) sales now at 126,682 units, a growth of 10.4% has already been achieved over 2021 with one full month to go to the end of the year.
Market share for the month is estimated to be 17.7% and for the year, PROTON retains its hold on second position in the sales table with 19.7% of total vehicle sales. It is also estimated that Total Industry Volume (TIV) for 2022 will set a record and approach 700,000 units as Malaysia's automotive market enjoyed a fourth consecutive month of more than 60,000 sales.
Individually, five Proton models have already exceeded their total volume from 2021 with two models, the Proton X50 and Proton Exora, leading their respective segments the whole year. Export sales have also increased by over 2,000 units from the previous year as YTD sales now stand at 5,028 units compared to 3,018 for the whole of the previous year.