Automotive
Published on January 8th, 2023 | by Daniel Sherman Fernandez
0
GR Corolla Arrives In 2023 And Might Be Priced At RM348,888
GR Corolla will be more exclusive than the GR Yaris.
The GR Corolla will come from a dedicated GR Factory in Motomachi, Japan. This production facility is the birthplace of legends such as the Lexus LFA and Supra A80 and is now home to the first GR production line, where the GR Corolla and the sold out fast GR Yaris are assembled.
So, what will be the estimated selling price for this GR Corolla in Malaysia when it arrives this year?
Well, the launch price of the GR Yaris in December 2020 was RM299,000. The GR Yaris was powered by a 1.6-litre 3-cylinder turbocharged petrol engine capable of 261 PS @ 6,500 rpm and 360 Nm of torque @3000-4600 rpm mated to a 6-speed manual gearbox.
Meanwhile, like the GR Yaris which is assembled by experts means that each GR Corolla takes longer than a conventional mass-produced car. The assembly line has been streamlined for precision, with elements such as body alignment and weld checks to ensure that each GR Corolla is crafted with meticulous care and attention.
TOYOTA GAZOO Racing has brought together highly skilled technicians from throughout the company to work on the GR Corolla. This team not only serves to assemble every GR Corolla but also helps to enhance the technical skills of other workers across Toyota facilities when learning is shared.
Bookings for the GR Corolla opened in Malaysia in May 2022 and in just a few weeks all allocated units were taken up. No selling price has been disclosed but a quick guess suggests a price between RM348,000 to RM368,000 as the GR Corolla (high specification) is priced at USD42,900 in North America (RM195,000) before adding our local Malaysian duties for an imported Japanese car.
For GR Corolla, Toyota engineers took the same turbocharged G16E-GTS power-plant used in the globally sold out GR Yaris and boosted its output for performance you will feel. Thanks to a three-pipe exhaust system, GR Corolla produces 300hp and a satisfying exhaust note without any augmented engine noise.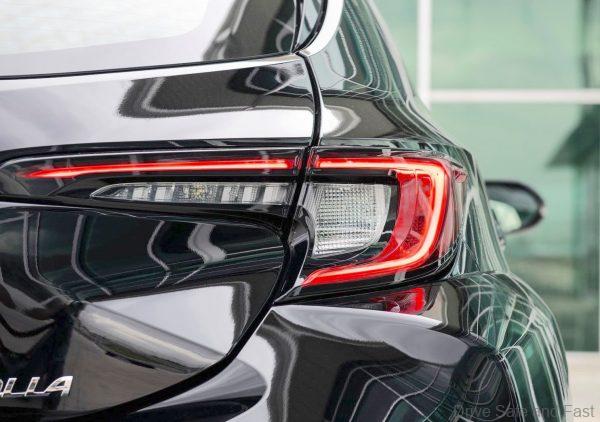 For the pure joy of its rumble, the center pipe is open while idling and up to 20 mph, where it will then close. At 4,500 RPM's the pipe reopens, reducing exhaust backpressure for powerful acceleration.
The G16E also benefits from motorsport technologies that maximize performance, including multi-oil jet piston cooling, large-diameter exhaust valves and a part-machined intake port.
Compact and lightweight, the DOHC 12-valve engine features a single-scroll ball-bearing turbo and is matched to a 6-speed intelligent Manual Transmission (iMT) with rev-matching engineered to accommodate high torque levels. The turbocharger is integrated in the exhaust manifold, reducing weight, while control of waste-gate bypass gases is used to improve the catalyst's warm-up efficiency.
Combustion is fed by Toyota's D-4S direct and port fuel injection system, which operates at high pressure for maximum fuel dispersion.
If you want to know about its fuel consumption, then better you look at buying a stock 1.5L NA Toyota Yaris or Vios. This GR is a performance machine and will should be extracting the most fun from it at every ignition.