Automotive
Published on February 2nd, 2023 | by Subhash Nair
0
"Tesla Sdn. Bhd." Has Been Registered, Is 2023 The Year They Arrive In Full Force?
Tesla Sdn. Bhd. has been registered with the Companies Commission of Malaysia (SSM).
The Malaysian electric vehicle scene has exploded in the past year with brands like Porsche, BMW, Mercedes-Benz, Volvo, Hyundai and Kia introducing all-electric vehicles at a tax-free price. The temporary exception on excise duty and import taxes on all electric vehicles has also brought in 2 Chinese companies that are new to Malaysia – Ora and BYD. But the brand that started the global EV scene, Tesla, has never really had a presence here… Until now.
Yesterday we got news from the Malaysian Electric Vehicles Owners Club (MyEVOC) Facebook page that Tesla Sdn Bhd had been registered with the Companies Commission of Malaysia, known also as SSM. The sole shareholder of Tesla Sdn Bhd is Tesla International B.V. and the local entity has a value of just under RM3.6 million. So, what's the story?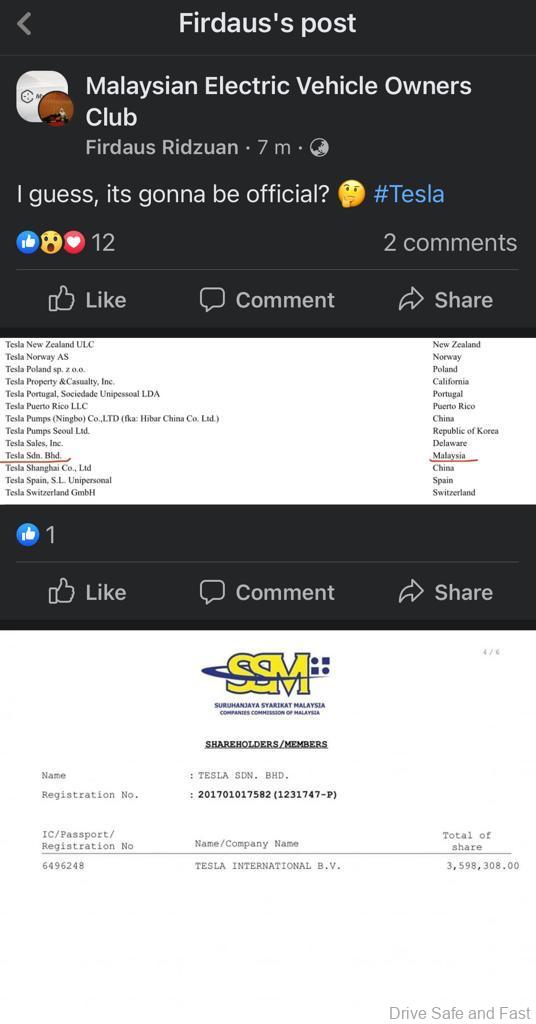 Apparently, the American car company has had a presence in Malaysia since 2017, but it was previously known as Tesla Services Sdn Bhd with the scope of providing accounting services for the company's regional operations. Tesla Sdn Bhd represents a shift in the name and nature of business – they've changed the scope to "Wholesale and retail of new motor vehicles, other service activities incidental to land transportation, N.E.C, and the maintenance and repair of motor vehicles." All of these changes happened quietly in October 2022 under our very noses.
That means that, yes indeed it looks like Tesla is preparing for an official launch in the Malaysian market. The company currently sells four models:
Model S – a four door executive sedan
Model X – an MPV with 3 rows of seats
Model 3 – a compact executive sedan
Model Y – a compact crossover
These four models are brought in by grey market dealers who offer in-house 'warranties' or refer their customer cars to Tesla Singapore for their manufacturer warranty claims. Not a great deal for EV enthusiasts, to be honest, especially as these cars require specialist repair.
With an official Tesla showroom rollout in Malaysia, this will change drastically. It will finally make sense to buy Tesla vehicles in the country. Existing owners may even be offered a 'buy-in' package for aftersales services.