Automotive
Published on February 15th, 2023 | by Daniel Sherman Fernandez
0
Corolla Touring GR Sport Launched In Europe
GR Sport moves into family wagons to challenge European rivals.
Toyota is moving into a new segment and they are using the much published 'GR Sport' brand to get consumers excited. For decades European made popular station-wagon variants have been fast sellers for European car manufacturers.
Meanwhile, the Japanese station-wagons have not taken high sales and instead it has been Crossovers and SUV's that sold well.
From BMW Touring to Audi wagons to VW Estate to even Skoda Combi models, Euro wagons has been family and lifestyle favorites.
Now, Toyota wants to enter this segment with their household name plate, 'Corolla' with added zest by using the GR Sport branding which we Malaysians first saw with the launch of the Toyota GR Supra in 2020. .
Meet the Corolla Touring GR Sport. Its just a regular station-wagon with a brand new hybrid power-plant and 'GR Sport' badges.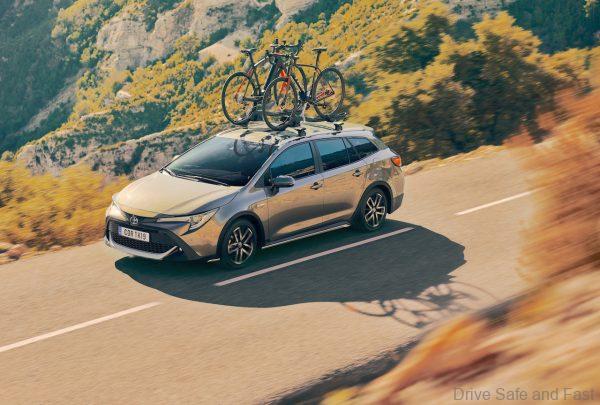 The New Corolla features the fifth generation of Toyota's world-leading self-charging, full hybrid electric system.
As with the current model, 1.8 and 2.0-litre hybrid systems are available. Both benefit from significant changes to their engine and electric motor that enhance the driving experience with extra power, improved performance and drivability, and same or lower CO2 emissions (depending on the powertrain).
The power control unit (PCU) and transaxle motor have been redesigned and the lithium-ion battery is more powerful, yet smaller and lighter (mass reduced by up to 18 kg, depending on the powertrain).
Total power from the 1.8-litre system is a sensible 140 hp, bringing a 1.7-second reduction in the 0-100 km/h time to 9.2 seconds. Despite this performance increase, CO2 emissions are expected to be unchanged at 102 g/km.
For the 2.0-litre system, total output has risen to a little more at 196 hp and almost half a second has been shaved from the 0-100 km/h time, taking it down to 7.5 seconds. A reduction of 3 g/km in the combined cycle CO2 figure is expected, to 107 g/km.
IMPROVED DRIVABILITY AND ACCELERATION FEEL
Further steps have been taken to deliver acceleration that feels natural and rewarding to the driver. Previously, the focus was on linear acceleration; now, recalibration of the hybrid control has produced acceleration that more closely mirrors the driver's intention and their use of the throttle pedal, producing the appropriate G-sensation and an intuitive feel.
This has been achieved with a reduction in engine speed during acceleration. Powertrain noise under acceleration has also been quietened.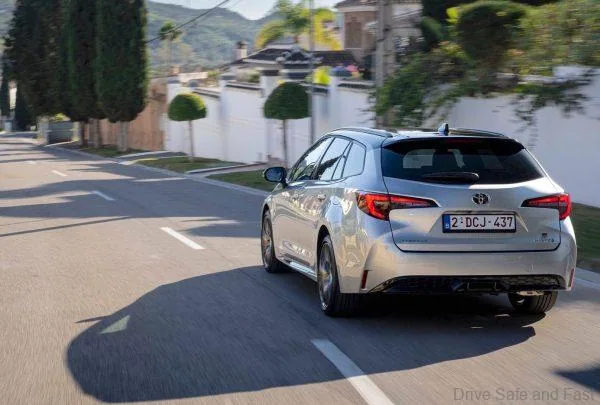 THE USER EXPERIENCE
The New Corolla benefits from Toyota's latest digital and multimedia features, designed for a better user experience and future-proofed so that new features and upgrades can be introduced with seamless over-the-air updates.
The enlarged, 10.5-inch multimedia display presents graphics in high definition and has an anti-glare screen, ensuring excellent visibility in all lighting conditions.
Starting from the Mid-grade the driver's instrument display has also undergone a transformation with a new 12.3-inch combi-meter that can be customised to the driver's preference in four different modes: Casual, Smart, Sport and Tough.
Cars come with an inclusive four years' access to Toyota Smart Connect or Toyota Smart Connect+ (according to model grade), giving access to "always on" cloud navigation and real-time traffic and journey information.
The driver can also make use of a new on-board voice agent that recognises natural, conversational requests to operate the multimedia, or vehicle functions such as opening or closing windows.
Also, a number of remote services are available using the MyT app, allowing drivers to use their smartphone to lock or unlock their car, operate the climate control to heat or cool the cabin prior to a journey, activate the hazard lights and locate their vehicle.
ENHANCED SAFETY AND DRIVER ASSISTANCE
The New Corolla is equipped with Toyota T-Mate, which combines the latest generation Toyota Safety Sense package with other active driving and parking assistance systems which not only make driving easier and safer, but also helps protect all the vehicle's occupants and other road users.
Improvements in the operation and functionality of the systems include Acceleration Suppression, which reacts to sudden use of the accelerator when travelling at low speed; collision avoidance support when making a turn at an intersection; Emergency Steering Assist that can now react to oncoming vehicles; lateral collision avoidance and curve speed reduction. Over-the-air software updates will keep the functions up-to-date and enable new ones to be added as they become available during the vehicle's lifetime.
The Toyota T-Mate features include a Safe Exit Assist system. This will trigger a warning if it detects a door being opened into the path of a vehicle or cyclist approaching from the rear. There is also a new Rear Seat Reminder which will alert the driver before they leave their car that they may need to check if they have left something on the back seats.