Automotive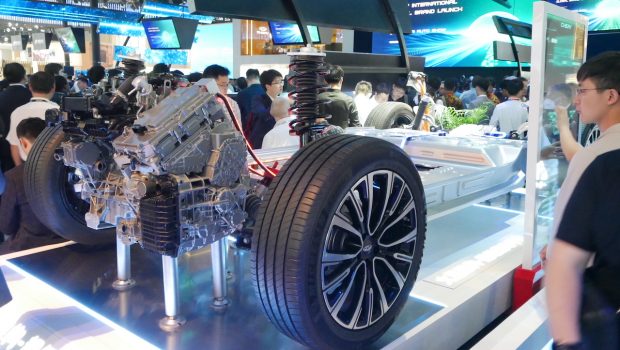 Published on April 21st, 2023 | by Subhash Nair
0
Chery Unveils 3rd Gen PHEV Powertrain, NEV Platforms & 2 New Brands
Chery has an array of powertrain and chassis technology ready for their big NEV push.
At the Shanghai Auto Show earlier this week, Chery unveiled its third-generation PHEV technology. Today, the company also shared 2 new platforms that would go into their newly launched Omoda and Jaecoo brands. We've also learnt that Chery will be the first CATL client to receive their cutting edge sodium batteries.
New Powertrain
The third-generation hybrid platform adopts the fifth-generation ACTECO high-efficiency hybrid dedicated engine, integrating advanced technologies such as deep Miller cycle, i-HEC fourth-generation combustion system, high-efficiency turbocharger, intelligent thermal management system, and more. Its peak power can reach effective thermal efficiency exceeding 44.5%, making it the most efficient hybrid engine in the Chinese market.
Furthermore, the Chery third-generation hybrid platform is equipped with a 3-speed DHT, which has 9 modes and 11 combination gears. It not only has high power and excellent fuel economy, but it is also environmentally friendly, efficient, and ultra-smooth, fully meeting users' travel needs.
New Platforms
There are two new platforms that Chery has developed to tackle the NEV market, which is expected to dominate 65% of the Chinese market by 2030.
Advanced EV Platform
This first platform can be configured with three subframes and configurations for different vehicle needs:
Advanced

800V architecture
wheelbase between 2850-3150mm
battery length between 1820-2090mm
compatible with air suspension
0-100km/h in 4s
91% efficiency, 12kWh/100km
EEA 5.0
Standard

400V architecture
500km range
89% efficiency, 12kWh/100km
0-100km/h in 7.5s
EEA 5.0

Uniqueness REEV (range extender EV)

400V architecture
1500km range
Fuel Consumption of 5.0L/100km
0-100km/h in 8s
EEA 5.0
Hybrid Platform
Despite being called Hybrid platform, this platform can be configured in a number of ways, including as a full EV.
EV

61kWh battery
15kWh/100km efficiency
0-100km/h in 7.1s

PHEV

150kW, 310Nm of torque
60W generator
98% efficiency
123kg weight

HEV
Two New Brands
We also got a look at Chery's new sub-brands – Omoda and Jaecoo. We'll go into these in more details in a separate article. For the time being, what's important to know is that these new brands are targetting younger, more affluent and image-conscious customers. Chery says that these two brands are projected to move 1,400,000 units by 2030, with 150,000-200,000 units of the Omoda sub-brand anticipated to sell in 2023 alone. We spoke to Russian counterparts who say that independent Omoda showrooms have already rolled out in their country and have been met with strong sales.