Automotive
Published on May 8th, 2023 | by Subhash Nair
0
Proton Chose The Haoyue Over The Jiaji And Has Still No Answer To The Alza
Why did Proton choose to fight non-national automakers with the Haoyue-based X90 and leave the Perodua Alza uncontested?
The Proton X90 was launched just yesterday at a pretty good price of RM123,800 for the Standard specification and RM152,800 for the Flagship trim. This is currently (and historically) the most expensive model ever fielded by the national carmaker and their first foray into the D-segment 6-seater and 7-seater market. It's a good option in the market, which currently has a lot of non-national players including the Mazda CX-8, Kia Sorento, and Hyundai Santa Fe – all noticably more expensive.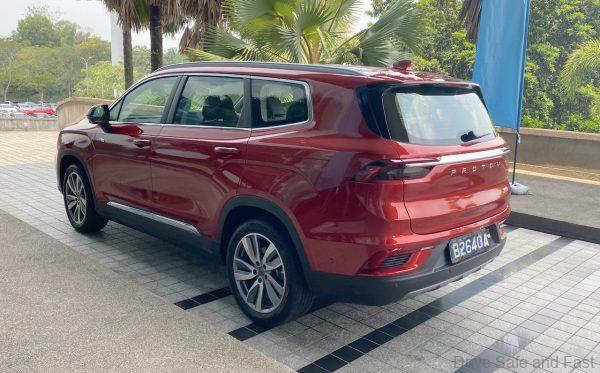 While it's good that Malaysians now have a more affordable option in that particular segment, Proton has chosen to ignore the affordable MPV market, which would have attracted a higher volume of buyers.
Think about it – right now the Perodua Alza sits virtually unopposed in the Malaysian market, providing an all-boxes checked 7-seater compact MPV with a modern chassis and loads of features starting at just RM62,500.
In this segment, the Proton Exora still exists but is now about 13 years old. It works and still sells well but only because there are no competitive rivals at this price bracket. We spoke to an insider at Proton who revealed that the company had to make a decision – adapt the Haoyue to tackle a larger vehicle segment or the Jiaji to replace the Exora. Proton could have gone with either product but the X90 ultimately took precedent. We may get a Jiaji-based Exora later on, but it's becoming clear that an S50 sedan based on the Geely Emgrand will come next. So why the Haoyue over the more budget-oriented Jiaji?
Longer Product Lifecycle
The Haoyue came about 1 year later than the Jiaji and thus will likely be supported longer. On paper, this doesn't make too much sense to us. Both the Jiaji and Haoyue are based on the Geely CV platform and both accept the same powertrains and in-car tech, so technically both should be supported for an equal length of time. That being said, Proton staff have insight into a lot of information that isn't publicly available. Plus, there's some development lead time to factor in, so even one additional year can make a difference.
Broader Appeal Of SUVs
Another reason that makes a lot of sense to us is the wider appeal of SUVs over MPVs. MPVs have always been seen as utilitarian products and have rarely attracted the typical car buyer. SUVs, on the other hand, have come to replace sedans as the most popular body style in the market today. If Proton had introduced the Jiaji over the Haoyue, they would have a more niche market to tackle.
Less Competition
While Proton's sales have been improving since 2018, the company still struggles to compete with Perodua directly. To be fair, Perodua's new roster of products is nothing to scoff at with just about every product carrying a version of their camera-based Advanced Safety Assist. While a Jiaji-based Exora might have lured some customers away from the Alza, Proton would have most likely still introduced a more expensive product than the Alza and ended up being no.2 in compact MPV market. With the Haoyue-based X90, they have something that's cheaper than all the non-national makes can more easily sway those buyers who are more budget conscious.