Cars
Published on February 17th, 2020 | by Subhash Nair
0
Mazda CX-8 2.5L High Spec Review: A Zero Compromise Machine
It's incredible how far Mazda have come in the last decade or so since the first CX-5 was launched. They've since refined their formula for SKYACTIV vehicles and have a knack for reengineering SUVs that are genuinely fun to drive. Today, their SUV portfolio is rather crowded.
They offer the CX-3 and CX-30 at the compact end of the spectrum, the CX-4 (in some markets) and the CX-5 for the important mid-sized market, and the CX-8 and CX-9 for those looking for a third row of seats in their vehicles. Meanwhile, the CX-7 was phased out of production when the first CX-5 came into the picture.
With so many new 'CX' vehicles coming out of the woodwork, Mazda's task in marketing these cars is not an easy one. Not only do they have to communicate to the buying public that the brand is ascending up the premium ladder, but that each of these new products exists to serve specific niches. Which brings us to the subject of this review: the CX-8.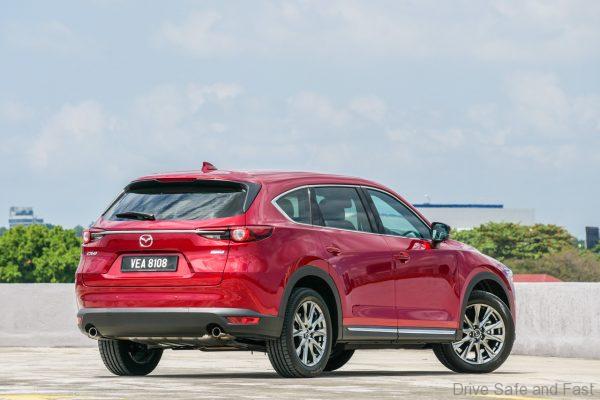 The CX-8's underpinnings sit right between the CX-5 and CX-9. Its chassis size, sound-proofing, comfort and three rows of seats are what pulls it closer to the upmarket CX-9, but its pricing, practicality, and general perceived quality are closer to what the current CX-5 offers.
We don't exactly know what the recipe was for the CX-8, but we can break down where we feel they got the ingredients from:
From the CX-5:
Local assembly at Mazda's Kulim plant
Reasonable pricing for what's being offered
2.5L naturally aspirated engine with front wheel drive/2.2L turbodiesel with all-wheel drive
Switchgear, infotainment systems, sound system and general equipment
From the CX-9:
Chassis fundamentals
Soundproofing techniques
Seat layout
Comfort-oriented suspension tuning
Use of multiple colours in cabin upholstery
Ingredients unique to the CX-8
Multiple seat layouts and upholstery
Ayous wood inlays
Front grille with single layered horizontal chrome slits
Improved ergonomics for passengers in the rear
The resulting mixture of ingredients is, in my opinion, one of the best dishes to come out of Mazda's kitchen. Not only does the CX-8 rectify the flaws of the CX-5 and CX-9, but it does it at a price point that the market is currently severely underserving. Think about your options at the RM200,000 mark. You're essentially caught between Japanese and Korean brands who want to sell you a spiced-up D-segment sedan or C-segment SUV and premium European makes who will tempt you into blowing your budget for a severely under equipped brand teaser. If you go with the Asian marques, buyers remorse may set in and you may feel like that dream car you've been thinking about just escaped your reach. Step up to a premium brand, and you may be stuck in an endless loop of leasing programmes just to keep up appearances. Neither situation is comfortable.
But the Mazda CX-8 2.5L High spec sits right at this mark and straddles the line perfectly. While the Mazda brand hasn't yet achieved premium status, the products hit many of the right premium beats in terms of design, driving feel, and perceived quality. It's a genuinely superior product to anything else offered by its mass market rivals at this price point, and its 5-year warranty and maintenance package matches or exceeds anything the premium marques can offer. What's more, in this particular specification, the CX-8 allows it to effortlessly serve double duties. Its 2nd row captain seats allow it to be used as a chauffeur driven vehicle on weekdays and as a family mover on the weekends. Functionally, it's almost up there with the Alphards and Vellfires of the world, but with Zoom-Zoom dynamics on its side.
The equipment is on point as well. Leather upholstery, auto-levelling LED headlights, keyless entry and start, powered tailgate, 360-degree parking monitor, 3-zone climate control are present and accounted for in this variant. Plus, there's Blind Spot Monitoring, Rear Cross Traffic Alert, Lane Departure Warning, Lane Keep Assist, and Smart City Brake Support to go with the expected 6 airbags, Stability Control and braking aids.
Are there any weaknesses? Of course there are, but they are rather minor and quite subjective to be honest. My biggest gripe is that Mazda launched this car locally AFTER the Mazda 3. The 3 (and CX-30) feature a next generation chassis and design language. So while the CX-8 still looks modern, it's clearly a step behind when looking at Mazda's own product timeline. This isn't really an issue for owners who appreciate the car for what it is. But for enthusiasts who pay attention to the finer details, we know the 3 has a much more premium interior in terms of switchgear and infotainment. In fairness, the inclusion of Ayous wood inlays and multi-coloured leather upholstery ups the perceived quality of the CX-8, so it's still up there and difficult to objectively complain about.
Another problem might be the size and proportions. Next to the CX-9, the CX-8 is marginally less 'premium' and more awkward to look at. But again, this is countered by the fact that it is also marginally easier to drive and easier to get people in and out of.
All-in-all, the CX-8's a fantastic effort by Mazda. They found a segment that no other brand was properly serving and managed to nail it in round 1. Even if competitors find a way to develop an alternative, they've really got their work cut out for them. The Mazda CX-8 is really a no-brainer if you've already got one on your mind. And if you were thinking of a D-segment sedan or premium branded vehicle, you may want to give one of these a test drive first before making your decision.
Mazda CX-8 2.5L High Specification
Engine: Inline-4, 16-Valve, DOHC, Petrol
Capacity: 2488cc
Gearbox: 6-speed Skyactiv Drive Automatic
Max power: 192hp @ 6000rpm
Max torque: 258Nm @ 4000rpm
Price: RM200,960.40