Automotive
Published on June 23rd, 2023 | by Subhash Nair
0
Chery Malaysia Partners Tiong Nam Logistics For Enhanced Spare Parts Logistics Services
Chery Malaysia appoints Tiong Nam Logistics its spare parts logistics partner.
Chery Malaysia, a pioneering Chinese automotive brand, has taken a significant step towards strengthening its presence in the Southeast Asian region by signing a logistic services agreement with Tiong Nam Logistics Holdings Berhad. The agreement grants Tiong Nam Logistics the responsibility of handling Chery's spare parts warehousing and transportation in Malaysia . This will begin with the Chery Omoda 5 and Tiggo 8 Pro models, which are slated to enter our market very soon. This collaboration marks a significant milestone in the establishment of a cooperative partnership between the two industry-leading entities.
Enhancing Logistics Capabilities
Tiong Nam Logistics Holdings Berhad, a highly reputable logistics and warehousing provider, operates an extensive network of over 90 spare parts warehouses that cover the entirety of Malaysia. Their expertise in spare parts warehousing and transportation logistics services positions them as an ideal partner for Chery Malaysia. By entrusting Tiong Nam Logistics with these critical operations, Chery aims to enhance its logistics capabilities and ensure efficient delivery of spare parts across the country.
Malaysia as a Promising Market
Mr. Leo Chen, Country Director of Chery Malaysia, expressed his view on Malaysia being a highly promising market within the Southeast Asian region. With Chery's entry into Malaysia, the brand intends to establish connections with neighboring countries while strengthening its market influence in Southeast Asia.
Malaysia's stable economic development and significant potential in the automotive market make it a strategic market for Chery's right-hand drive (RHD) vehicles, further solidifying their decision to expand operations in the country.
Building a Strong Partnership
The signing ceremony also emphasized the long-term commitment of both Chery and Tiong Nam Logistics towards building a robust partnership.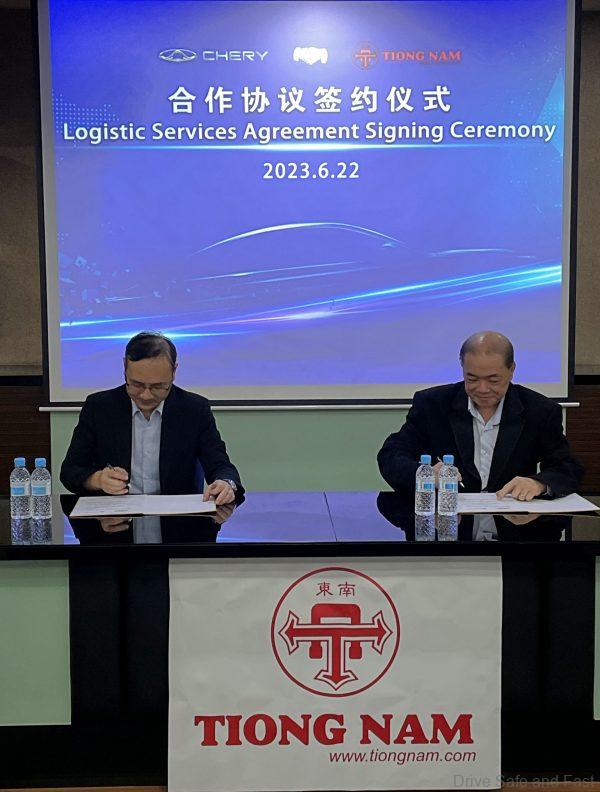 Mr. Leo Chen stated, "The cooperation agreement signifies the dawn of a new collaboration; it is just the beginning."
Both parties are actively working together, following Chery's 4P+2P working mechanism, to establish a strong team that will deliver exceptional service to Malaysian customers. Through this collaboration, Chery and Tiong Nam Logistics strive to achieve a win-win situation, where the quality of service is paramount.