Motorcycles
Published on July 9th, 2023 | by Daniel Sherman Fernandez
0
Vespa And Aprilia 3S SHOWROOM Opens In KEDAH By CHJ MOTORS
CHJ Motors Is Offering 100% Cash-back Contest For Vespa And Aprilia Customers Now
Didi Group, who is the official distributor of Vespa & Aprilia scooters in Malaysia has just expanded their reach to North Malaysia with the partnership with CHJ Motors.
With this brand new Vespa & Aprilia Showroom in Alor Setar, Kedah, CHJ Motors is offering a full range of the iconic Vespa & Aprilia scooters in a dynamic concept store.
This well located Vespa and Aprilia store carries a comprehensive product range including customer service centre, making it the go-to destination for two-wheel motor vehicle enthusiasts.
For Didi, the launch CHJ Motors marks a momentous occasion and remarkable milestone, as it becomes the first Vespa & Aprilia scooter 3S Showroom in Kedah.
Meanwhile, marking CHJ Motors' 50th year anniversary, the management is delighted to announce the extension of the CHJ Motors' 50th Anniversary Lucky Draw Campaign "Anda Beli, Kami Payung!", first launched in January 2023.
They are offering an exciting opportunity for Northern customers to participate in this special occasion.
As the winners of this campaign, customers will have the opportunity to enjoy an incredible benefit of 100 percent cashback.
In this exclusive offer, lucky draw winners will receive a complete down-payment refund, and CHJ Motors will cover the full settlement, allowing them to relish the experience of owning a motorcycle completely free of charge!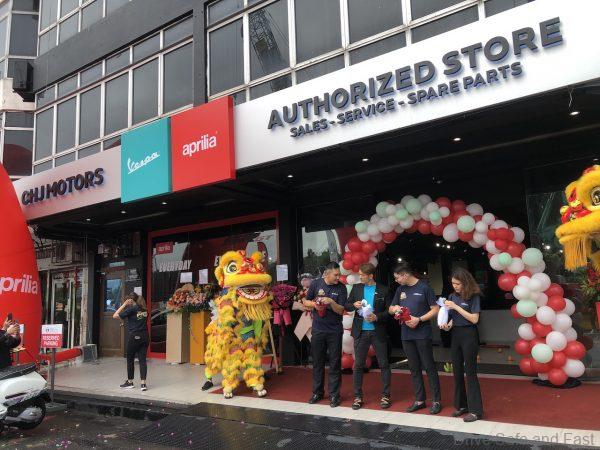 We are committed to rewarding our valued customers and making their dreams come true during this significant milestone celebration.
From the management of Didi. We would like to thank and congratulate Chin Hin Jitra (CHJ) for introducing and carrying the Vespa and Aprilia scooter brand in Kedah, which will help us to further strengthen our positioning and boost our presence in Malaysia. The opening of Vespa & Aprilia Kedah showroom also reflects the strengthening of the distribution network of Vespa in Malaysia" said Mr Rewi Hamid Bugo, Chairman, Didi Group.
CHJ Motors is the official 3S dealer of Didi Group in Kedah that also adopted the new Piaggio showroom Corporate Identity. This showroom carries a range of models that cater to the needs and wants of Vespa and Aprilia scooter customers in Kedah in particularly Alor Setar and the surrounding areas.
Existing customers can enjoy a complete sale and after sales service via CHJ Motors 3S center located in 1001 & 1002-A, Kompleks Sri Putra, Seberang, Jalan Putra, 05150 Alor Setar, Kedah.
The showroom showcases all the Vespa and Aprilia scooter models that are available nationwide, and besides the Service Centre, the facility also boasts comfortable waiting lounge and various lifestyle amenities.
This would give our customers a more rewarding ownership experience and offer the lifestyle elements that exudes the brand personality.