Automotive
Published on August 15th, 2023 | by Daniel Sherman Fernandez
0
Neta V Electric Car Selling Price Now Just RM80,000
Why has the Neta V selling price reduced from RM99k to RM89k to RM80k in just 2 months
Sales of the Neta V from HOZON has been good in Thailand (at a Thailand selling price of RM68,000) and not really in Malaysia where it was priced at RM89,000 only months ago.
Well, when the Neta V was first introduced in Malaysia it carried a selling price of RM99,800 and just a week later (at the Malaysian Autoshow 2023) there was a RM10,000 discount being offered bringing its price down to just RM89k.
However, after a closer look at this cheerful and simple vehicle, it has some limitations in size, features and also drive dynamics.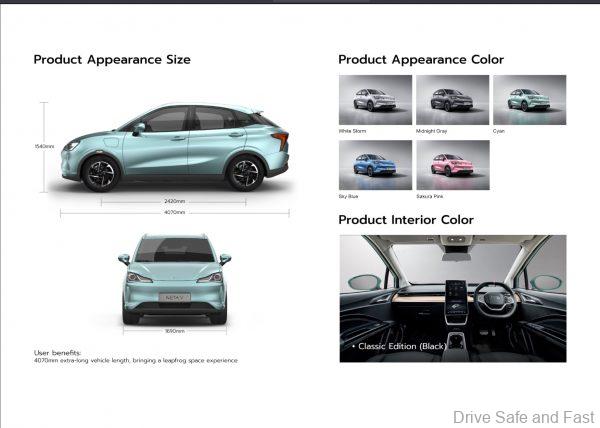 So, right now the asking price has dropped further to RM80,000. This puts the Neta V purchase confidence on thin ice with most lower middle and middle class Malaysians who want to dip into the electric car ownership.
The Neta V brochure states that this compact EV can be charged using a standard three-pin plug, and the weatherproof charging socket securely locks in place during the charging process. The charging indicator light displays different flashing patterns to indicate the battery's charge level.
The NETA V can be fully charged in around 8 hours from 0 percent to 100 percent with a 7kW AC home charge, while a 30 percent to 80 percent DC fast charge takes just 30 minutes to complete and it is not advisable to often as AC charging will reduce the battery life.
The brochure also states that this Chinese made compact EV has a driving a range of 384km to 400km on a full charge, depending on driving style and conditions. This is very subjective.
By the way, the Neta V's dimensions are as follows.
Length: 4070 mm
Width: 1690 mm
Height: 1540 mm
Wheelbase: 2420 mm
So, this compact EV is sized slightly larger than Malaysia's best selling petrol powered compact car, the Perodua Axia which has a price point that starts at just RM22k to RM43k. So, to get Axia buyers to comfortably migrate to an electric car, there cannot be a price jump of 100 percent to RM80k for the Neta V. Buyers in this segment might be able to stretch their monthly payments for an EV priced at about RM59k.
Meanwhile, HOZON, the parent to Neta V has started constructing a production plant in Thailand that will produce 20,000 units per year and this will be its export hub to ASEAN buyers.
You can pick 5 colours right now for the Neta V, which are:
White Storm
Midnight Gray
Cyan
Sky Blue
Sakura Pink
The Neta V is sold with 10 years or up to 200,000km for body warranty, 5 years or up to 150,000km for general part warranty, and 8 years or up to 180,000km for EV high voltage part warranty.