Automotive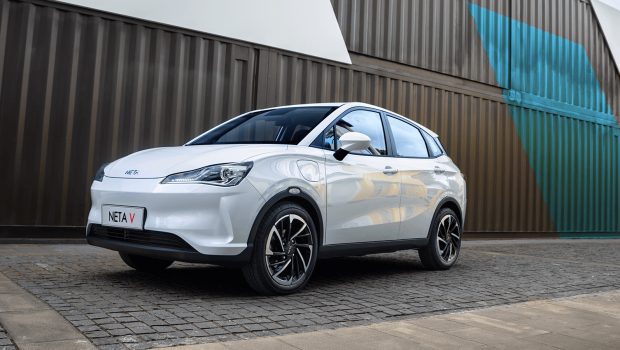 Published on August 29th, 2022 | by Subhash Nair
0
NETA V EV Launched In Thailand With Thai-Assembly Plans In 2 Years
The NETA V is going to give traditional ICE rivals a run for their money in Thailand.
The electric vehicle market in Thailand expanded last week with the introduction of the NETA V, a Chinese battery electric vehicle aimed at hitting the mass market with a price tag to match the Toyota Vios.
The NETA V is priced at 549,000 Thai baht. That converts to about RM67,600 at today's exchange rate. Honestly that's an amazing price for a modern day electric vehicle. In Malaysia today, the least expensive electric vehicle is still the Nissan LEAF and even that is RM145,000.
When you look at the specifications of the NETA V, it's actually not half bad. The biggest drawback of the NETA V is its size. It's just 4,070mm long and 1,690mm wide with a boot space of 335 litres. If you can get by with a Perodua Myvi, the NETA V shouldn't be too much of a squeeze.
The vehicle is powered by a single electric motor on the front axle with an output of 95hp and 150Nm of torque. It gets its power from a rather modest 38.5kWh lithium-ion battery which promises an NEDC rated range of 301-384km. That's actually impressive when you consider the Mazda MX-30's 199km range and the MINI Electric's 232km range. It should be noted that these ranges may be using different measurement systems like WLTP.
Charging the battery is done via the common CCS2 plug. Under AC charging, the battery needs about 8 hours to fully top up. With the appropriate DC Fast Charger, getting boosted from 30% to 80% takes just half an hour.
The most important question is probably what is NETA. Well, it's a little bit complicated. Essentially, Beijing Sinohytec – a large R&D firm that's listed and state-linked worked with a branch of the Tsinghua University to form Hozon Auto, which in turn produces electric vehicles with the NETA marque.
NETA itself has partnered up with Thailand's PTT (a state-owned oil and gas company). The company will sell CBU vehicles in the Kingdom for 2 years before transitioning to local-assembly there through Arun Plus, which is the electric mobility arm of PTT. Maybe that partially explains why the pricing is so favourable in the Thai market. Would be interesting to see if they eventually start exporting these vehicle to Malaysia from Thailand.