Automotive
Published on August 22nd, 2023 | by Subhash Nair
0
Peugeot 408 GT Crossover Spotted Near Gurun Plant
The Peugeot 408 GT coupé crossover was spotted near the Stellantis factory in Gurun, Kedah.
It looks like the Peugeot 408 GT will be next on the list of French car launches in Malaysia. At least two units of the radically styled coupé crossover were spotted on a highway by the Gurun exit. Gurun, is of course where the Stellantis assembly plant is located.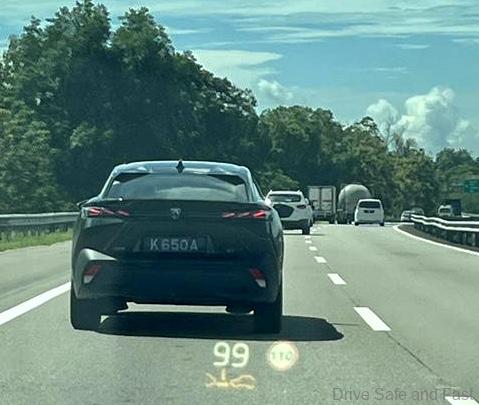 While it's possible the Stellantis plant are merely assembling the 408 GT for export to other South East Asian markets, it's quite likely that local Peugeot distributors Bermaz Auto Alliance will launch the car in Malaysia.
The Peugeot 408 was once sold in Malaysia back when it was a C-segment sedan in the early 2010s and saw moderate success here. Now as a crossover with dynamic fastback styling the 408 could find its own niche in our market once again if the price is right. It occupies a currently under-served market with the footprint of a C-segment vehicle but the roof line of a 4-door coupe, emphasizing design over maximum practicality and ergonomics.
Colour choices on the global market include:
Obsession Blue
Titanium Grey
Cumulus Grey
Elixir Red
Pearl White
Nera Black
In terms of dimensions, the new Peugeot 408 is 1.48m tall, with a length of 4.69m and a wheelbase of 2.79m. It offers 536 litres of boot space with folding rear seats that expand this to 1,611 litres.
There are at least two powertrains on offer – the familiar 1.2L 3-cylinder turbocharged PureTech petrol motor found on the Peugeot 2008. Here it's tuned to 130hp and mated to an 8-speed EAT8 automatic gearbox with a Start & Stop system. It's also available with a plug-in hybrid powertrain which sees a 1.6-litre 4-cylinder as the 'thermic' power source and an electric motor supplying the rest of the power.
The plug-in hybrid models are available as 180PS or 225PS output models. There's also an unspecified THP engine option for the 408 GT with 215PS. Our money is on the 1.2L turbocharged Puretech engine for our market.
What do you think of the possible introduction of the Peugeot 408 GT to Malaysia? Will it fare well in this age of untaxed electric vehicles and relatively well-priced options from China?