Automotive
Published on August 30th, 2023 | by Subhash Nair
0
Subaru Car Challenge 2023 Returns To KL
The Subaru Car Challenge 2023 comes back for the first time since 2019.
The long-awaited Subaru Car Challenge is making a triumphant return after a hiatus since 2019. Motor Image (Malaysia) Sdn. Bhd. is proud to announce the revival of this electrifying event, calling all tough and rugged individuals to prove their mettle and endurance. If you're ready to take on the challenge, you could be the proud owner of a Subaru XV 2.0i-P EyeSight.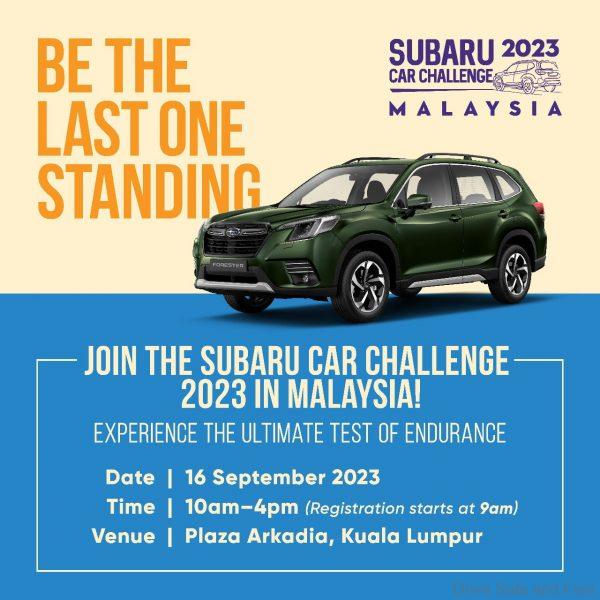 Get Ready to Dominate!
Motor Image (Malaysia) Ltd. is searching for 80 fearless participants who are ready to push their limits in the Subaru Car Challenge. This exhilarating endurance event is scheduled to take place at Plaza Arkadia, Kuala Lumpur, on September 16, 2023. If you believe you've got what it takes to outlast the competition, this is your moment to shine.
Who Can Participate?
If you're a Malaysian or Permanent Resident aged between 20 and 50 years old as of September 1, 2023, you're eligible to register for the Subaru Car Challenge. Out of the entrants, the top five contestants who display extraordinary endurance will earn themselves a round-trip ticket to Singapore, along with four days and three nights' accommodation. But that's not all – they'll also have the chance to compete in the Singapore leg of the challenge, representing Malaysia on an international stage.
The Ultimate Test of Strength
The 2023 Subaru Car Challenge is set to be a showdown of stamina and resilience. After a pandemic-induced break, the event is back to thrill Subaru enthusiasts. The action will unfold at the fountain area of Plaza Arkadia, where participants will secure their spots at one of the four Contest Cars starting at 9 am.
Contestants will select a random number from the palm-print stickers attached to the Contest Cars. This number will determine their Contest Car and assigned palm position. The challenge will span six hours from 10 am to 4 pm, during which the 80 participants will face elimination games designed to challenge their physical and mental limits. The top five contenders will emerge victorious, earning the honor to represent Malaysia in the Singapore leg of the competition.
Champion of Champions
The victors from Malaysia will join other regional winners in the thrilling finals of the Tan Chong Car Challenge, slated for November 4 to 5, 2023, at Singapore's iconic Ngee Ann City. The grand prize? A powerful and stylish Subaru XV. This is your chance to etch your name in history as a champion and experience the extraordinary blend of grit and determination demanded by the Subaru Car Challenge.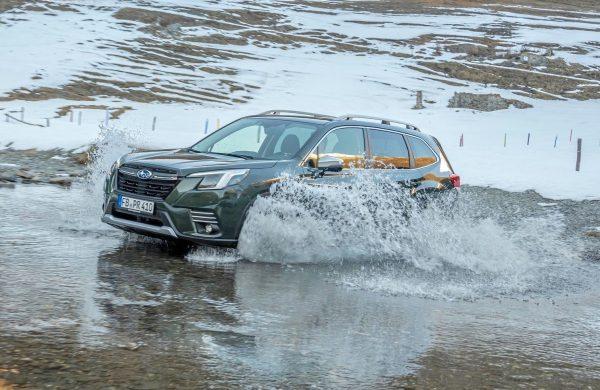 Experience Subaru's Advanced Technology
While the Subaru Car Challenge takes center stage, don't miss the opportunity to immerse yourself in Subaru's cutting-edge safety technologies. Engage with Subaru's innovative Core Technologies through the Subaru Advanced Technology Drive (SATD). This event allows participants to experience firsthand:
Symmetrical All-Wheel Drive (SAWD)
Subaru Global Platform (SGP)
Boxer Engine
EyeSight 4.0 Advanced Driver Assist Technology
Explore these features through a specially-designed obstacle course that showcases their capabilities. From Adaptive Cruise Control to Pre-Collision Braking and Symmetrical All-Wheel Drive, you'll witness the pinnacle of driving safety and innovation.