Automotive
Published on August 24th, 2023 | by Subhash Nair
0
Win 1-Month Free With The Mercedes-Benz EQE With Flux This Merdeka
Celebrate Freedom with FLUX's 1st Merdeka Pop-Up Showroom: A Revolution in Car Ownership
As the nation eagerly prepares to commemorate Merdeka, the cherished spirit of freedom and independence resonates profoundly throughout Malaysia. Embracing this very essence of liberation, FLUX, the All-in-One vehicle subscription platform, is thrilled to announce its inaugural "Merdeka Pop-Up Showroom" event. Anticipation mounts as the date is set for this extraordinary occasion, set to unfold at FLUX's headquarters in Solaris Mont Kiara on the 28th of August 2023. Mark your calendars as the event runs from 11 am to 4 pm, promising an immersive and captivating experience.
What better way to honor the spirit of Merdeka than by exploring the groundbreaking concept of car ownership offered by FLUX? At the "Merdeka Pop-Up Showroom," attendees will have the unique opportunity to get up close and personal with a meticulously curated array of vehicles. From affordable options to premium rides, the showcase will include the much-awaited debut of the Honda WRV and the luxurious Mercedes-Benz EQE AMG Line.
FLUX takes pride in presenting its extensive collection of vehicles, encompassing everything from sturdy pickups to cutting-edge electric vehicles and opulent sedans. As a testament to their commitment to revolutionize the driving experience, FLUX is also rolling out exclusive deals during the event. And that's not all – attendees stand a chance to win an exhilarating one-month subscription of the Mercedes-Benz EQE AMG, completely free of charge.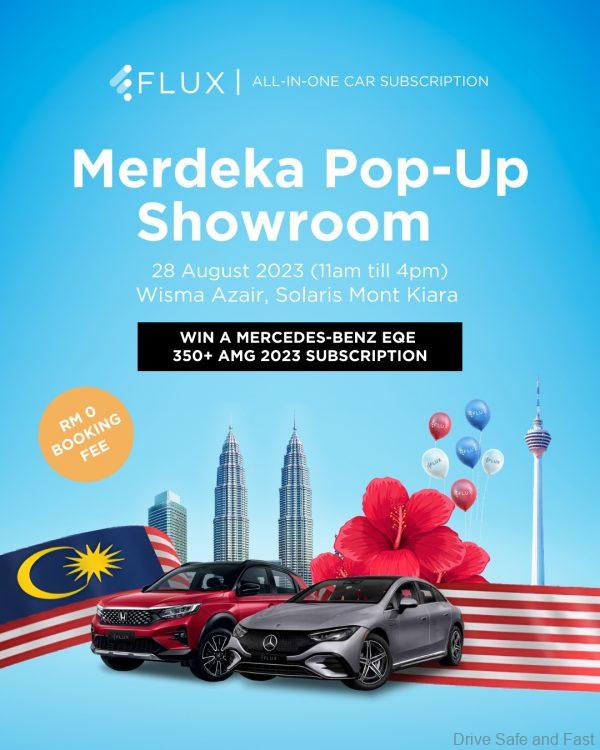 Recognizing the significance of freedom and convenience in today's fast-paced world, FLUX's event epitomizes the essence of Merdeka by celebrating liberation from the shackles of conventional car ownership. Step into a realm where the burdens associated with owning a car dissolve seamlessly. Bid farewell to cumbersome down payments, insurance intricacies, and road tax concerns. FLUX's dedicated concierge team expertly manages all these aspects, granting you the freedom to simply enjoy the ride.
Elevating the event's excitement further, FLUX introduces an irresistible offer – an RM0 reservation fee. This exclusive promotion is complemented by an enticing RM800 discount, applicable to all reservations made during the event. This is your chance to embrace a new era of car ownership, one that is effortless, flexible, and liberating.
As Malaysians unite in celebrating the spirit of Merdeka, FLUX extends an open invitation to all to partake in the "Merdeka Pop-Up Showroom: FLUXing Merdeka" event. Unveil the true essence of car subscription, redefining the way you perceive car ownership. Join hands with FLUX in embracing freedom from convention, and witness firsthand the future of driving.