Automotive
Published on October 5th, 2021 | by Subhash Nair
0
Toyota KINTO ONE Subscription Updated In Malaysia
Toyota KINTO ONE car subscription has been available all year, but now there are more options.
Back in January 2021, UMW Toyota Malaysia and Toyota Capital Malaysia collaborated on introducing a subscription model for local Toyota customers called KINTO ONE. Today, they've announced an extended range of options for subscribers to choose from.
These changes are pretty minor, but worth noting. The first is the new annual mileage packages. When it was first launched in Malaysia, KINTO ONE subscribers could only get 30,000km of annual mileage. Secondly, there were only 2 term lengths available, 24 months or 36 months. That was the old list of options.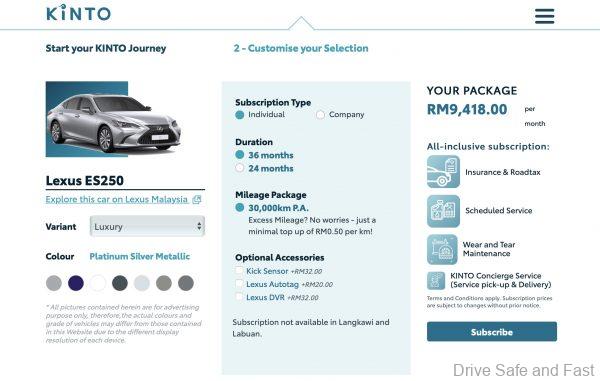 The latest update to Toyota KINTO ONE extends the list of options. Customers can now ask for a lower annual mileage cap of just 20,000km per year. As before, additional mileage racked up is charged at RM0.50 per km annually. The other change is to term lengths. Customers can now get packages that range from 24 months to 60 months. That means you can adjust the duration of your subscription from 2, 3, 4 all the way to 5 years, depending on your needs.
Other changes to KINTO
We also noted another difference to the Service Maintenance Package offered. This change may have come earlier on, it was not listed in the press release. Customers can now opt for the Lite Package, which makes them responsible for the Wear & Tear part replacements. Those are to be replaced at the customer's expense at the following intervals:
Battery – Every 20,000 km
Wheel Alignment & Balancing – Every 10,000 km
Tires – Every 50,000 km
Wiper Blade Rubber – Every 20,000 km
Air-con service package – Every 30,000 km
Brake Pad (Front) – Every 30,000 km
Brake Pad (Rear) – Every 50,000 km
V-belt – Every 40,000 km
Shock Absorber – Every 100,000 km
They've also added 'KINTO ONE Business', which adds the Hilux and Hiace to the fleet.
"Soon after we launched KINTO ONE, the country was ushered into another major lock down and this has encouraged us to be more adaptive of the local happenings. Through our spirit of Kaizen and structured discipline in product development, we took advantage of the recent lock down to improve our KINTO ONE features" Thomas Chai, President of Toyota Capital Malaysia was quoted saying.
"We listen closely to what the market needs and has come up with additional varieties of KINTO ONE to cater to the growing car subscription market" he added.