Automotive
Published on October 8th, 2023 | by Subhash Nair
0
Hyundai Santa Fe 4th Gen Facelift, NOT 5th Gen Will Be Locally-Assembled. Here Are Our Thoughts
The Hyundai Santa Fe 4th generation facelift has been confirmed for CKD in Malaysia.
Earlier this week, Sime Darby Hyundai Integrated Sdn Bhd signed a Certificate of Mass Production with Inokom Corporation Sdn Bhd to mass produce the Hyundai Santa Fe. The event was shared on a Linkedin post. The specific model that would be going through this local-assembly process is the current 4th generation facelift model and not the 5th gen model that was revealed recently. Why is that?
Hyundai-Sime Darby Motors themselves did not comment on this decision, we have our own theories. Here they are:
The New Looks Don't Appeal To Malaysian Customers
The 5th generation Hyundai Santa Fe generated a lot of buzz when it was shown. While some enthusiasts loved the new angular design direction, there was plenty of criticism too.
This sharp break from the established and evolved Fluidic Sculpture design language was divisive and Malaysians are quite conservative when it comes to car choices and it would make more sense to sell the outgoing model to the same proven demographic of buyers than to try to break the mould. Just look at the rear end of the new Santa Fe. Even if you love the overall angular approach to design, there's something very unsettling about Hyundai's approach to the positioning of the taillights here.
Pricing And Value Matters
In Malaysia, we currently have loads of SUV options at the sub-RM200,000 range and many of them are still doing quite well despite the arrival of Chinese-engineered rivals at much lower prices. There's talk that the upcoming CR-V model might go up in price substantially and Toyota only sold the RAV4 for a short while before realizing it didn't make any sense in this market at its price.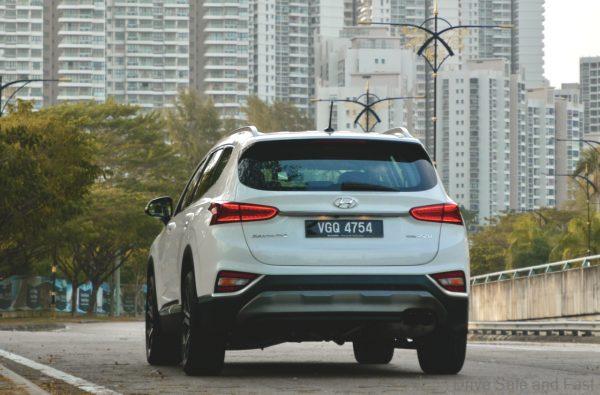 I believe the 5th generation Santa Fe would represent a massive price increase that might even cannibalize sales of the Palisade. For the time being, reducing the price of the 4th generation facelift model may have been a better move for the company in our market.
Substantive Qualities Of The Outgoing Model
The 4th generation facelift model represents a pretty large departure over the pre-facelift model despite visual similarities. In the 'facelift', Hyundai actually moved the Santa Fe from the Y7 platform to the newer N3 platform. This new N3 platform still underpins the 5th generation Santa Fe. Perhaps the logic here is that the Malaysians would be getting substantially the same vehicle as the 5th generation model, but at a lower price and with more familiar styling.
Those are our thoughts. What are yours?