Automotive
Published on July 18th, 2023 | by Sounder Rajen
0
Will The 2024 Hyundai Santa Fe Featuring Boxy Styling Come To Malaysia?
The 2024 Hyundai Santa Fe looks more British than it does Korean
Gone are the days where Korean cars were seen as inferior or not as stylish as other brands. Kia and Hyundai have designed some truly stunning cars over the years such as the Kia Stinger GT and the Hyundai Kona over the years. Now the latter brand is taking a new direction and almost copying a famous British brand with its new SUV.
That's right, once you see it you can't unsee it but that doesn't change the fact that the all-new and radically transformed Hyundai Santa Fe is stunning. The fifth-generation midsized SUV carries forward its signature appeal while implementing major boxy updates that make it look unlike any Hyundai that came before it.
Moreover, this is the first full model change for the Hyundai Santa Fe since 2018, and Hyundai took an unconventional approach with a lifestyle-based design typology to maximize rear cargo capacity and better accommodate outdoor and urban activities for a more updated design both inside and out.
The result? Hyundai has ensured that the all-new Hyundai Santa Fe boasts a robust yet delicately detailed exterior design and spacious, versatile interior that flows from the openness of its enlarged tailgate, providing users with a terrace-like space whenever and wherever they need it.
The boxy shape and distinctive silhouette of the all-new Hyundai Santa Fe are derived from its long wheelbase and wide tailgate area. The front is menacing with its H-shaped headlights and bold, sharp fenders. These H-shaped design elements reinterpret the brand's 'H' emblem.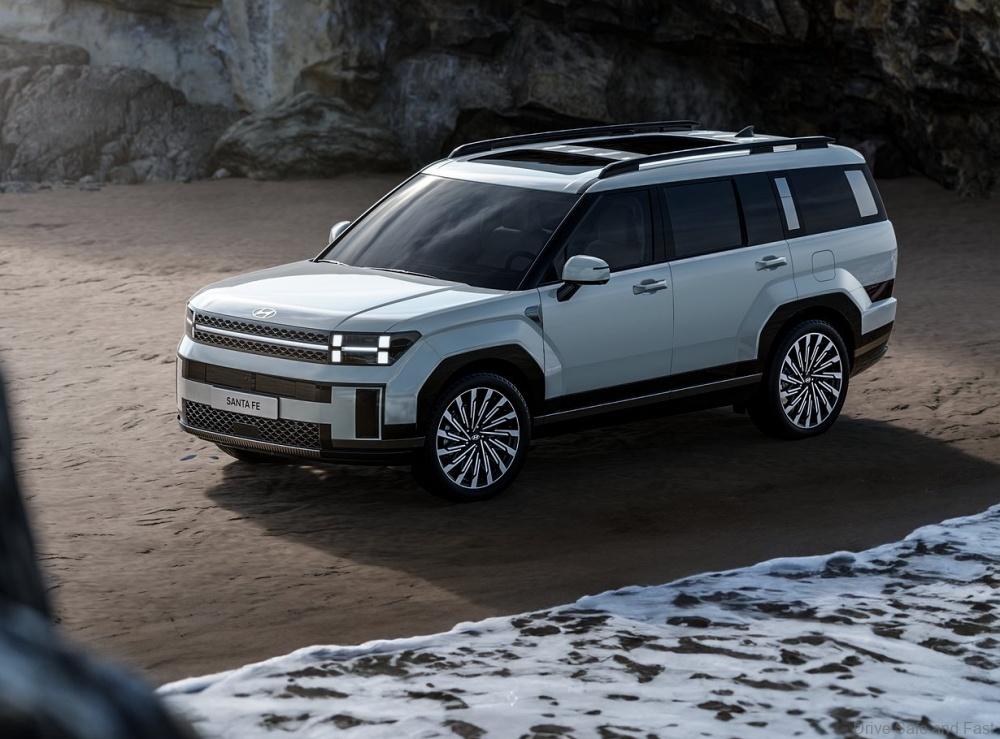 The longer wheelbase accommodates a bold roofline, powerful volume around the fenders, sharply defined wheel arches, shortened front overhang and 21-inch wheels, all of which gives the new Hyundai Santa Fe a robust, adventurous look. Defined by its larger tailgate, the rear end is simpler, balancing the overall exterior design.
On top of that, the interior of the all-new Hyundai Santa Fe offers generous living space for an effortless outdoor lifestyle. The more accommodating tailgate creates a spacious interior with a terrace-like feel at the rear when open. The fully foldable second- and third-row seats provide class-leading interior space as well.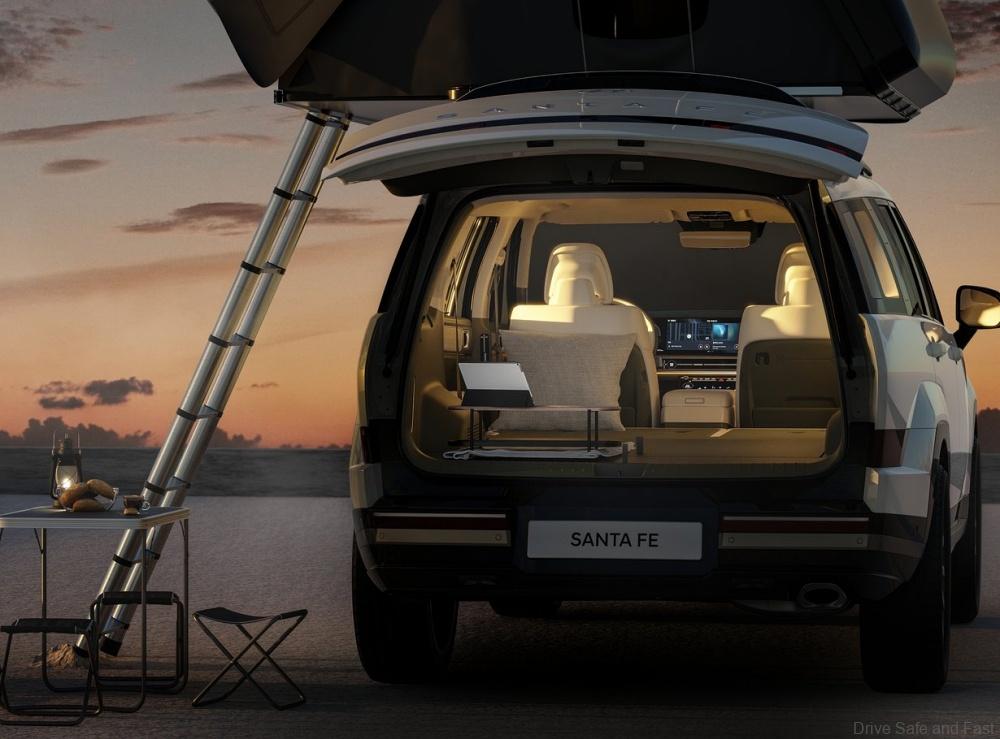 Naturally, the all-new Hyundai Santa Fe also sports a variety of high-tech features, including a Panoramic Curved Display and dual wireless charging. The curved display connects the 12.3-inch digital cluster and infotainment system and enhances driver visibility while delivering a sense of luxury.
The brightly colored seats and headliner make the interior feel more spacious while the Nappa leather seats make every journey more comfortable. The new Hyundai Santa Fe also incorporates a number of sustainable materials such as suede headliners, car mats, and second- and third-row seat backs are made from recycled plastic.
So will this new Hyundai Santa Fe debut in Malaysia or is its styling too similar to another brand that it may cause confusion among Malaysian buyers?