Automotive
Published on November 21st, 2023 | by Subhash Nair
0
smart #1 EV Launched In Malaysia With Prices Ranging From RM189K To RM249K
The long-awaited smart #1 arrives in Malaysia in three variants, bringing some spice to the EV market.
smart Malaysia has officially revealed the pricing for its much-anticipated all-new electric vehicle, the smart #1. Tesla and BYD have some real competition on their hands which combines Mercedes-Benz styling with Geely's tech and manufacturing capability. In Malaysia, there will be three variants of the #1 and here are the On-The-Road Prices (without insurance) of the three variants:
smart #1 BRABUS: RM249,000
smart #1 Premium: RM219,000
smart #1 Pro: RM189,000
Here's how the variants compare in terms of spec and equipment:
smart #1 Pro
200kW, 343Nm of torque RWD electric motor
0-100km/h in 6.7 seconds
180km/h max speed
Eco/Comfort/Sport Drive Modes, E-Pedal
49kWh LFP battery
315km WLTP range
7.2kW AC Charging (10-80% in 6 hours)
150kW DC Charging (10-80% in 22 minutes)
VTL capability
CyberSparksLED Headlamps
Manual Head Lamp Levelling
19″Amps Alloy Wheels
Panoramic Halo Roof
Roof Rails
Powered Tailgate
Leatherette Seat Material
10-Way Powered Driver Seat
Front Passenger Seat with touchscreen adjustment
Dual Zone AC with rear vents
PU Leather Steering
"Simple" 64-colour Ambient Light
N95 AC Filter
12.8″ CSD Screen Size
9.2″ Digital Meter
Wireless Apple CarPlay & Android Auto
5 Speaker Audio System
Wireless Phone Charger
Adaptive Cruise Control
Full L2 ADAS Level
Automatic High Beam
360 Visual Park Assist
smart #1 Premium (adds)
66kWh NMC battery
440km WLTP range
22kW AC Charging (10-80% in 3 hours)
150kW DC Charging (10-80% in 29 minutes)
CyberSparksLED + Matrix LED headlamps with Adaptive High Beam
Auto Head Lamp Levelling
Automatic Front & Rear Sequential LED Turn Signal
Illuminated Front Grille & Door Handle
Luminous Side Logo
Welcome Light
Courtesy Light (Side Mirror Mount)
19″ Rotors Alloy Wheels
Welcome Exterior Light
Power Tailgate with Kick Sensor
Leather Seat Material
Ventilated Front Seats
Leather Steering
Extended 64-Colour Ambient Light
Door Sill Plate LED lamp
Illuminated Steering Logo
10″ full-colour Heads Up Display
Beats 13-speaker audio system
Adaptive High Beam
Full Autonomous Parking
Parking Emergency Brake
Autonomous Parking Assist
smart #1 BRABUS
315kW, 543Nm of torque AWD electric motors
0-100km/h in 3.9 seconds
180km/h top speed
400km WLTP range
Stiffer dampers
Brabus aero kit
Brabus styling with contrast colour for roof, side mirror covers, lower grille, lower lip front, brake calipers
19″ Dynamo two-tone wheels
Centre console with gunmetal finish
Red interior trim
Red contrast stitching
Black headliner
Ultrasuede seats
Aluminium pedals
Brabus logos
PRO-NET's Commitment to Electric Mobility Revolution
As the exclusive distributor for smart #1 in Malaysia and Thailand, PRO-NET has showcased its unwavering support for the Proton EV roadmap. This support extends beyond the vehicle itself, encompassing a seamlessly integrated ecosystem. PRO-NET's commitment covers dealer networks, aftersales services, the user-friendly 'Hello smart' App, and high-voltage battery management, illustrating its preparedness for the electric mobility revolution.
#TAKETHEsmartWAY: Unveiling the Intelligent Features
With the tagline #TAKETHEsmartWAY, smart #1 presents an array of intelligent features across its Pro, Premium, and flagship BRABUS models. Each model boasts distinctive characteristics, promising a premium driving experience and a high-performance future.
Unleash Your Bold Style: Vibrant Colour Combinations
The smart #1 emerges as the epitome of a premium urban companion, resonating with today's youth and their bold and expressive lifestyles. It transcends mere transportation, becoming a vibrant statement of personality through its striking colours.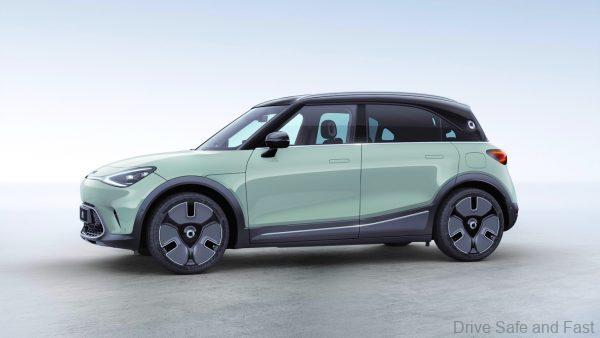 smart #1 Premium (all with Eclipse Black roof)
Digital White
Laser Red
Cyber Silver
Quantum Blue
Future Green
smart #1 Pro
with Eclipse Black Roof

Digital White
Laser Red
Cyber Silver
Quantum Blue
Future Green
Lumen Yellow

Atom Grey-Matte (without Eclipse Black Roof)
smart #1 BRABUS
with Black Roof

Digital White
Laser Red
Cyber Silver

with Radiant Red Roof

Atom Grey-Matte
Meta Black
Cyber Silver

Atom Grey-Matter (without Radiant Red Roof)
All-Inclusive Premium Ownership: A Worry-Free Journey
smart Malaysia introduces the All-Inclusive Premium Ownership program, ensuring a comprehensive and worry-free journey for customers. The key offerings include:
8-Year 200,000km High-Voltage Battery Warranty
8-Year 150,000km High-Voltage Component Warranty
4-Year Unlimited Mileage Vehicle Warranty
2-Year Unlimited Mileage Spare Parts Warranty
24/7 Roadside Service Assistance
Complimentary smartCharge Home Charger with a 2-Year Warranty
Vehicle to Load (V2L) Adaptor with a 2-Year Warranty
Complimentary Accessories Package
Complimentary 5-Year Internet Data of total 60GB
Comprehensive smartPlus Insurance Coverage
Pricing Details: Making Innovation Accessible
Customers can add the exclusive Atom Grey – Matte colour for an additional RM5,000. For more information and to book and personalize the smart #1 of your dreams, visit smart Malaysia's official website or contact your preferred Authorized smart Dealer. Embrace the future of electric mobility with smart #1!