Automotive
Published on July 20th, 2023 | by Sounder Rajen
0
Tesla Model Y Lands In Malaysia With Three Variants Going Up To RM288,000
So there are three variants of the Tesla Model Y starting from RM199k in Malaysia
Tesa Malaysia has officially launched in the country and has brought with it the first official Tesla vehicle to be sold in Malaysia and that is the brand's best seller, the Model Y compact SUV. Now we know everyone who has already purchased Tesla vehicles unofficially will have many questions and we will address them soon, but for now, feast your eyes on the Model Y.
The Tesla Model Y debuts in Malaysia today on 20 July 2023 and the public can now experience the Model Y first hand for the first time at Pavilion Kuala Lumpur from today until 31 October 2023. Along with the car itself, at floor B1, Tesla has also installed a few of its signature Superchargers which are also open to the public.
Moreover, all trim levels of the Tesla Model Y (Rear-wheel drive, Long Range and Performance) will be on display so their full glory can be taken in at the Centre Court, Pavilion, starting right now for public viewing and ordering so if you have been eyeing this EV for a while now, you know where to go to see it and feel it yourself.
Like every Tesla vehicle, the Model Y combines range, performance, safety and technology and offers 2,100 litres of cargo space, providing ample space for up to 5 passengers as well as their belongings. With ultra-responsive motors, the performance variant accelerates from 0 to 100km/h in just 3.7 seconds, while boasting a range of up to 533km (WLTP).
On top of that, starting from just RM199,000, Malaysian customers can expect the Tesla Model Y to begin delivery in early 2024 and as part of Tesla's commitment to Malaysia, the company has unveiled a comprehensive development plan for experience centre, service and support, and charging infrastructure for a more seamless and holistic ownership experience here.
Tesla also designs, manufactures, deploys, owns and operates the world's largest fast charging network. The first indoor Supercharger station with a total of 8 Superchargers at Pavilion KL will be opened soon. Tesla also plans to open multiple Supercharging stations at strategic locations to cover popular destinations across the country With Tesla Supercharging Model Y operating at peak efficiency of 250 KW can charge up to 120km in just 5 minutes.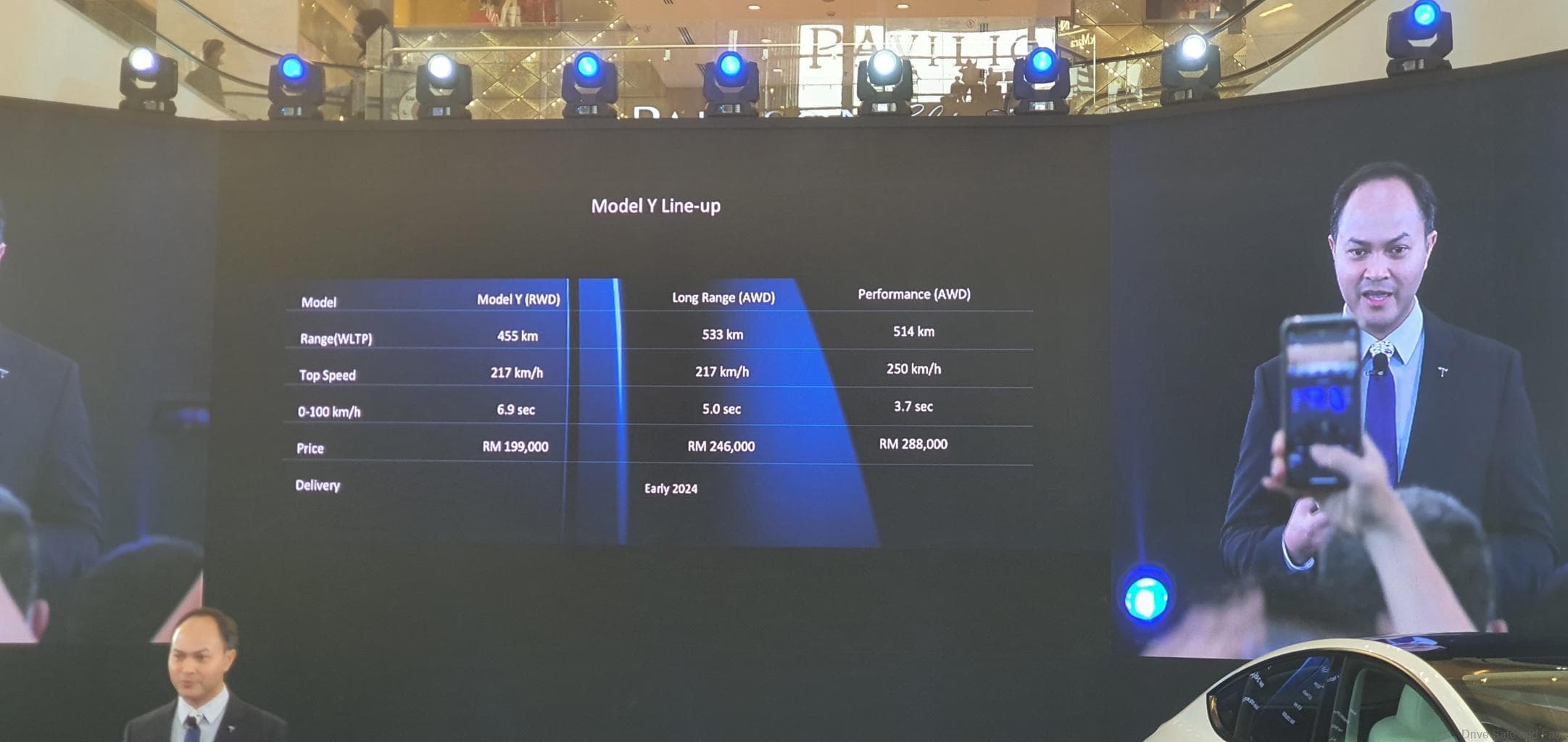 Tesla customers will also enjoy full import and excise duties exemption for newly registered Tesla vehicles as well as 100 percent road tax exemption and individual income tax relief of up to RM2,500 on expenses related to EV charging facilities for the assessment year of 2023. Companies that rent non-commercial EVs may also claim tax deduction on the rental amount up to RM300, 000 from the year of assessment 2023 until 2025.
So what do you guys think? Are you excited for the new electric future Tesla brings?