Automotive
Published on November 16th, 2013 | by Daniel Sherman Fernandez
1
KONICA MINOLTA, INC. JAPAN LAUNCHES ICE-μ™ TINT FILM FOR CARS
Konica Minolta, INC. Japan known for its optical technologies in developing and producing film and lenses globally, has advanced into yet another new business – high performance window film called KONICA MINOLTAICE-μ™. The product incorporates some of Konica Minolta's core technologies honed over the 100 years the company has been in the forefront of R & D and commercialisation of technology.
Touted as the latest and best in its class, i.e. the fifth generation window film (multi-Nano layer dielectric reflective film), with its advanced features, caters to discerning customers in the automotive and building industries. The innovative KONICA MINOLTA ICE-μ™ film boasts of a superior combination of both transparency and heat rejection. In essence, its revolutionary 'wavelength control technology', high precision coating technology and non-metalised design is an eco friendly premium product. It effectively blocks heat and UV rays, lets through visible light for a clear view, does not interfere with electronic signals and allows for a more comfortable and cooler experience.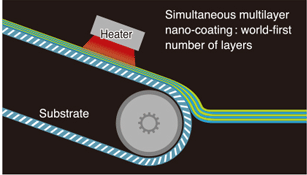 Sole distributor, Jasa Sarjana Sdn Bhd, opened the 1st KONICA MINOLTA ICE-μ™ Centre in Shah Alam, Selangor. "This outlet marks the first of 15 more outlets to offer the innovative and cutting-edge film. We are also inviting interested entrepreneurs to tap into the franchise business opportunities which we believe will draw car, home or commercial property owners who appreciate the value added features afforded by the KONICA MINOLTA ICE-μ™ film," said David Lee, CEO of Jasa Sarjana Sdn Bhd.
Shigeki Suzuki, General Manager of WF Business Division, Advanced Film Business Operations, Advanced Layers Company of Konica Minolta, who flew in from Japan for the launch said, "Compared to conventional films, KONICA MINOLTA ICE-μ™ which uses a fifth generation type of window film offers a higher level of performance that exceeds even the fourth generation multi-layered, sputtered-type films.
"For your information, KONICA MINOLTA ICE-μ™ first made its entry into the market in 2012 when it was launched in China. To date, our innovative and premium window film is available in China, ASEAN Countries, Middle East, Africa and of course Japan and the response has been very good," concluded Suzuki.
The launch was attended by leaders from the automotive and building industries. The launch of KONICA MINOLTA ICE-μ™ is indicative of Japanese investment interest in the country and will have a multiplier effect on the economy while giving customers more choice. The price of KONICA MINOLTA ICE-μ™ for vehicles ranges from RM1,600 – RM3,800 while building specifications will require a tailor-made cost assessment.