Motorsports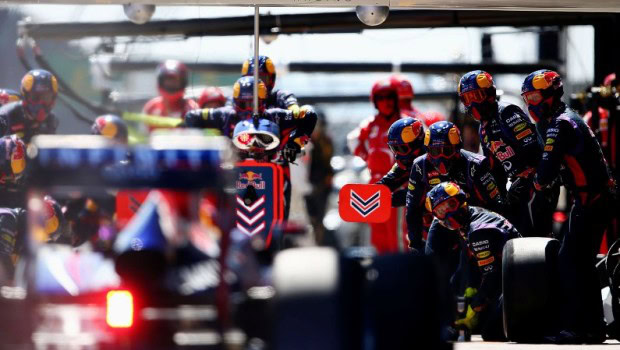 Published on February 24th, 2014 | by Daniel Sherman Fernandez
0
F1's Red Bull RB10 Test With Vettel @ Bahrain
Sebastian Vettel posted a total of 59 laps of the Bahrain International Circuit on the second day of testing in the Gulf state, as the team made progress towards solving the reliability issues that have so far hampered our pre-season preparations.
Afterwards, Seb said his latest spell at the wheel of the RB10 had ended on a positive note. "Definitely a better day today," he said. "We did more laps, so that's encouraging. It's good to check the car, check the reliability, but obviously there is a lot still to do. It was good to get a proper first feel for the car, and it feels OK but there's a lot more to come. It's difficult to talk about catching up [to rivals] because I don't know what other people are doing, but we did more laps than we have done so far and that's the big thing. We're learning every single lap, even if the quality of the lap is sometimes not the best. However, the most important thing is to run and we did that. The last two days have been very useful. I hope Daniel can get some more good laps in tomorrow."
Race Engineering Coordinator Andy Damerum added: "We had a good day. We did a tremendous amount of work overnight and the guys really pulled it together – so much so that we were ahead of schedule with the car this morning. We were able to fix the problem we had yesterday very quickly and there were no lingering issues, so we managed some good running today. Every lap you turn gives you a huge amount of data and that's gold dust, so we're pleased with what we got done today. We're not out of the woods yet and we still have a lot of work to do, but the direction we've taken is looking like the right one. After a successful morning we tried some new elements late in the day, which we had been waiting for. Sebastian felt those were a big step forward, so overall a very encouraging session. The times of course are irrelevant, as we're solely focused on reliability at the moment, and in that respect we feel we are making good progress."
BAHRAIN TEST – DAY TWO TIMESHEET
1. Magnussen, McLaren, 1:34.910, 45 laps 2. Hulkenberg, Force India, 1:36.445, 59 laps 3. Alonso, Ferrari, 1:36.516, 96 laps 4. Rosberg, Mercedes, 1:36.965, 84 laps 5. Bottas, Williams, 1:37.328, 115 laps 6. Kobayashi, Caterham, 1:39.855, 65 laps 7. Vettel, Red Bull, 1:40.340, 58 laps 8. Vergne, Toro Rosso, 1:40.609, 58 laps 9. Gutierrez, Sauber, 1:40.717, 55 laps 10. Grosjean, Lotus, 1:41.670, 18 laps 11. Chilton, Marussia, 1:42.511, 17 laps
DAY ONE UPDATE (Feb. 19)
Today the team continued our pre-season preparations in Bahrain where Seb put in 14 laps. After a long build in the morning, the champion made it out on track, but his progress was ended late in the afternoon by a mechanical issue.
"Obviously we're not happy with where we are now and we have a long way ahead of us," said Seb. "The first gut feeling from the car is OK, but we need more running. It's not easy to find a quick fix, but I think we understand the problems. We sorted out the issues from Jerez and we were able to do some laps today. However, very often you fix one problem and another pops up, which is what happened. That's testing. We all knew this year was a massive challenge and we knew it would be difficult. We obviously didn't want this, but it is what it is and we are working flat out to solve the problems."
Race Engineering Coordinator Andy Damerum added: "It's been a very long two weeks for everyone back at the factory, and I have to say that while it might not appear so on the surface there has been a big improvement since Jerez. We are obviously playing catch-up, and for us this was very much like a first test, so we were sending the car out to do one lap, then two and trying to build from there. In that regard the laps completed were good. However, we were sidelined by a mechanical gremlin but one unrelated to the issues in Jerez. That's the way of testing. All these problems have to be ironed out and only reveal themselves as you progress. We'll look at solving that issue now and we're itching to get out on track again tomorrow."