Cars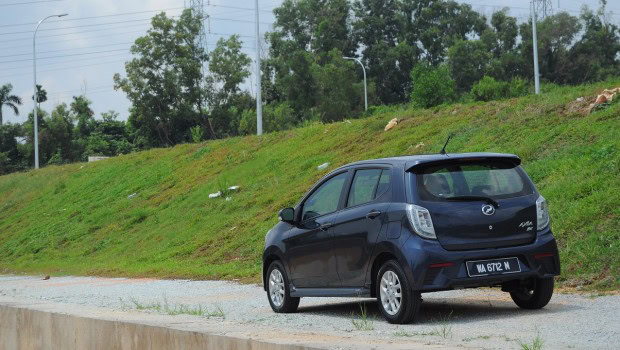 Published on July 30th, 2015 | by Daniel Sherman Fernandez
0
Back to basics: Perodua Axia 1.0 Special Edition Review
Every now and then it's good to look at a car that prides itself on being financially friendly for fresh graduates or frugal families. These cars are usually quite compact, running low capacity engines that are especially fuel efficient. Looking at these cars is important for two reasons-  to appreciate the luxuries that we have, and to understand how far these budget cars have come.
The Perodua Axia is one of those cars. It is one of the cheapest cars on offer today, and it is one of the few viable options that a fresh graduate can consider on a meager salary. The Axia replaced the Viva in Perodua's lineup, but it also proved to be a pretty big step forward and it proved that "budget friendly" didn't mean cheap.
There's only one engine that powers the entire Axia lineup; it's a 1.0-litre 3-cylinder motor that puts out 66 hp and 90 Nm of torque.  You can get it paired with either a 4-speed automatic or a 5-speed manual transmission, although naturally the manual feels a little sprite-lier.
While there are many variants of the Axia available, what we have here is the highest specification model. The ultimate bare-bones basic model is much like the Isuzu D-Max Single Cab that we reviewed earlier, in that it has no central locking and is exceptionally bare.
In this high end model, you get most of the features that you'd expect to find in your run-of-the-mill family hatchback. There's the regular head unit that you find in Myvis and Alzas, with Bluetooth connectivity to boot. There's project headlamps, a multi-info display, and ABS as well.
It really doesn't feel too off what you might expect from a Myvi, and therein comes a problem. Between the Viva and the Myvi, there was a certain distinction in terms of size and functionality that made them feel like two distinct products. But in the case of the Axia, the internal and external dimensions are very similar to that of the Myvi.
It's good for those who are in the market for a budget car, because it feels like a good bargain. But it also dilutes some of the appeal for the Myvi- that is, unless you drive the cars side by side. The Axia, while possessing the features and internal space similar to a Myvi, simply doesn't feel the same. It's the little things that you never really notice at first. A bit of sound insulation here and there, the material choices- small things, but you appreciate the differences if you view them side by side.
The real question is whether one should purchase a top spec Axia as opposed to a low spec Myvi, if they can afford it. In real life, the powertrain in the Axia doesn't feel particularly slow, but you can expect some strain if trying to cover long distances at high speeds. The ride and comfort is adequate for a car in class, but it also seems to be just a little behind the Myvi in this area.
For barely RM 3,000 more, one could get a larger engine in place of the project headlamps and other bits and pieces, as well as an improvement in refinement. But at RM 36,637, the Axia is a pretty good car for the money.