Watches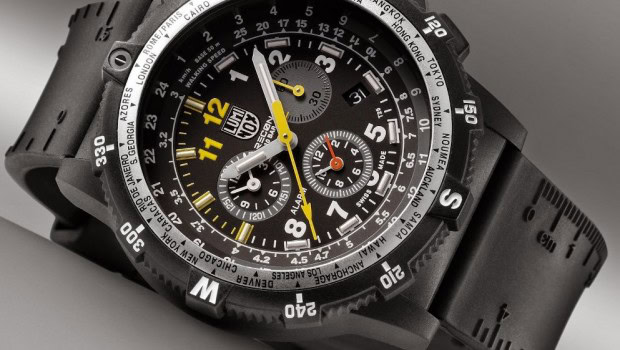 Published on May 5th, 2016 | by Daniel Sherman Fernandez
0
Luminox RECON Leader Chronograph 8840 Series
Luminox introduces the 'Leader'. This is a new chronograph alarm model in the successful RECON series. The RECON Leader has an alarm function as leaders (military or business) have deadlines to take into consideration and, when every second counts, the watch has a chrono function to enable split second timing. The World Time City Zones Bezel, also enables the leader to coordinate operations in different time zones.
All RECON models feature an easy to read walking speed tachymeter, either in kilometers (8841.KM) or miles (8842.MI) per hour, a contrast-color countdown quadrant of the dial that can be used to coordinate start times for manoeuvres, and a bezel compass rose to help establish the wearer's position.
The watch strap features three common map scales which can be used to measure distances on maps without the need for calculations and an inch/cm measurement and comparison chart.
RECON Series watches are packaged in military-style MOLLE (MOdular Lightweight Load-carrying Equipment) units that double as sunglass cases.
Designed in collaboration with former Swiss Army Military Security NCO Andrea Micheli, an internationally recognized law enforcement and military journalist and shooting instructor, the Swiss-made RECON Leader watch addresses the needs of military personnel for analog watches that can also be used as a simple and efficient navigation tool for orienteering, and other outdoor activities of civil consumers.
Technical details
Origin: Swiss Made
Always Visible: Constant glow for up to 25 years in any light condition
Size/Diameter: 48mm
Water Resistance: 100 meters, 10 ATM, 330 feet, individually tested
Movement: Ronda 5130.D Chronograph Alarm, Special HH
Battery/Battery life: 395/ 38 months
Case: PC carbon reinforced
Bezel: PC carbon reinforced, unidirectional turning bezel with World Traveler, at 12h fitted with yellow LLT protected by sapphire crystal
Case back: 316L stainless steel
Crystal: Sapphire, single antireflective coating
Crown: 316L, steel, IP black
Height: 15,10mm
Weight : 65g
Standard Band
Black PU Strap with raised scale and loop lock, 24mm
Grey Webbing strap with 3 loops, 24mm