Cars
Published on September 2nd, 2017 | by Subhash Nair
0
Volvo V90 T5 Review: The Perfect Car Doesn't Exist?
In the 90s, luxury was about comfort, prestige and a mysterious term known as "road-holding". But once the E39 5-Series came about, luxury had been redefined with performance and aggression as primary concerns. It took a while for the market to recover and for brands to realign their products with this new definition of luxury.
In fact, to this day performance remains a big selling point in the premium segment. As much as we love cars that excite on the track, many of us still yearn for a premium car that's more 'yatch' than 'speedboat'. And that's why the V90 T5 is as important to us as the resurgence of Volvo as a brand.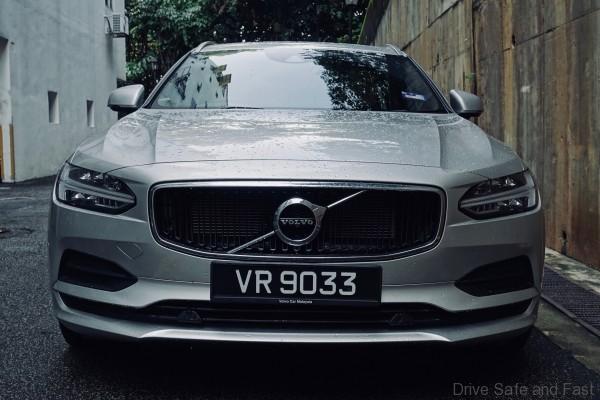 We first experienced the Volvo V90 almost exactly a year ago in Spain. Those were pre-production models, but it doesn't seem like anything significant has changed on the surface. Seeing the V90 on Malaysian roads is a significantly different experience than seeing it on European roads. Here, the Volvo stands out in the strangest way. People stare at it, with a look of confused admiration. It's as if they're not sure what they're looking at, but they know it's special.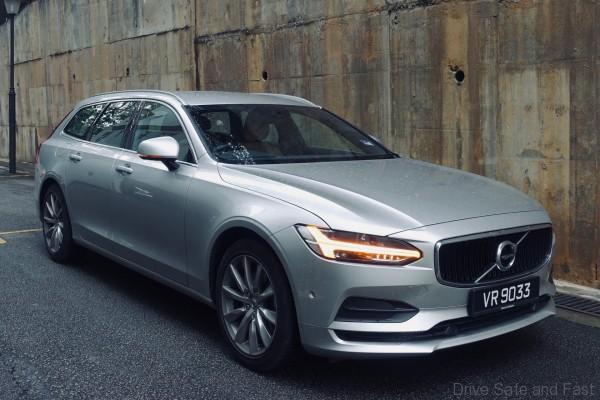 On Malaysian roads, this particular car hits on three levels. Because:
1) It's a station wagon,
2) It's a Volvo that looks expensive,
3) It looks more distinguished than any of the German competitors.
The V90 is proof that you don't need a shouty design to have the best looking car on the road. It's just so elegant and commanding from every angle.
The exterior design lends the V90 a subdued but potent presence on the road. At the front of our unit, we found the standard 'Momentum'-style grille, the "Thor's Hammer" Daytime Running Lights and LED headlights were very sophisticated. Our only gripe was with the front lip. It's well executed, but it could have been a little cleaner.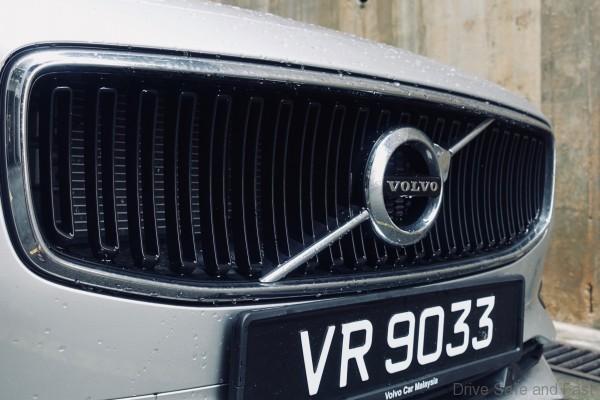 The profile is just plain awesome. The rear quarter is really bold for a station wagon. It may look a little too raked, but the internal volume of the boot isn't compromised. From this side view, you can really appreciate the stance that the V90 takes on.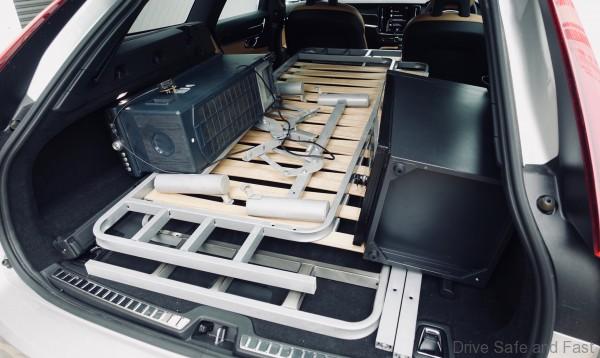 Looking at the V90 directly from the rear gives you perhaps most German aspects of the car. It's definitely got the Volvo DNA, but it's uncharacteristically aggressive. We like this new approach. It reflects Volvo's renewed ambition to be a serious contender in this segment.
The V90 is just as special on the inside as it is on the outside. Being a Volvo wagon, its rear seats come with integrated boosters. This means young children can use safety belts without putting themselves at risk. Google the dangers if you are still unaware.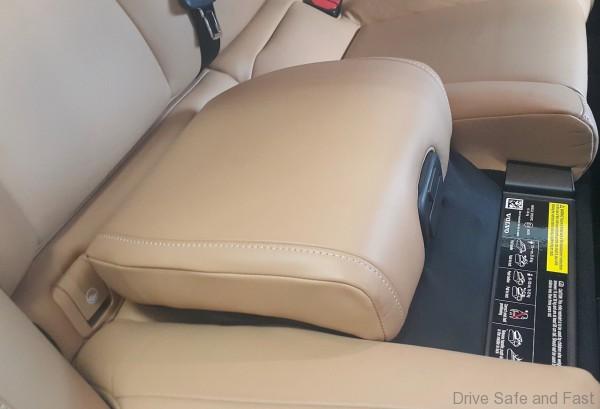 Build quality is definitely a huge step up for Volvo. Just like the XC90, material choice and design is excellent. Fit and finish is great, but the sheer amount of lovely 'soft touch' points means that you do get a bit of wobble for pieces that are sitting against leather.
A large,vertically-aligned display brings all the car's functions together. We really like the implementation here. Volvo calls it Sensus and it's enough to take on i-Drive.
This CBU model comes from Sweden and is available here in three interior choices. The one we have here is finished in Amber Leather with Dark Flame Birch trim panels. There's also Tan and Black Leather as well as an Iron Ore trim panel finish available.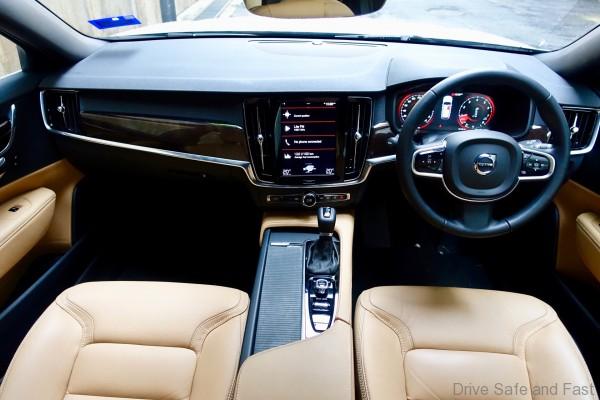 In the V90 T5, there are no sporty pretensions. The rims are large enough to look proportionate but not too large as to compromise on comfort. The suspension is tuned for the highway but isn't harsh enough to make you fear potholes and speed bumps. In fact, the whole package feels like it's from a different era. Like it's from a time when manufacturers weren't chasing each other to be the fastest around the Nurburgring.
Volvo's current 'Drive-E' powertrains mate a 2-litre 4 cylinder petrol engine to an 8-speed Aisin-manufactured automatic gearbox. In the T5, this set up is turbocharged and front-wheel drive. With over 250 horses and 350 Nm of torque, the V90 T5 goes up against its German competition well prepared.
Despite weighing a little bit more, you never really feel the heft. The car is responsive and nimble enough. It never disappoints because it never makes promises about being an all-out sports car.
Many will smirk and ask what a front-engined, front-wheel drive car is doing at this price point, but they are missing the point. To a businessman, corporate executive or even a company director, a car has to make him feel and look good.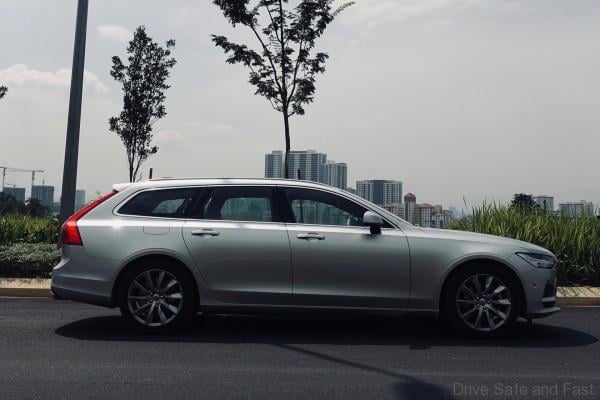 These are not folk who worry about hitting the apex or powering out of corners. The V90 T5 is for a mature audience that has nothing to prove to other road users. It's a car made for people who let the success of their careers define who they are. And these are not the kind of folk who think getting to the next red light first has any kind of significance in the real world.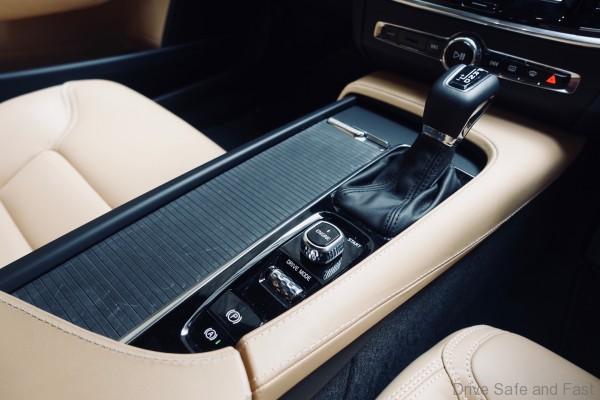 It's this focus on how the car performs that ultimately defines the V90. It's so self-assured and unbothered by the competition.
That's why we genuinely love the V90 T5. It's the type of car most manufacturers have forgotten how to make. We're sure more will be following Volvo's formula in the coming years.
Volvo V90 T5 Specifications
Engine: Turbocharged direct injection Inline 4
Transmission: 8-Speed Automatic
Capacity: 1969cc
Power: 254hp @ 5500rpm
Torque: 350Nm @ 1500rpm
Max Speed: 230km/h
Acceleration (0-100km/h): 7 seconds
Price: RM393,888