Cars
Published on October 28th, 2017 | by Subhash Nair
0
Why You Should Absolutely Have a Look at the S90 This Weekend
You're probably sick of hearing us go on and on about the Volvo S90 (and V90), but this time it's important AND time-sensitive! Here's why:
1) As you may have heard, the locally-assembled S90 T8 was launched earlier this month. If you order one before the end of October 2017, you get an RM20,000 discount! That's less than RM350,000 for the Volvo S90 T8 Twin Engine Inscription – one of the best looking, most comfortable, most eco-friendly, powerful sedans on the PLANET. So that's RM348,888 for the S90 T8 Inscription and RM368,888 for the S90 T8 Inscription Plus.
2) There are two variants of the locally assembled car. The Inscription and Inscription Plus. Of course, many will go for the Inscription as it's already RM20,000 cheaper than the Inscription Plus. But if you think about it, you can get the Inscription Plus in October for the price of the Inscription in November thanks to the discount we mentioned above.
What you're getting is adjustable dampers and a 19 speaker system from Bowers & Wilkins. This is a sound system so well integrated that Volvo had to move things around as the sound engineers saw fit. Watch this to understand more:
3) We only got a verbal confirmation, but Volvo Car still has some of the CBU variants available. That means for the first time, Volvo's executive segment is better represented than any of the German brands. Depending on stock availability, there are SIX variants of the S90/V90. It looks something like this: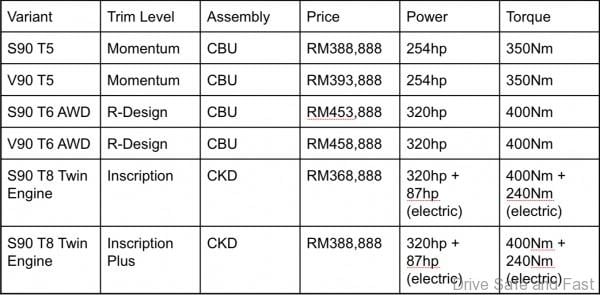 Because of this, Volvo is the only brand that lets you choose if you want a locally-assembled (T8) or fully imported (T5, T6) car. They let you choose if you want a turbocharged (T5), turbocharged+supercharged (T6), turbocharged+supercharged+electric (T8) powertrain. They let you choose if you want a trim level that is minimalist (Momentum), sporty (R-Design) or exquisite (Inscription). They let you choose if you want a sedan (S90) or wagon (V90). Each of the trim levels even come with their own chassis and suspension tuning.
You would have to combine and line up the A6, 5-Series, and E-Class to get this kind of variety and Volvo does it by themselves. That's incredible.
If you need more information:
previewed these cars – http://www.dsf.my/2016/06/volvo-s90v90-previewed-in-spain/
found reasons to buy the S90 T6 – http://www.dsf.my/2017/09/volvo-s90-t6-review-6-reasons-to-choose-the-t6-over-the-t8/
Did a video review of the V90 T5 – http://www.dsf.my/2017/09/volvo-v90-t5-review-the-perfect-car-doesnt-exist/