Automotive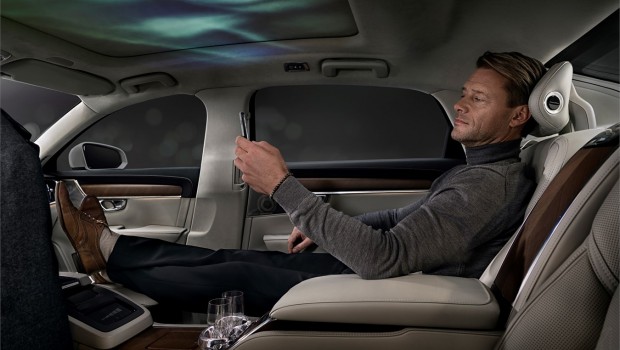 Published on April 23rd, 2018 | by Subhash Nair
0
Volvo S90 Ambience Concept Takes Luxury to all the Senses
Volvo Cars today revealed the S90 Ambience Concept, an industry-first sensory experience that synchronises visuals, sound and scent to redefine in-car luxury. The S90 Ambience Concept, making its public debut at the Beijing Auto Show in China, is based on Volvo's top-of-the-line S90 Excellence three-seater executive sedan and focuses on chauffeured passengers in the rear seat.
The passengers can personalise the car's atmosphere by using the intuitive smartphone app to choose one of seven visual themes synchronised with audio and scent.
The visual element transforms the car ceiling according to the selected theme – including Northern Lights, Scandinavian Forest, Swan Lake, Archipelago and Rain – each providing a different mood scaling from relaxing to invigorating. There is also a Nocturnal theme for resting and Freedom gives a boost of fresh and uplifting energy.
The synchronised audio plays through the car's Bowers and Wilkins premium sound system, which includes small tweeters in the headrest for an immersive sound experience. Each theme is matched with one of four bespoke scents, created by Byredo, which deploys simultaneously from a portal in the centre console. While the S90 Ambience is launching as a concept, Volvo Cars has the ambition to make it available in S90 Excellence production cars, to enhance its Excellence offer, especially in China.