Cars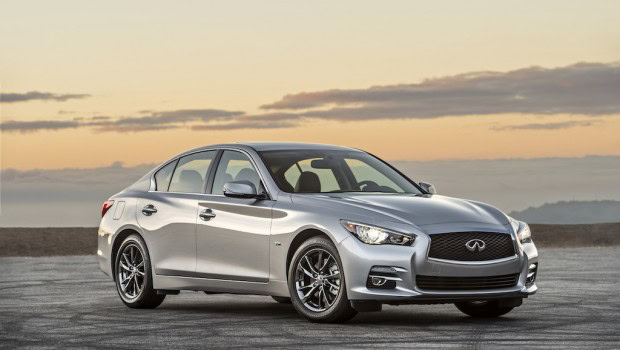 Published on October 12th, 2018 | by Subhash Nair
0
Understanding Infiniti Nomenclature
Whether you're aware of it or not, many car manufacturers have logical naming schemes. Most car enthusiasts know these by heart, but we thought we'd do a little deconstructing for the rest of you.
Before we get into it, it's worth noting that these logical naming conventions or 'nomenclatures' are usually done by premium car brands. In part 4, we'll cover Infiniti's nomenclature.
Keep in mind that this is more of a guide to the current nomenclature than a 100% accurate dissection that will stand up against close scrutiny. We're also going to avoid talking about chassis designations, which will change with every generation of the model.
It's important to note that we're covering Infiniti's current model lineup only. This nomenclature was only put in place between 2012-2014. Models before this relied on an entirely different naming convention.
Let's begin.
A typical Infiniti model is casually referred to in the following way:
"Infiniti Q50"
But if you search "Infiniti Q50 " on a typical listing site, you will find many, many variants. Let's take a slightly uncommon variant as an example:
"Infiniti Q50 2.0t AWD Luxe"
Let's break that name down:
1. Infiniti Q50 2.0t AWD Luxe
Infiniti uses an alphanumeric system. The first alphabet here denotes the body style.
Q = hatchbacks/sedans/coupes
QX = crossover/SUVs/Off-roaders
Simple as that.
2. Infiniti Q50 2.0t AWD Luxe
The 2 digits that come after are used to indicate where the model sits in terms of price, prestige and sometimes size. For example, a Q70 is more expensive, more prestigious and larger compared to a QX50. That being said, it's a very subjective scale. A Q60, for instance, is more of a coupe offshoot of a Q50, and not a just a smaller, more affordable alternative to the Q70.
Infiniti uses the following digits so far: 30, 50, 55, 60, 70, 80
2.1 Long Wheelbase models
Also, some markets with long-wheelbase variants will add a capital L to the end of the name. Example: Q70L.
3. Infiniti Q50 2.0t AWD Luxe
Here we come to the powertrain segment. As such we must split this up into parts.
3.1 Infiniti Q50 2.0t AWD Luxe
The thing we respect most about Infiniti's nomenclature is that they usually state the displacement of the engine right there in the name.
2.0 means it has a 2-litre engine
3.0 means it has a 3-litre engine
No meaningless scale (Audi's new nomenclature), no single digit relative scale (Volvo's nomenclature), no subjective feel scale (Lexus, Mercedes and BMW).
3.2 Infiniti Q50 2.0t AWD Luxe
After the displacement, you get a lowercase letter. Either a 't' for turbocharged petrol or 'd' for turbocharged diesel. If there's no lowercase letter, it means the engine is naturally aspirated.
3.3 Infiniti Q50 2.0t AWD Luxe
Some models with hybrid powertrains will replace the digits and lowercase here with 'Hybrid'. Mind you, this sometimes means a larger aspirated engine. A Q50 Hybrid for instance has a 3.5-litre V6 as well as an electric motor.
3.4 Infiniti Q50 2.0t AWD Luxe
After the engine information is indicated, cars with all-wheel drive get 'AWD' at the end.
4. Infiniti Q50 2.0t AWD Luxe
At the very end of the name, you sometimes get a trim level indication. This will vary from market to market. Here are some examples.
GT
GT Technology
Pure
Luxe
Sport
Signature Edition
Red Sport 400 – this sometimes replaces the entire powertrain part of the name, think of it as a performance package.
Here are other car brands in this series: