Cars
Published on November 22nd, 2018 | by Subhash Nair
0
MINI Cooper S E Countryman ALL4 Review: Big and Electric
Of all the premium auto conglomerates, BMW Group, seems to be doing the best job of growing its individual brands' strengths and keeping them growing in distinct directions. While I have had a problem with some of their decisions in the past, from a business perspective, what they do yields results and that's something I appreciate. It's not easy. And yes, parts and technology sharing is inevitable, but BMW Group knows how to best veil the realities of the car business behind evocative branding and enticing design.
Of their marques, MINI seems most deserving of celebration. Under the BMW Group, the brand has been popular and profitable. Let us also appreciate that this isn't an easy task. Volkswagen tried to revive the Beetle in a similar vein but failed to really make much of an impact. The 'new' new Beetle has been discontinued. Fiat also struggled with the new '500'. It now only seems to make a case for itself in Europe's mature and heavily protected car market.
To me, the MINI Cooper S E Countryman ALL4 (let's just agree to call it 'E Countryman' from here on) is an example of how successful the BMW Group have been with the brand. By all measures, it's the complete opposite of the original MINI. Yet in its second generation, it's even more appealing than ever. A 3-cylinder, crossover, plug-in hybrid MINI weighing more than 1.6 TONNES completely succeeds to make a case for itself. Allow me to illustrate.
What was the original MINI? What was it to the average Joe?
It was an economy car, made for the masses.
It was small on the outside, big on the inside.
It was iconically designed out of neccesity.
It was mechanically simple, yet provided an uncompromising drive.
It was a triumph of British engineering during the Empire's Decline.
What is the E Countryman?
An Economy Car, Made for the Masses?
Based on the MINI's UK website, this plug-in hybrid E Countryman is the most expensive variants on sale (before stepping into John Cooper Works territory). So, for MINI Malaysia to settle on an RM241K pricetag is actually pretty amazing.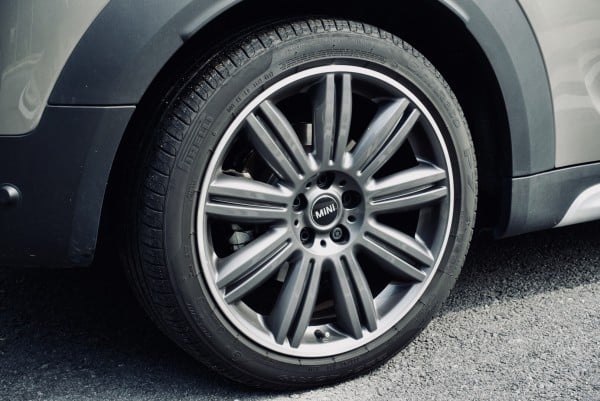 Not only does this come with the most economical, most powerful powertrain (PHEV + all-wheel drive), it's also configured with beautiful 19" 'MINI Yours Masterpiece' alloys, a powered tailgate with contactless opening, power adjustable seats with memory function, and fancy leather seats.
Ignoring the fact that the Cooper S Countryman Sport (the other locally-assembled MINI) comes with a sportier kit and Harman Kardon audio, it's easy to see that the E Countryman is exceptional value for money.
That doesn't make it cheap. All MINIs today present a 'triple premium barrier'. Not only must you be rich enough to afford/get a loan for a RM241,000 car, but you must also be rich enough to afford modern luxury car depreciation, AND you'll probably need another, car in your stable if you're a man with a big family.
And while the car is good value (considering its segment), that value proposition goes out the window when you consider that RM241,000 today could buy you a high-spec BMW 3-Series, Audi A4 or Benz C-Class. Add another RM2000 and you could have what I consider the best car on sale right now, the Toyota Harrier Turbo.
The E Countryman is, in spite of this, one of the most appealing MINIs to ever be offered by MINI Malaysia. It doesn't have the size penalty. It's not overpriced. It has more features and tech than nearly anything else in the segment. This is a premium car, made for a select market, but it's still not as 'overpriced' as some make it out to be.
Small on the Outside, Big on the Inside?
Is the E Countryman small? Is it big? After 4 days with the car, parking it next to D-segment sedans and B-segment crossovers, I just can't tell. If I had to describe it, it's as if they stretched the MINI 5-Door out about 1.5X without messing with the proportions. It creates the illusion of a small car, but make no mistake, car is as chunky as any of its premium competitors.
MINI's proportions call for a longer than usual wheelbase and wide stance. And yes, while it is roomy for its size, it's still challenged in terms of overall height and length. So, as large as this crossover MINI is on the outside, it's still not the roomiest thing in the segment. From my weekend of testing, I've received very mixed comments from various occupants. Some brought up how warm the rear seats sometimes get (the batteries are stored right below) while others complained about the front seat being too form-fitting.
But it wasn't all bad. Positive comments include the seating position in the rear, which had adequate thigh support and decent knee room. Plus, ergonomics in the front are really quite acceptable for something that puts design first (we'll touch a little on this in the next segment).
Overall there's very little to complain about. The centre armrest makes access to the 5-Key controller tough but the accurate touchscreen makes up for this.
I liked how supportive the front seats were and the steering wheel was just absolutely a pleasure to use. The leather it was wrapped in felt grippy and luxurious. It was also perfectly contoured to encourage holding the wheel at '3' and '9'. Great stuff.
While decidedly the opposite of 'small on the outside, big on the inside', I can't help but respect what was achieved with the E Countryman's interior considering the car's shape and size.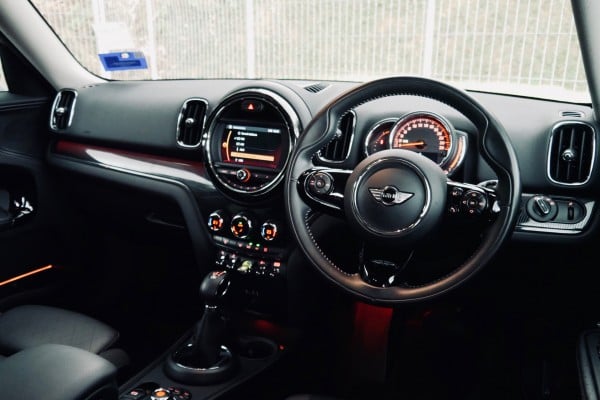 Iconically Designed out of Necessity?
Just like the original Beetle, the original MINI's iconic design features were a result of engineering constraints and decisions made out of practicality. The MINI Countryman continues to pay homage to this, adding high-tech, creative touches along the way.
Take the circular ring of light surrounding the infotainment display. It's a little gimmicky, but there are LED lights that move around the ring when you twist the temperature, fan speed and even audio volume knobs. Completely useless, but at the same time, very much a part of modern MINI's charm. It's the kind of charm that's born out of excess rather than necessity and shows the 180-turn BMW Group took the brand in.
The brilliant thing about it is that absolutely no other brand shows THIS level of commitment to their design language. BMW Group could have easily given MINI's team a parts bin and told them to sort it out.
Instead, we have just about every visible element crafted exclusively with MINI's design language in mind.
Sure, it's all made of plastic, but it's still an unrivalled commitment to design.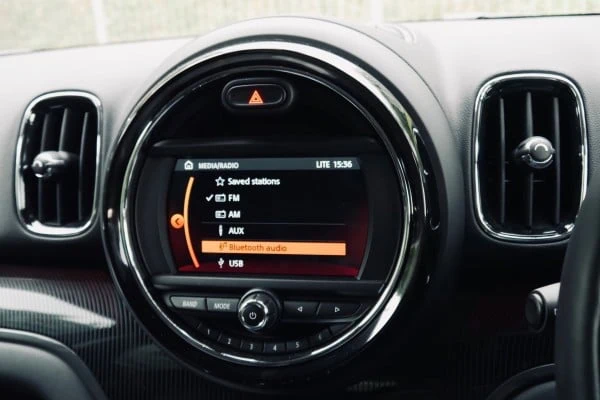 Mechanically Simple, yet provided an Uncompromising Drive?
I've only driven the original MINI once my entire life. It was a short, but very enlightening drive in Johor Bahru. And it's true what people say about the original MINI: it's a simple machine that managed to deliver an extremely raw and enjoyable drive. Even before considering the engineering limitations, the original MINI felt like a miracle on wheels.
While this new MINI is quite frankly the total opposite of simple, there's still a little magic in it. In front, a 3-cylinder, 1.5-litre BMW petrol engine with dual VANOS works with an electric motor to push the E Countryman from 0-100km/h in 6.8 seconds. Power is sent to 'ALL4' wheels via a 6-speed conventional automatic gearbox from Aisin. It really does feel quite punchy and fun. There's an element of naughtiness to high-speed driving that borders on scary with all that torque and weight.
Practically speaking the E Countryman, with all its constraints, delivers very usable electric range (42km), good comfort and gratifying performance. PHEVs may be a common sight, but that still doesn't take away from how fluidly the whole system ties together. MINI did a masterful job in combining the elements.
A Triumph of British Engineering during the Empire's Decline?
The thing many take issue with regarding the modern day MINI is that it's built around the image of British ingenuity. You'll see tartan-printed surfaces, the Union Jack and other marketing fluff designed to invoke that all things GB. The 'Britishness' that was celebrated in the original MINI was found in the product itself. Here it's the celebration that is celebrated. But under the skin, just how British is this thing? Isn't it more EU than UK? Well, perhaps that's the just what rolling with the times looks like.
Many of us glorify the old days and revel in nostalgia. We pay respect to the old and poke holes in anything new and shiny for the sake of… what exactly? The past should be celebrated, but the future comes for all of us. The MINI Cooper S E Countryman is the future of not just the MINI but all cars.
It's a great deal, it's fun to drive yet frugal when you need it to be, it's designed to charm, it's practical enough for a small family. Paradoxically, it's as true to the spirit of MINI as the original. And if doing a total 180 is what keeps the brand alive and relevant in 2018, I can't hate it. Too many great marques have been lost in the pursuit of keeping the past alive.
MINI Cooper S E Countryman All4 Specifications
Engine: Inline 3, Turbocharged Petrol + Electric Motor
Capacity: 1499cc
Gearbox: 6-speed conventional automatic
Max power: 136hp @ 4400rpm (+88hp electric)
Max torque: 220Nm @ 1250rpm
Top Speed: 198 km/h
0-100 km/h: 6.8 seconds
Price: RM250,888