Cars
Published on April 9th, 2019 | by Daniel Sherman Fernandez
0
Jaguar F-Type 2.0L Test Drive Review
Is this not a stunning looking sports car? Is this not a sports car with perfect shape symmetry? Is this not a timeless looking silhouette? Is this not a car that looks at home side by side with other German and Italian supercars? Well, if you have agreed to 3 out of 4 of our questions, then why have you not taken this British beauty out for a test drive?
The answer is simple if you would allow me, its out of sight, out of mind! Yes, when I took this Jaguar F-Type home for the weekend, most of my friends and neighbours did not know it was a car that has been in Malaysia since 2014.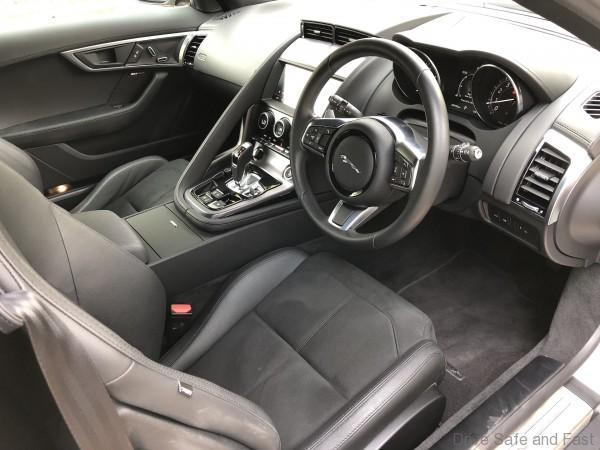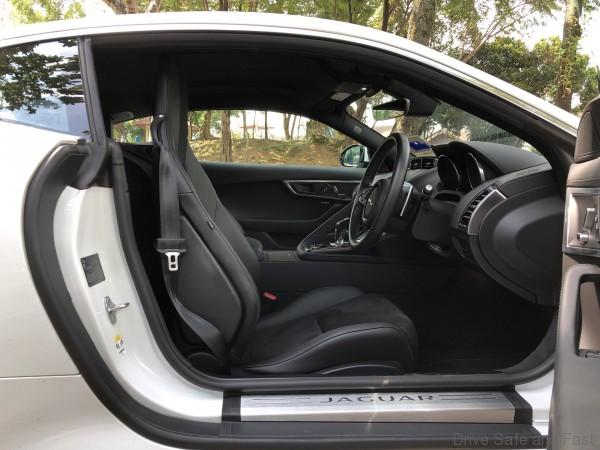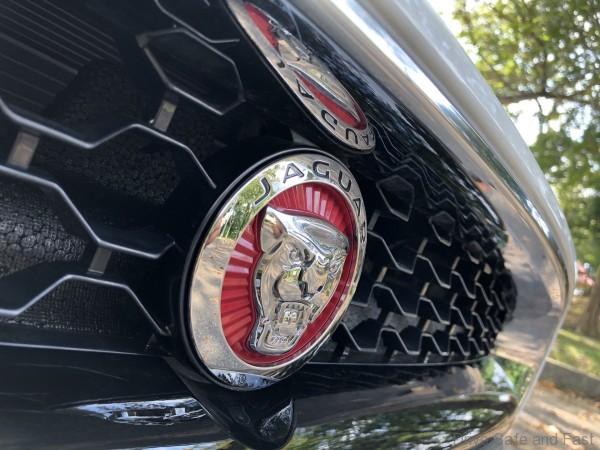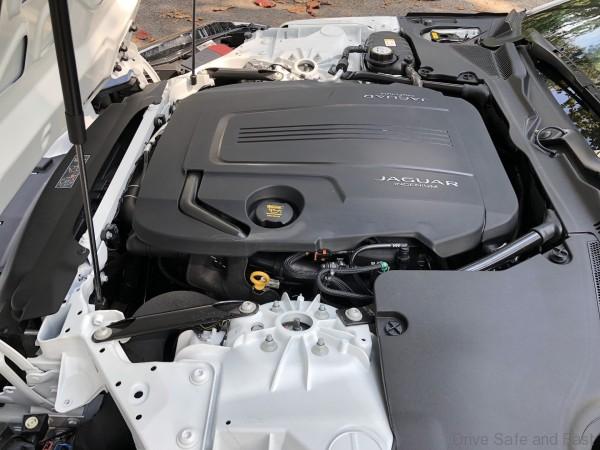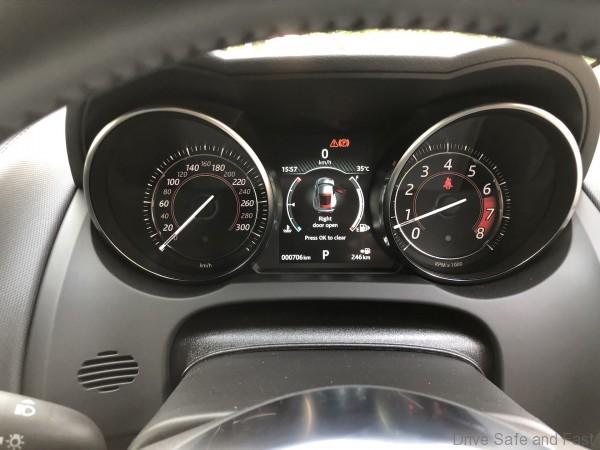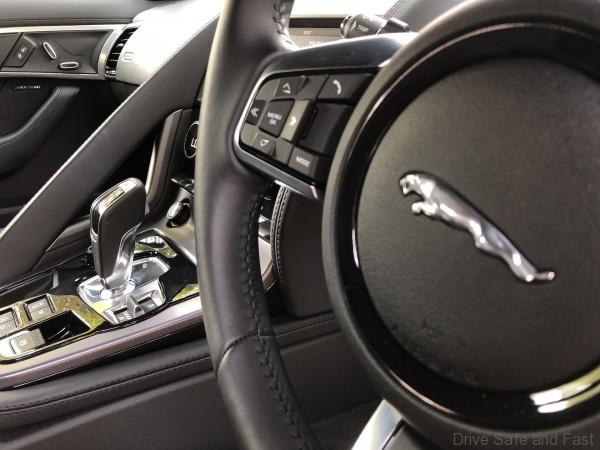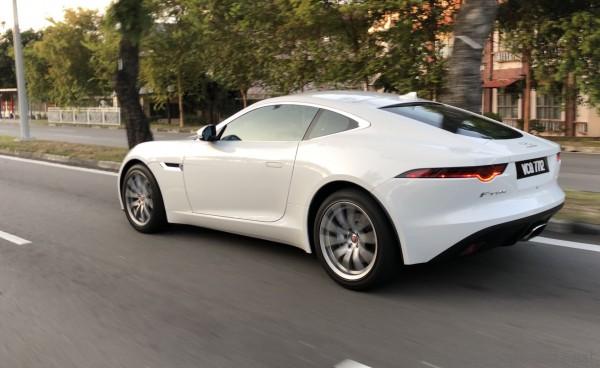 HOW LONG
Yes, it has already been 5-years since the F-Type landed in Malaysia and there has been little publicity and 'noise' made in the media about its existence. Well, part of the reasons are as follows. Porsche has a bigger brand awareness and Mercedes, Audi and BMW have larger advertising budgets and lets not forget the reconditioned used car market that floods us with low priced no warranty sports cars that does not give Jaguar in Malaysia enough muscle to 'fight' back.
HOW FAST
Also, in 2014 the F-Type showcased new supercharged Jaguar engines, a 3-liter supercharged V6 in 340hp and 380hp states of tune and the 5-liter supercharged V8 in the Jaguar F-Type V8 S with 495hp and 460 ft-lbs of torque. All were equipped with the new Intelligent Stop/Start systems to enhance fuel economy under certain driving conditions. These were large powerful engines that came at a time when the rivals were downsizing with added power.
The 340hp V6 model could accelerate from 0-100km/h in 5.3 seconds. The 380hp S model lowers that from 0-100km/h in 4.9 seconds and the V8 S could go from 0-100km/h in 4.9 seconds.
HOW WAS IT MADE
Based on the Jaguar 5-liter V8 engine, the 3-liter V6 shared its all-alloy construction. The lightweight die-cast aluminum block was stiffened with cross-bolted main bearing caps, increasing rigidity and refinement. A system of counter-rotating front and rear balancer weights helped give the new supercharged V6 the smoothness and refinement characteristics of the V8 on which it is based.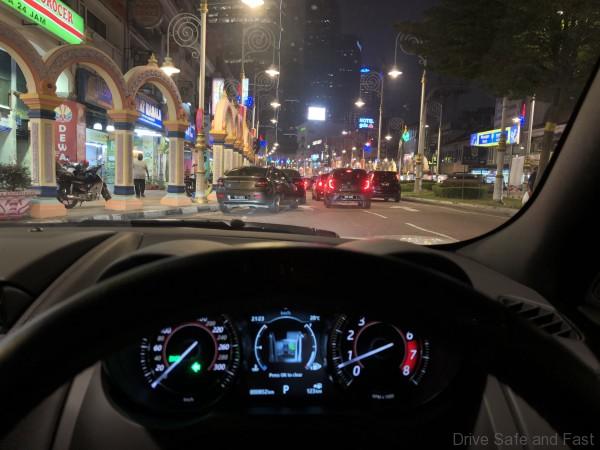 HOW MUCH BEFORE
Yes, big and powerful engines and with asking prices to match, Jaguar in Malaysia could not match their rivals asking prices. At the time only the F-Type 'S' at RM899,000 and F-Type 'R' RM1,158,888 were introduced and this led buyers to look elsewhere.
For 2019, things have changed. Here is a new version of the F-Type, a facelift with some tweaks to its looks and more importantly, a brand new engine that makes more sense in our changing market.
HOW NOW
Now for 2019 the F-Type arrives in Malaysia with a 2.0-litre turbocharged Ingenium engine good for 300PS and still delivers Jaguar sports car's DNA with enhanced agility as well as improved efficiency and affordability. This F-TYPE can accelerate from 0-100km/h in just 5.7 seconds and achieve a top speed of 250km/h. The engine's high maximum torque of 400Nm is generated from just 1,500rpm. Think about it…..between the older 4.9 seconds and this 5.7 seconds, there is hardly any difference to be felt when chasing down a rival…..a mere 0.8 seconds difference will not alter your life.
WHAT ELSE IS NEW
This 2019 version introduces new futuristic LED headlights and rear lights which are among improved exterior aesthetics of the F-TYPE. The new headlights from the optional LEDs has a colour temperature of 5,500-6,000K, which feature a colour temperature that is close to daylight resulting in better visibility for night driving and definitely adds on to the styling of the car. With three different beam pattern modes to choose from (i.e: city, highway and bad weather), the driver can choose a mode that suits the driving environment.
A redesigned bumper, a new single exhaust tailpipe finisher and a new 18" wheel also give the F-TYPE a redefined look thereby adding more masculinity to the character of the car. The introduction of the new Silicon Silver exterior colour also emphasise the character lines further and exudes the boldness of the F-TYPE.
Entering the coupe, one will notice significant enhancements that is more luxurious than before. The addition of lightweight slim line seats as well as a new chrome and aluminium trim finishers heighten the driver-focused feel of the interior and perfectly complement the enhanced interior colour schemes including the Siena Tan leather option now available across the range. The seat frames are pressure die cast magnesium alloy – a material that has a high strength-to-weight ratio and an excellent formability required for an ergonomic form of Jaguar's innovative seat design. The weight saving compared to their predecessors is more than 8kg.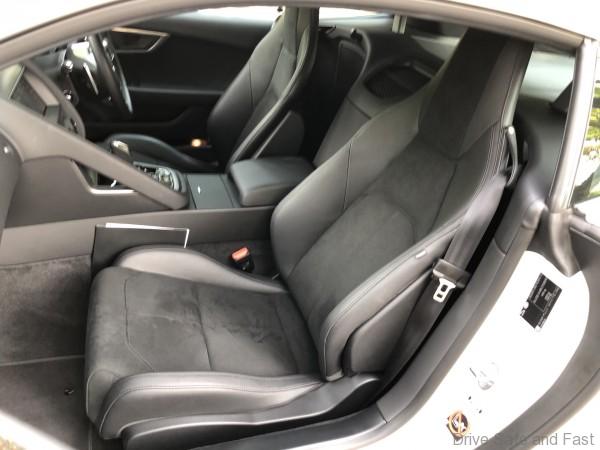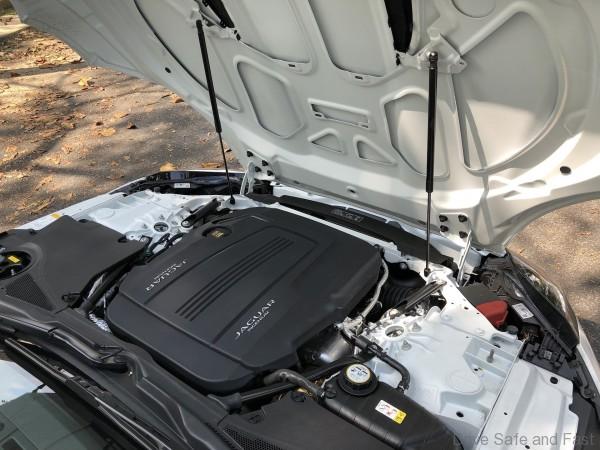 Every F-TYPE now features the Touch Pro infotainment system with a 10-inch touchscreen. Its super-fast responses, intuitive tablet-style operation, intelligent navigation functions such as Share ETA and online services such as real-time traffic and live weather reports make every journey more rewarding and put a world of information at the driver's fingertips.
Touch Pro is the most advanced infotainment system ever offered by Jaguar and it comes standard for the entire F-TYPE range. Designed and developed around state-of-the-art technologies including a powerful quad-core processor, high-speed 60GB Solid-State Drive (SSD) and an ultra-fast Ethernet network, Touch Pro delivers a world-class performance and functionality as well as an outstanding user experience.
HOW DOES IT ENTERTAIN
From ignition, the engine barks and growls and settles to a murmur waiting for its 'boss' to engage with it. Its cabin remains snug and comfortable with good outward vision. Our 5-foot 6-inch frame feels right at home in the sports seats and the chunky steering wheel meets our palms with joy.
In heavy traffic, this 'cat' purrs along with no issue and its sexy rump gets the attention of all other road users who love cars. It's a good looking ride and you can see the admiration of others, even supercar drivers. Part of the reasons are its looks and design and the other part is its exclusivity.
Find a gap in traffic, punch the 'joy' pedal with your right foot and feel the sensation of a roller coaster heading downwards without a care in the world. Yes, its quick, especially when you have the engine purring at 2,500 plus revs. Its mid range response puts a smile on you and the steering responses quick to your commands. Despite its width, it allows weaving in and out of traffic easy and there is no hesitation of power delivery until you hear a police siren chasing you down.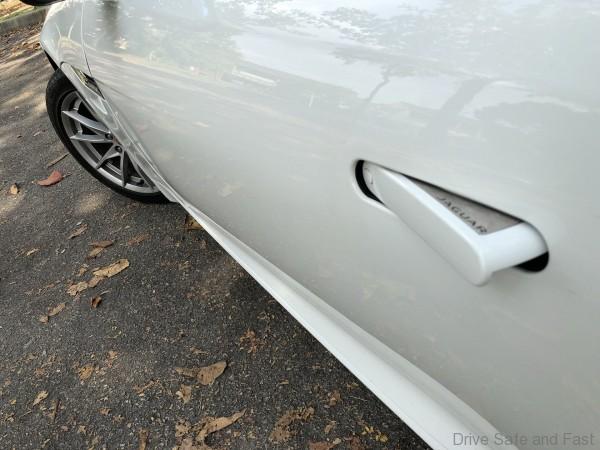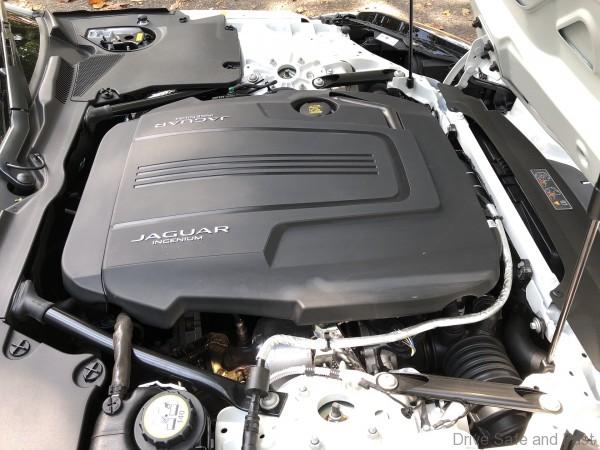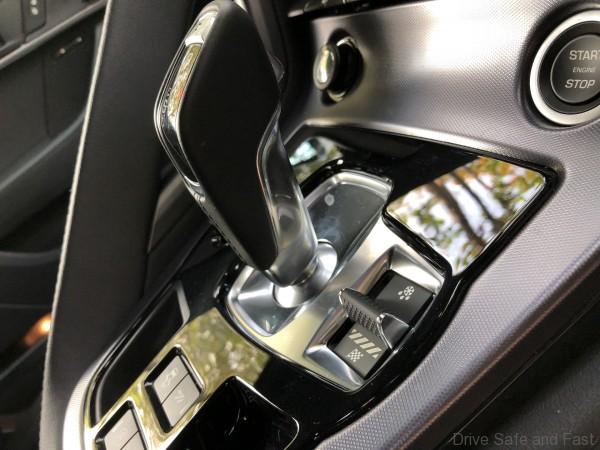 HOW NOW
Well, you have just bought your Cayman or your SLK so you will need to wait it out. But if your running a 4-7-year-old Cayman or SLK, this is the car to change up to without denting your budget. Also…..trust me….this is not a car to buy for your girlfriend, this is car for YOU to drive.
Now comes the best part, this 2019 Jaguar F-TYPE 2.0L retails at just RM575,800 (excluding road tax, registration and insurance) and it is now available at all Jaguar showrooms nationwide.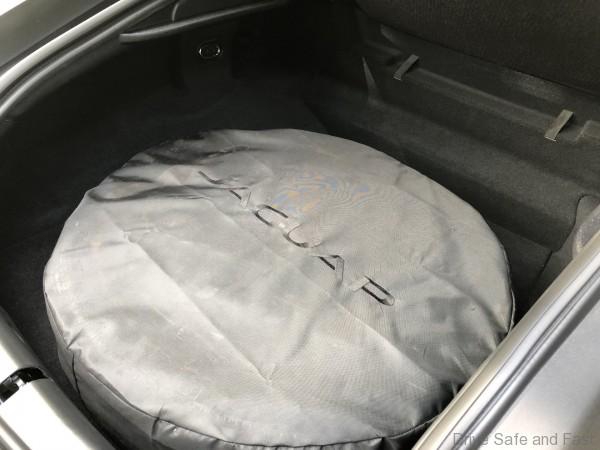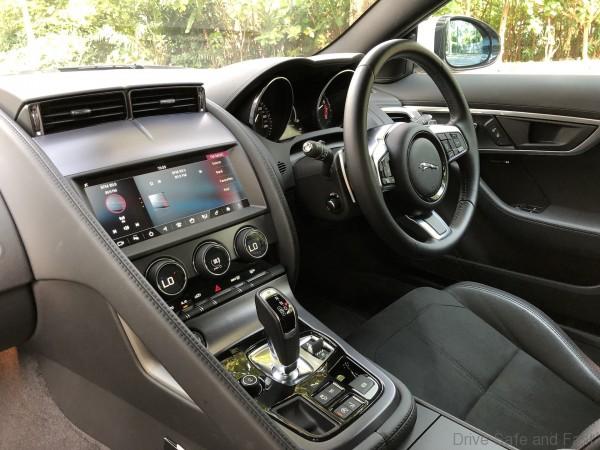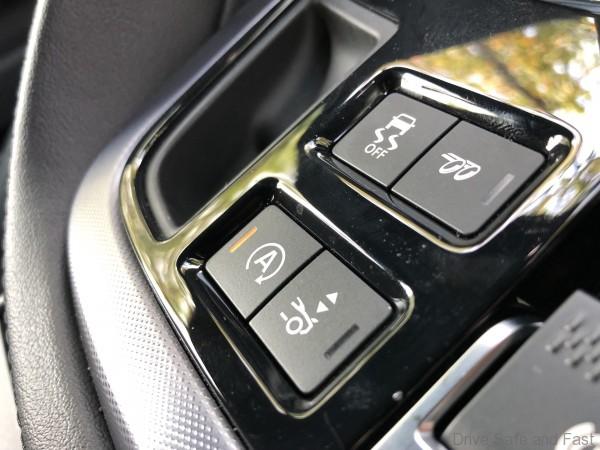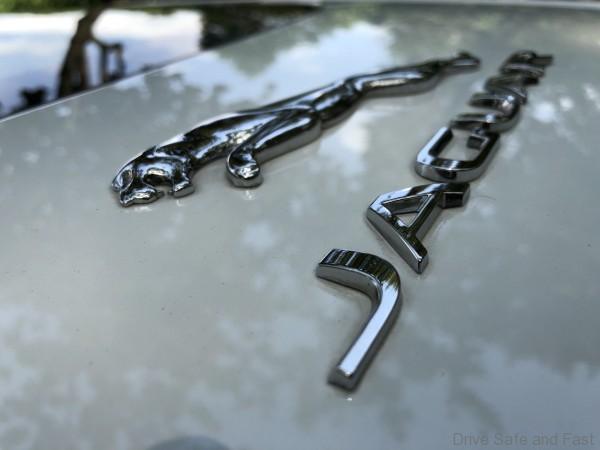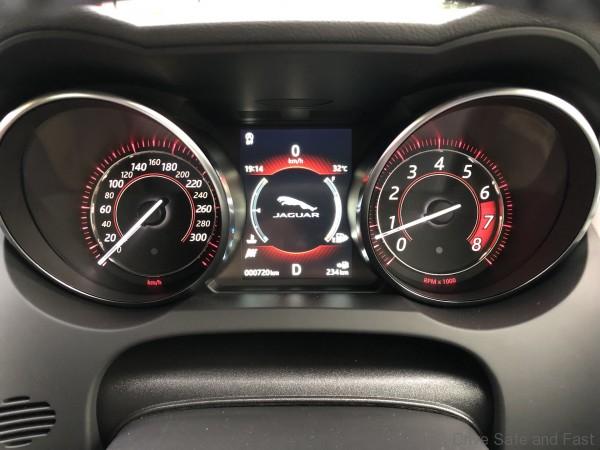 Jaguar F-Type 2.0L Specifications
Engine: 4-cylinder Turbocharged
Capacity: 1997cc
Power: 300bhp @ 5500rpm
Torque: 400Nm @ 1500-4500rpm
Transmission: 8-speed QuickShift
0-100km/h: 5.7secs
Top speed: 250km/h
Price: From RM575,800.00