Used Cars
Published on April 27th, 2019 | by Daniel Sherman Fernandez
4
Why Did We Buy A USED Mitsubishi EVO 4
Yes, this time the used car buy advice comes straight from the heart. Our heart. We recently purchased an abandoned and neglected year 1996 Mitsubishi EVO 4. You are probably wondering why anyone would leave an EVO 4 idle for more than 6 years (the last time the car was taxed and running was in early 2013). Well, the previous owner's issues are personal and we did not want to know why, we just wanted to take ownership of his EVO 4.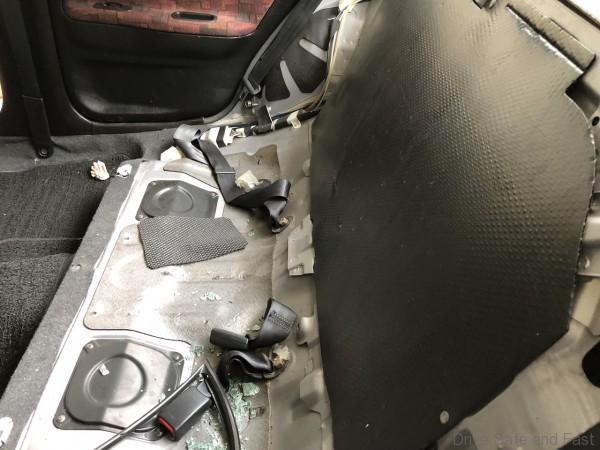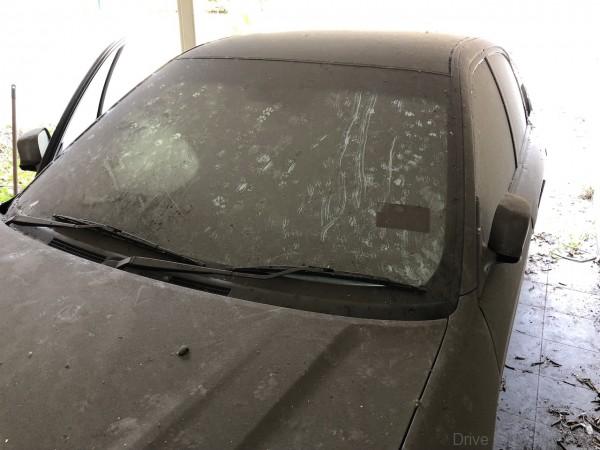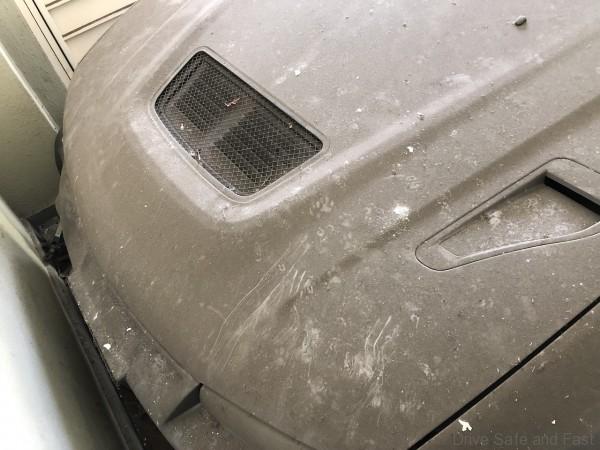 Our first issue was the missing front and rear seats from the car. Stolen some years ago while parked, this was a challenge as we wanted seats that did not need to be re-upholstered (personal reasons, we like original factory material). The search for seats went state wide from Alor Star to Johor and after many rejections due to torn material, discolouration, reupholstered in cheap leather to damaged seat runners we found a set of EVO 5 seats (which fits perfectly) at a sensible asking price in Johor Bahru.
Our second issue was the broken rear quarter window glass which we would need to source and should be no issue. We found it easily at a local Mitsubishi spare parts dealer.
Our third issue was numerous and it was sitting under the aluminum hood. The engine had not been started for over 6 years and rodents had made a home inside the bay and these 'families' had to be moved from the engine bay. Our trusted mechanic took his time to check each component. One by one, each damaged and worn part was replaced and all lubricants changed. We also needed a new battery.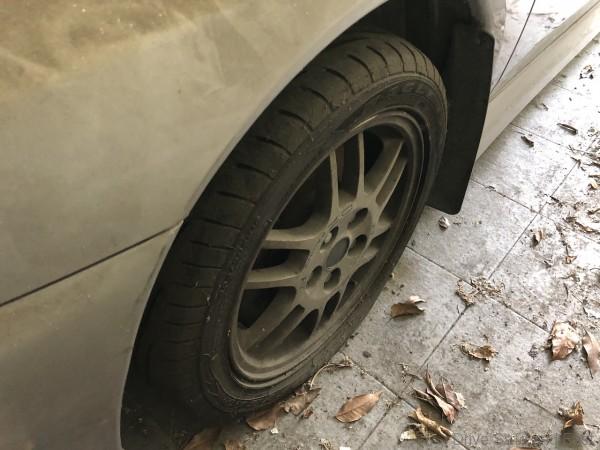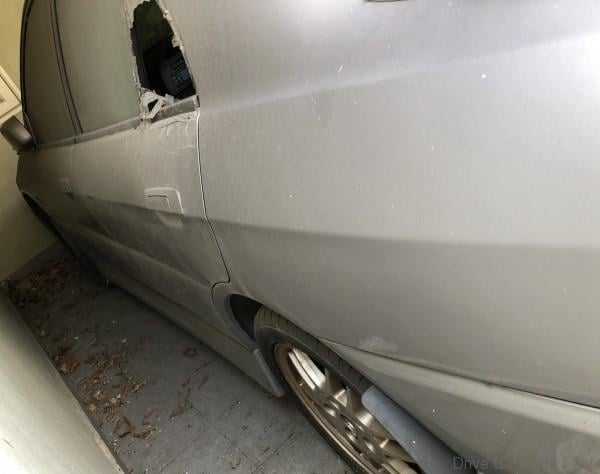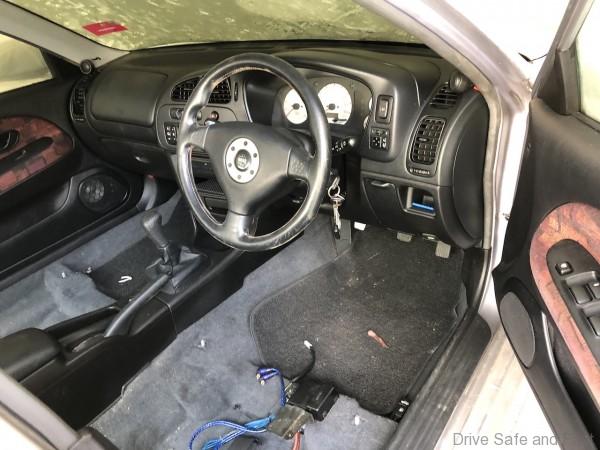 Then our fourth issue. The A/C was working, barely, and there was this fowl smell coming from the vents. A full climate control service was needed and this was done over 4 days.
Our fifth issue was the rear panel and boot lid accident damage. This car still had its original paint. Yes, the original factory paint was still on the car and we had to get a painter to match the color or else every time we washed the car we would see the paint difference and this would just irk us. Our trusted painter delivered and he got it about 90%, so we are not complaining as this is a 23-year-old factory paint.
Our sixth task came unexpected. The fuel tank could not be used as it had a lot of moisture in it. We went on a search again and this took us statewide again. We finally located a used good condition fuel tank from a scrapped japan imported EVO 4. We also decide to buy a new fuel pump as the previous one was not working at 100% capacity.
Our seventh task was to get new tyres and check the brakes. Yes, the 7-year old tyres had hardened and we needed new rubbers. We were not looking at high performance low profile tyres as we wanted comfort with the ability to 'smoke' a modern car at the traffic lights and out corner some drivers when we felt like it. We decided on Continental UC6 tyres. Not the best choice, but we wanted decent average rubbers for now.
Later when we get comfortable with this EVO 4, then we will look at better traction tires befitting its 280bhp all wheel drive delivery. With the car remaining idle for 6 years, the brake discs needed to be skimmed and we also changed the pads to ensure our 280bhp sedan had great stopping power.
Our eight and final task was the Puspakom inspection and change of ownership and new 12 months' road tax. For this we enlisted our trusted 'runner' Yes, it would be cheaper and faster to get it done ourselves, but the seller had a busy schedule and we were running around sorting our yearly vehicle of the year (VOTY) judging. Anyway, let the runner make a little money to feed his family. He met with us and the seller at the seller's condo and with his laptop, fingerprint scanner and mobile data on, we were all done in 15 minutes.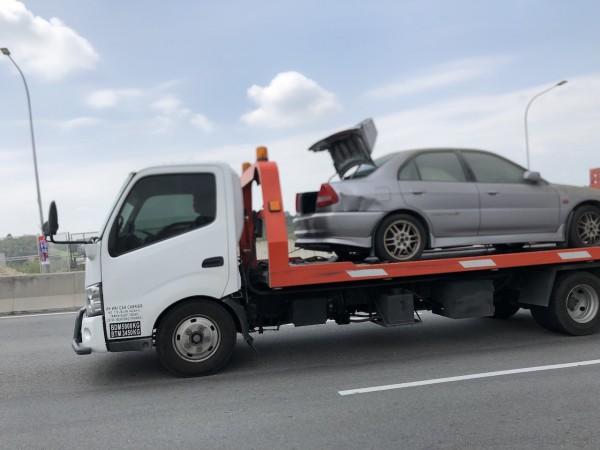 The next morning the 'runner' took the EVO 4 for a complete Puspakom inspection and after full clearance we got our new 12 months' road tax, 12 months insurance and a brand new registration document.
We now own a hardly used 1996 Mitsubishi EVO 4.
Total repair and restoration cost to date including transfer and inspection RM19,800 and some loose change. Add that to the mystery purchase price of the car, we are happy. More so because this is an un-abused, low mileage, accident free (small knock at the back no issue) with original factory paint, body-kit and wheels sports sedan.
Yes, many will say there are better cars out there at this asking price, but this is our prize catch and we love it. More of its drive and ownership in coming months.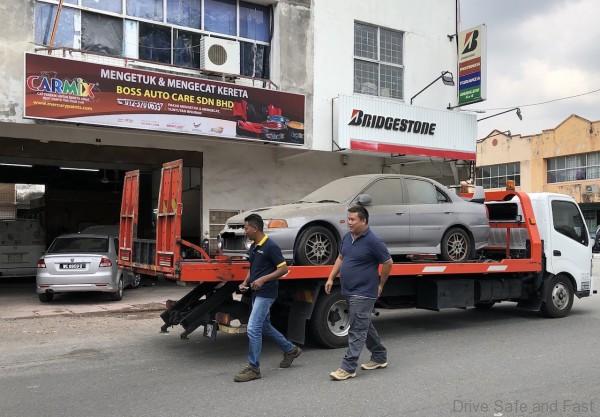 Mitsubishi EVO 4 Specifications
Engine: 4G63, DOHC 16V Turbocharged
Capacity: 1997cc
Gearbox: 5-Speed manual
Power: 276bhp @6500rpm
Torque: 352Nm @3000rpm
Brakes Front: Vented Discs w/4-Pot Calipers, ABS
Brakes Rear: Vented Discs w/Twin-Pot Calipers, ABS
0-100km/h: 5.6 seconds
Top Speed: 180km/h restricted