Automotive
Published on May 3rd, 2019 | by Daniel Sherman Fernandez
0
Proton X70 Captures 24% Of The SUV Segment
Well done Geely and the Proton team with the PROTON X70 SUV for capturing 24% market share of the Malaysian SUV market. If we looked back some 2 years ago no Malaysian would have ever imagined a Proton vehicle being a best seller in the Malaysian car market.
Think about it…..if Geely did not buy into Proton, the company would not be able to keep itself afloat and enjoy even 1% of its current success. It was a well executed partnership and one that benefits thousands of Proton employees, dealers, vendors, business partners and also Proton car buyers.
THE UNIQUE SELLING PROPOSITION OF THE PROTON X70
The Proton X70 was the first SUV introduced by Geely to the Malaysian market. To create it, PROTON and its joint venture partner, Geely, were guided by four distinct philosophies and the tagline 'Intelligence That Inspires.'
Refined Design
The purposeful and energetic lines of the Proton X70 were penned by a team led by the Executive Vice President of Design at Geely, Peter Horbury and Geely Shanghai Design Chief, Guy Burgoyne. They collaborated with PROTON Design head Azlan Othman and his team of designers who helped ensure Malaysian elements were incorporated in the design.
This is immediately noticeable in the silhouette, which was sculpted with explosive energetic lines inspired by the muscular and agile feline form of the Malayan Tiger, conveying a sense of explosive forward momentum. Headlamps, featuring daytime running lamps (DRL) create a distinctive pair of 'eyes' to reinforce the link. Other Malaysian touches can be found in the shape of the grille, which takes the shape of a traditional bow, as well as the horizontal elements used featuring a distinctive repeating pattern inspired by Malaysian craftsmanship, termed the infinite weave. The finishing exterior touch are wheels available in sizes up to 19-inches, adding more latent energy to the stance when at a standstill.
Inside, the interior has been described as The Haven and was designed as an area that promotes calmness. Information that is needed is clearly presented via displays customisable by the driver. Luxury touches abound with the use of metallic surfaces and nappa leather but there is also a lot of utility touches engineered in the design such as six USB ports to charge mobile devices and an air purifier system that filters out harmful gases and kills bacteria. The infinite weave pattern makes a subtle appearance on the door handles and speaker grilles to link the interior and exterior harmoniously.
Redefined Connectivity
With the rapid development of mobile communication technology, a revolution has begun in the way people travel, changing the auto industry's understanding of what it means to be online. With the boom in autonomous drive technology, the auto industry is becoming 'intelligent' as vehicles evolve from being a means of transportation to a new intelligent mobility system.
With the launch of the Proton X70, PROTON has embraced this ethos and moved the goalposts for in-car connectivity. All variants will be offered with an advanced Integrated Cockpit Information System (GKUI) offering multiple user functions as well as the ability to stay connected to a mobile device. Featuring an embedded eSIM card, the system is preloaded with four apps offering services such as online music streaming, navigation, weather forecasts and voice recognition. Access to the apps and other car functions is via an 8-inch Android based touchscreen interface with a 1280 x 720 full colour display with 32GB of internal memory space. It is also Wi-Fi enabled for mobile hotspot capability.
Connecting Proton X70 owners to their vehicles is Proton Link, which will use an individual ID that is assigned to every buyer. By keeping their smart mobile device connected to Proton Link, a profile of their journeys is created thanks to the on board telematics that records data such as distance travelled, fuel economy, journey times and even service intervals. There is also a 'find my car' function that will be useful when parking in huge and unfamiliar parking complexes.
Aside from the connectivity functions, true hands free operations for a number of functions is possible thanks to advanced voice recognition software. The system is accessed by saying 'Hi Proton' followed by simple spoken commands that can operate the windows and air conditioning system and even access the navigation app to look for points of interest. By using an Android based operating system, the GKUI offers mobile device users using the same operating software full mirroring capabilities. Finally, the system is also upgradeable with free over-the-air (OTA) updates improving the user experience and keeping the apps current.
Responsive Performance
The driving dynamics of the Proton X70 was developed by HORIBA MIRA in the United Kingdom. The company balanced the need for a dynamic driving experience with safe and secure handling and a comfortable ride with enhanced NVH levels. HORIBA MIRA has been working with the world's leading car manufacturers to deliver innovative vehicle engineering solutions since 1964 and they are actively involved in motorsports engineering.
HORIBA MIRA's design and development expertise is the secret ingredient in many race winning formulas. HORIBA MIRA has and is on hand with a proven track record at the highest levels of professional motorsport including: F1, GP2, F3, WRC, Le Mans, WTCC, BTCC, DTM and Land Speed Records.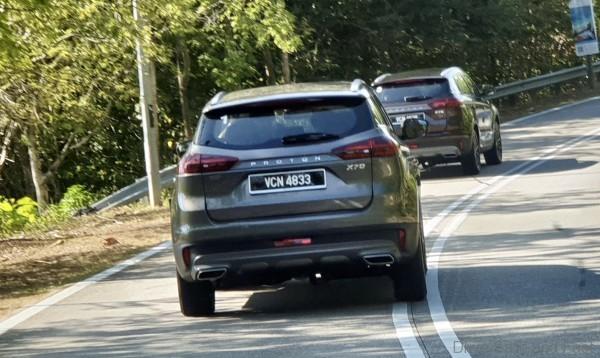 Every aspect of vehicle development has a specialist team dedicated to maximising performance and they have a test facility in a secure location in the heart of Motorsport Valley, England.
The Intelligent All-Wheel Drive (AWD) system, offered on the Executive AWD variant of the Proton X70 was developed by Borg Warner and improves safety and handling in unfavourable road conditions.
Powering the Proton X70 is an engine and gearbox combination new to PROTON. All four variants are powered by a 1.8-litre Turbocharged, Petrol Direct Injection (TGDI) engine producing 184 PS at 5,500rpm and 285 Nm of torque from 1,700 – 4,400rpm to provide smooth yet efficient performance, proven by the energy efficient vehicle (EEV) status awarded by the Ministry of International Trade and Industry (MITI).
Drive from the engine is mated to the driven wheels via a 6-speed automatic (6AT) with switchable drive modes and a manual sequential shift. Drivers can select from Normal, Eco and Sport to fit their driving style and road conditions. By doing so the LCD combination meter will also change colour and display the most relevant information related to the drive mode selected.
Reassured Safety
As the Proton X70 is equipped with the most powerful engine of any Proton model, the Company focused a lot of engineering resources to ensure it had a high level of safety that can be divided into three layers. These are protective, preventive and cognitive and as a whole they form a comprehensive safety solution.
Standard safety equipment for all variants consists of six SRS airbags, rear seat ISOFIX with top tether anchorage, Anti-Lock Braking System (ABS), Electronic Brake Distribution (EBD), Brake Assist (BA), Auto Brake Hold, Electronic Stability Control (ESC), Traction Control System (TCS), Hill Hold Assist (HHA), Hill Descent Control (HDC) and Emergency Stop Signal (ESS).
A 360 Camera is offered on Executive and Premium variants while Executive AWD and Premium specification cars also receive a Tyre Pressure Monitoring System (TPMS). The Premium variant also adds an Advanced Driver Assistance System (ADAS) suite to the equipment list. The ADAS on the Proton X70 consists of active and cognitive safety systems including Autonomous Emergency Braking (AEB), Forward Collision Warning (FCW), Adaptive Cruise Control (ACC), Lane Departure Warning (LDW), Blind Spot Information System (BLIS), Door Opening Warning System (DOW) and Intelligent High Beam Control (IHBC).
The effectiveness of the comprehensive safety solution was proven when the Proton X70 was awarded a 5-Star safety rating in recent ASEAN NCAP tests.