Automotive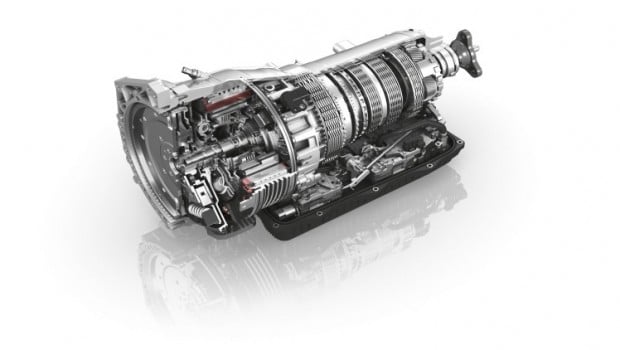 Published on May 3rd, 2019 | by Subhash Nair
0
Here Is Why ZF's 8-Speed Automatic Is So Darn Good
One of the most common gearbox for premium vehicles is the ZF 8-Speed. This 8-speed 'conventional' automatic gearbox is found in modern day BMWs, Jaguars, Land Rovers, Rolls Royces, Alfa Romeos, Aston Martins, Audis and many more. Today the ZF 8-Speed is used by more car manufacturers than any other shift manufacturer.
It has been noted that cars featuring these 8-speed gearboxes generally shift as smooth and as fast as many dual-clutch gearboxes. Sure, there'll be some millisecond disadvantage, but the difference is almost imperceivable behind the wheel.
The ZF 8HP has been in production since 2008 and was first featured on the previous generation BMW 7-Series, the F01 760Li model. It is designed for use with longitudinally aligned engines, so vehicles running this gearbox are either rear-wheel drive or all-wheel drive models.
Since its introduction, it has been to engines of various configurations, from a V12 petrol to inline-4 plug-in hybrids.
If you're wondering how ZF has managed to create such a quick and efficient gearbox, there's finally an answer. Jason from the popular Youtube channel Engineering Explained breaks it down for you here.
Press Release
Efficient, dynamic, and comfortable: ZF driveline technology
ZF is setting standards with its 8-speed automatic transmission by combining driving dynamics, ride comfort, and efficiency: With reaction times below the human perception threshold and adaptive shifting software, it changes gears precisely when the driver wants.
Thanks to a flexible modular construction system, ZF's 8HP is equipped to meet all requirements: This model range covers the broad torque range between 300 and 1,000 newton meters. The basic transmission can be modified depending on vehicle needs and the intended application: The result is one complete transmission generation with different variants ‒ from plug-in-hybrid transmissions to four-wheel drive.
ZF expertise in lightweight construction and e-mobility
At the Auto Shanghai 2015, ZF is not only presenting the product portfolio to trade show visitors, it is also providing insights into the trendsetting range of expertise of the technology company. Using an innovation prototype, ZF demonstrates the potential of the combination of e-mobility and lightweight construction. In the ZF subcompact car test, lightweight construction chassis components supplement the electric final drive. Thanks to its high-speed concept and integrated power electronics, the electric drive combines high performance with high efficiency, low weight, compact dimensions, and quiet operation. In practice, this increases the range – and the 90 kW electric drive also develops high performance and driving dynamics.